Classic Osso Buco – The Daring Gourmet
5 min read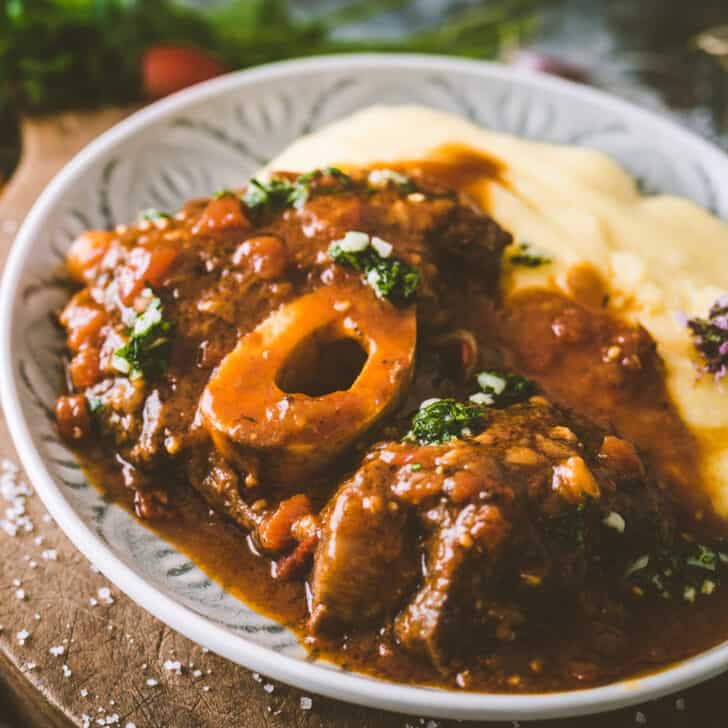 As an Amazon Associate I earn from qualifying purchases. See my disclosure policy.
This classic Italian Osso Buco recipe features beef or veal shanks that slow simmered in a deliciously rich gravy until the meat becomes fork tender and practically melts in your mouth.  The preparation is relatively quick and easy and then it's just a matter of waiting for it to cook.  And the wait is MORE than worth it!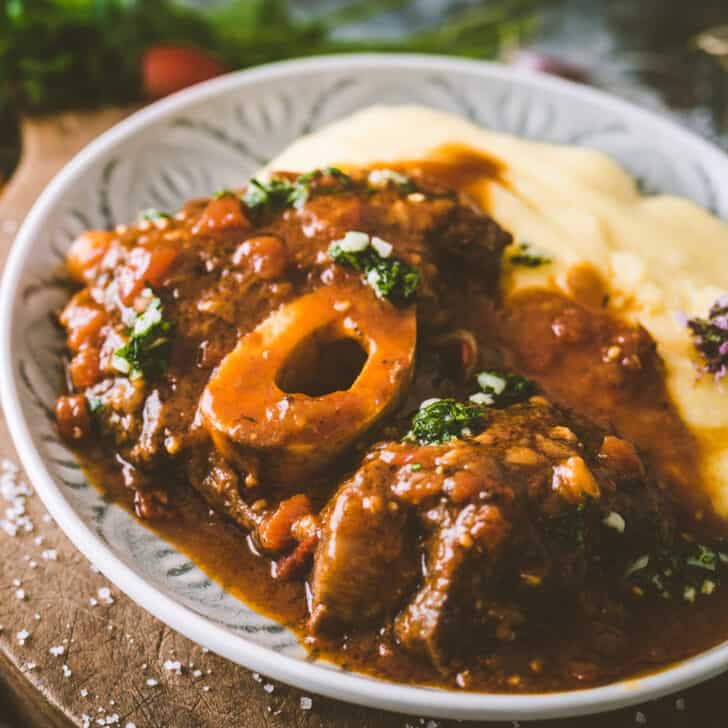 What is Osso Buco?  
Also spelled ossocbuco, the name is Italian for "bone with a hole" (osso "bone", buco "hole"), referring to the cut of meat used in this dish: cross-cut meat shank with a marrow hole at the center.  This classic Italian dish showcases what is a tough and typically less expensive cut of meat and transforms it into a mouthwateringly tender and flavorful meal.  Veal or beef shanks are braised and the marrow in the bone renders during the process, basting the meat with its juices and infusing the gravy with incredible flavor.
Like Beef Bourguignon is to France, Irish Stew is to Ireland, and Hungarian Goulash is to Hungary, osso buco represents the very best of Italian comfort food.
Osso buco is thought to have originated in the Lombardy region of Italy (think Milan) in the 19th century and but is served throughout Italy as a classic dish with regional differences in its preparation (e.g. some serve it with gremolata and some without; some include tomatoes while others don't; some serve it with polenta while others serve it with mashed potatoes).
The first time we had osso buco was on a trip to Italy a few years ago.  We took two weeks and toured Lombardy, Veneto, Emilia-Romagna, Toscana, Umbria and Lazio.  It was at a quaint, cozy and perfectly wonderful osteria in Monteriggioni, Tuscany that we ordered osso buco for the first time.  And it couldn't have been a better introduction to the dish.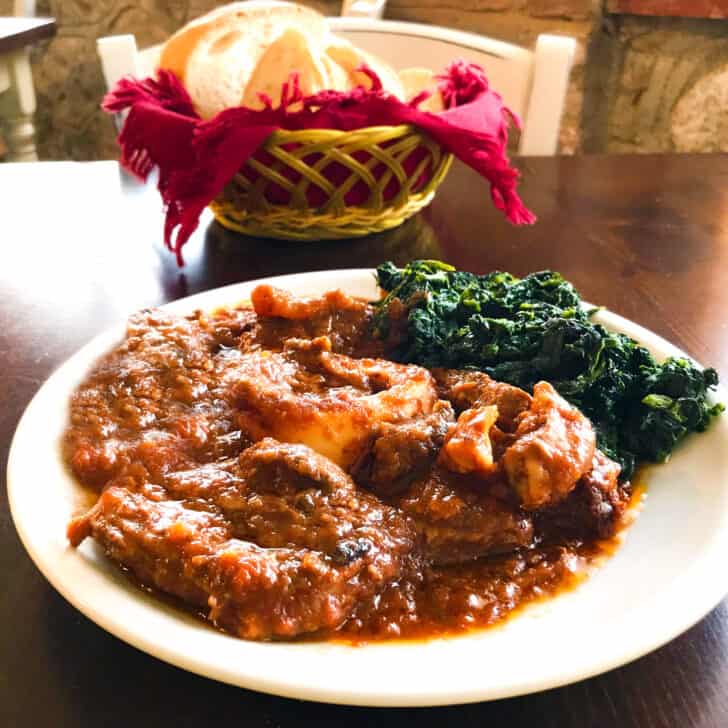 Nor could the walk through the medieval walled village of Monteriggioni have been the more perfect ending to our meal.
A few pictures from our walk through this charming Tuscan village….
What to Serve with Osso Buco
Osso buco is traditionally served with creamy polenta or saffron risotto (known as Risotto alla Milanese).  Other options include mashed potatoes, rice, or buttered pasta.
In addition, sautéed greens or grilled vegetables make an ideal side.  And of course some rustic, crusty bread to mop up all the juices is always welcome.
Can I Make Osso Buco Ahead of Time?
Absolutely!  This is a perfect make-ahead dish because the flavor is even better the next day.  Gently reheat on the stove or in the microwave.  This dish also freezes well.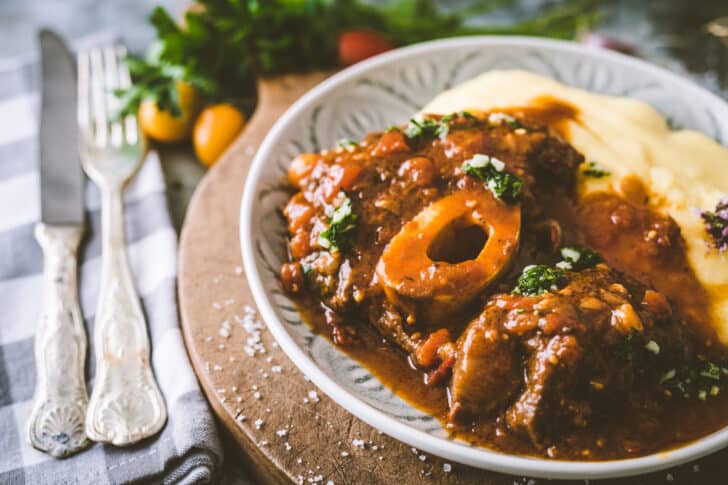 Osso Buco Recipe
Let's get started!
Pat the shanks dry with a paper towel and lightly dredge in flour, shaking off the excess.  Heat the oil in a Dutch oven or medium pot and brown the shanks on both sides and transfer to a plate.  Set aside.
Add the pancetta or bacon and cook until browned, then add the onions and cook for 5-7 minutes until soft and translucent.
Add the carrots, celery, and garlic and cook another 3-4 minutes until softened.  Add the wine and boil until reduced by half.
Add the broth, seasonings, and tomato paste.
I'm using my favorite broth made by Aneto, a broth manufacturer outside Barcelona, Spain.  Several years ago we had the opportunity to tour their factory and witness the entire broth-making process from start to finish and have been loyal fans ever since.  They select only the freshest vegetables and chicken, wash and prepare them by hand, and then place them in gigantic pots to slow simmer for hours.   Real vegetables, chicken, sea salt, olive oil and nothing else:  absolutely ZERO fillers, preservatives, extracts, "added flavors", powders or anything of the sort.  Just real, whole ingredients that are prepared the same way you make it at home.  You can read more about or Aneto factory tour.   Their broths can be purchased in select stores across the U.S. or here on Amazon (the 6-pack is the best value).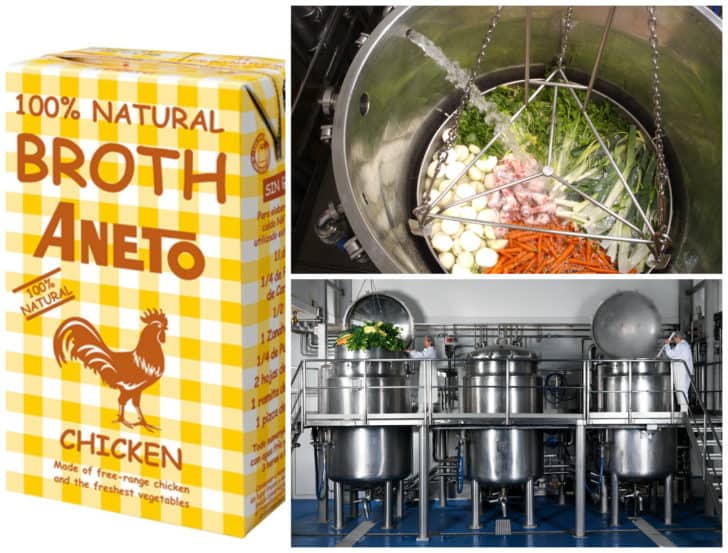 Return the browned shanks to the pot, bring to a boil, reduce the heat to a very low simmer, cover and simmer for 1 1/2 to 2 hours or until the meat is fork tender.  Add salt and pepper to taste.  Remove and discard the bay leaf.
Serve over creamy polenta, saffron risotto, or mashed potatoes and, if using, sprinkle with gremolata.
Enjoy!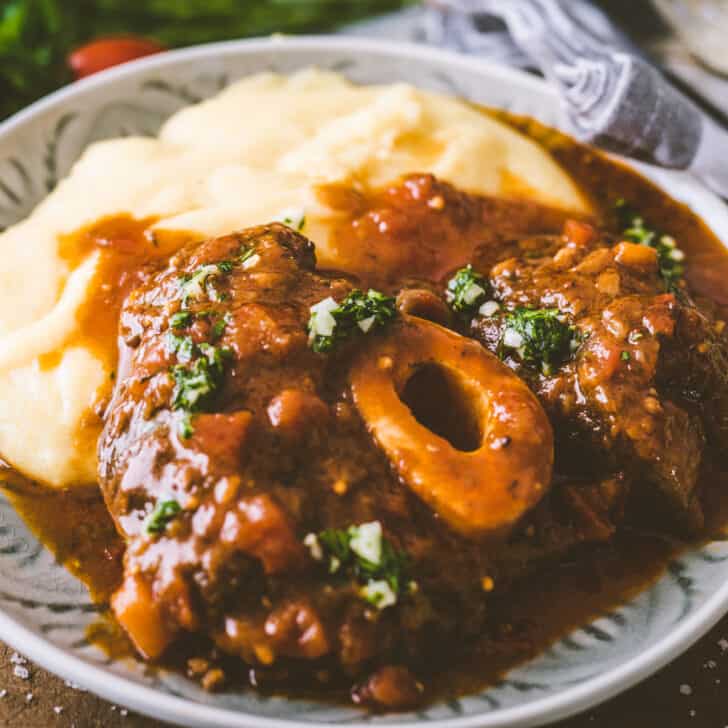 For more delicious Italian dishes be sure to try our: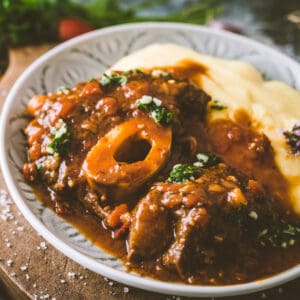 Classic Osso Buco
Kimberly Killebrew
The classic Italian dish, Osso Buco, featuring beef or veal shanks slow-simmered until fork tender in a deliciously rich gravy.
Ingredients 
4

beef or veal shanks

, about 1/2 pound each

1/2

cup

flour for dredging

1

tablespoon

cooking oil

(I use avocado)

1

tablespoon

butter

1/4

pound

pancetta (can substitute thick cut bacon)

, diced

1

medium yellow onion

, finely diced

1

carrot

, diced

1

celery rib

, diced

2

cloves

garlic

, minced

1

cup

dry white wine

, e.g. pinot grigio, sauvignon blanc, chardonnay

2

cups

quality chicken broth

(we use and recommend Aneto), can also used veal stock if you have access to it. Beef broth can also be used though chicken broth tastes more "elegant"

1 1/2

tablespoons

tomato paste

1

bay leaf

1

teaspoon

dried thyme leaves

1

teaspoon

salt

1/2

teaspoon

freshly ground black pepper

Gremolata (optional):

zest of one lemon

3

tablespoons

finely minced parsley

4

cloves

garlic

, minced
Instructions 
Pat the shanks dry with a paper towel and lightly dredge in flour, shaking off the excess.  Heat the oil and butter in a Dutch oven or medium pot and brown the shanks on both sides and transfer to a plate.  Set aside.

If making the gremolata, combine the ingredients in a small bowl, cover and refrigerate until ready to use.

Add the pancetta or bacon and cook until browned, then add the onions and cook for 5-7 minutes until soft and translucent. Add the carrots, celery, and garlic and cook another 3-4 minutes until softened.  Add the wine and boil until reduced by half. Add the broth, seasonings, and tomato paste.

Return the browned shanks to the pot, bring to a boil, reduce the heat to a very low simmer, cover and simmer for 1 1/2 to 2 hours or until the meat is fork tender.  Add salt and pepper to taste.  Remove and discard the bay leaf.

Serve with creamy polenta or saffron risotto and, if using, sprinkle with gremolata. (See blog post for other serving recommendations.)
Nutrition
Serving: 1shank | Calories: 355kcal | Carbohydrates: 10g | Protein: 29g | Fat: 20g | Saturated Fat: 6g | Polyunsaturated Fat: 3g | Monounsaturated Fat: 9g | Cholesterol: 58mg | Sodium: 933mg | Potassium: 766mg | Fiber: 2g | Sugar: 3g | Vitamin A: 2920IU | Vitamin C: 10mg | Calcium: 62mg | Iron: 4mg