Cracker Barrel Cinnamon Roll Pie
7 min read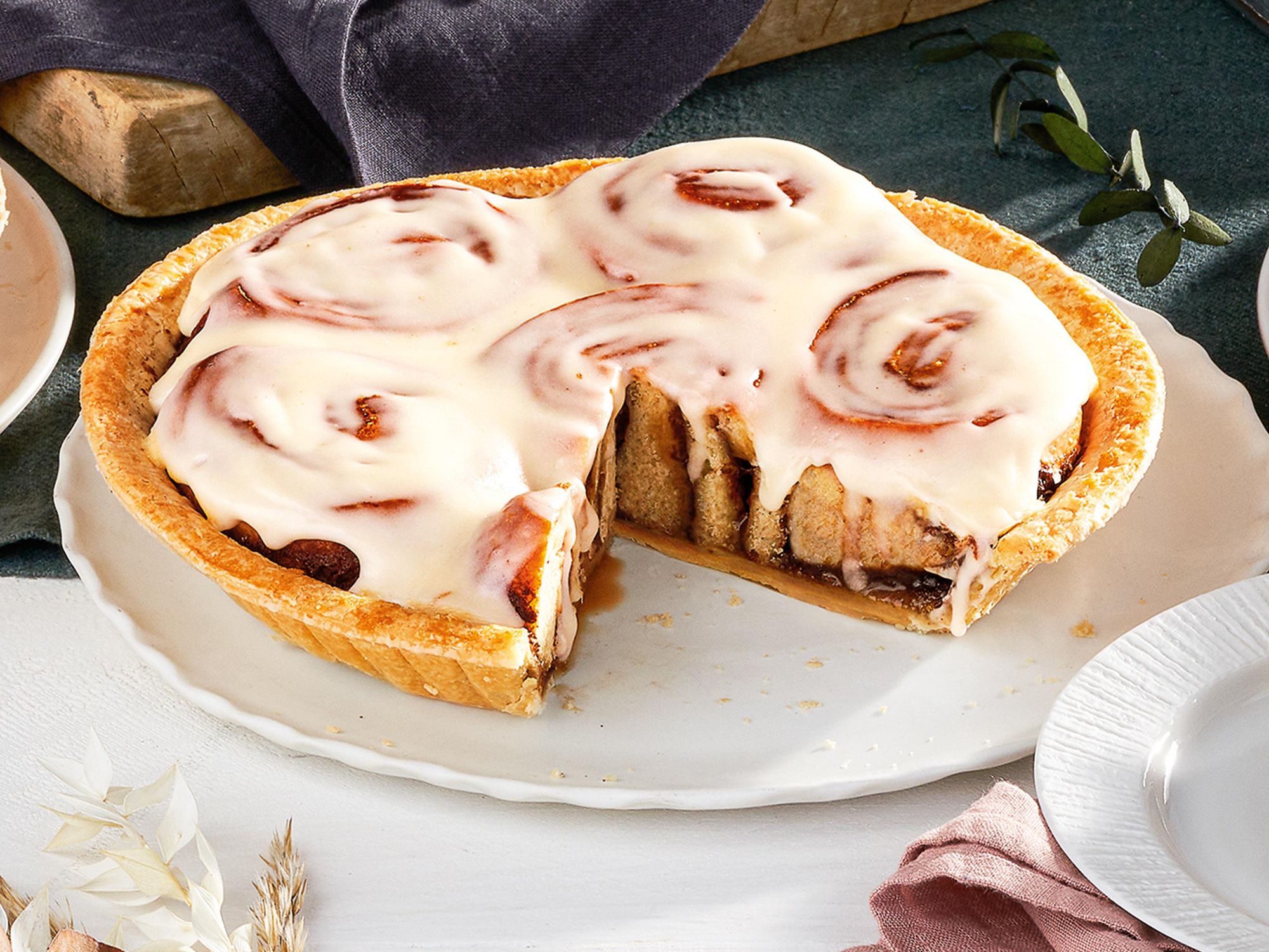 Cracker Barrel Cinnamon Roll Pie is rich, sweet, and absolutely incredible. Fluffy homemade cinnamon rolls are baked in pastry pie crust and topped with icing. It's great for brunch and a special breakfast.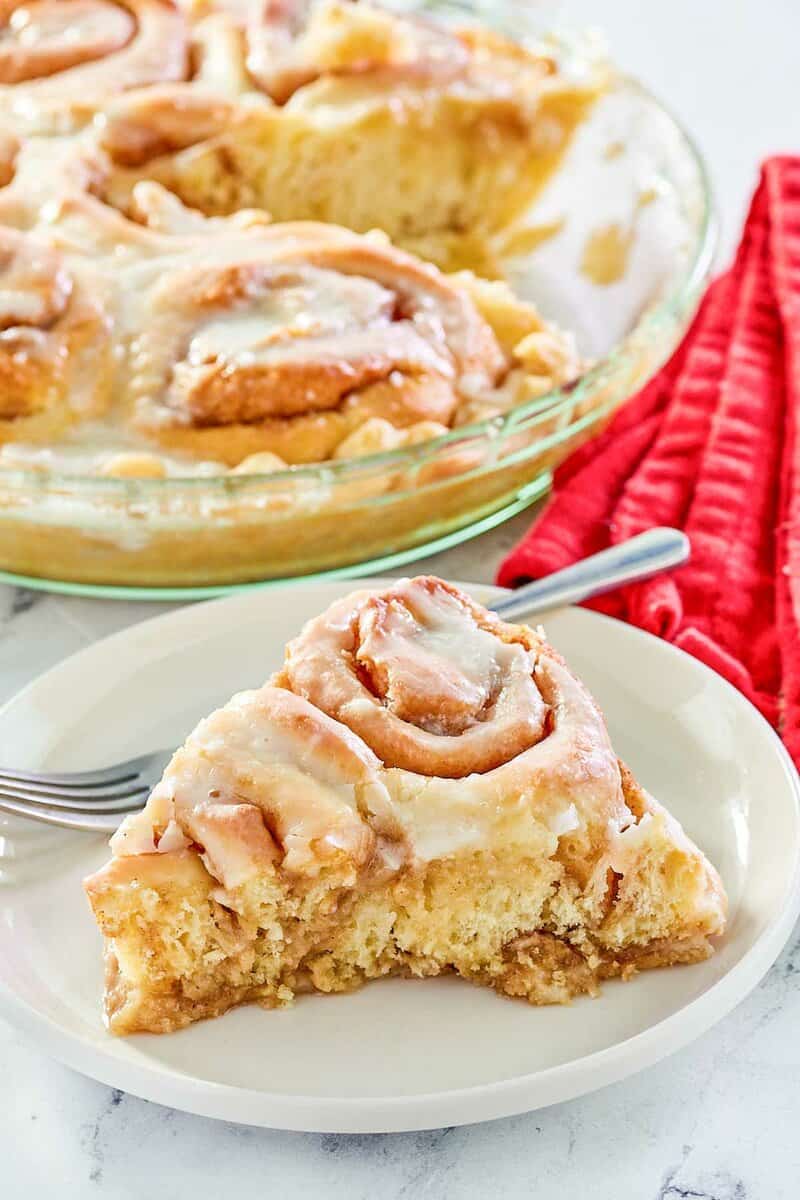 This post contains affiliate links. As an Amazon Associate, I earn from qualifying purchases.
What Makes the Cracker Barrel Cinnamon Roll Pie the Perfect Addition to Breakfast or Brunch?
When autumn rolls around, the good folks at Cracker Barrel Old Country Store get even more creative with their warm seasonal touches and pie offerings. For years, this recipe has been a seasonal breakfast favorite of guests who can't get enough of warm cinnamon rolls baked on a flaky golden pie crust and then topped with an ooey-gooey icing.
This year, make Cinnamon Roll Pie part of your holiday tradition. You can serve this breakfast pie for Christmas, Thanksgiving Day, Easter, or Mother's Day.
Why This Recipe Is So Good
Cinnamon roll pie for breakfast? Yes, please; calories and fat grams be darned!
The secret to this version of Cinnamon Roll Pie is the from-scratch cooking. It may take all morning to prepare, but once you taste the results, you'll know it was completely worth it.
Ingredients For Cinnamon Pie
For the cinnamon rolls dough, you'll need:
Milk
Eggs, at room temperature
Unsalted butter, softened
All-purpose flour
Salt
White sugar
Yeast – Both instant and active dry yeast will work.
Vegetable oil
The vegetable oil is only for greasing a mixing bowl to prevent the dough from sticking. Use a neutral oil like canola.
Both instant and active dry yeast will work in this recipe.
For the cinnamon roll filling, you'll need:
Light brown sugar
Unsalted butter
Ground cinnamon
For the cinnamon roll frosting, you'll need:
Powdered sugar
Unsalted butter, melted
Vanilla extract
Milk
You can use heavy cream or half & half instead of milk for extra-rich frosting.
To assemble the pies, you'll need:
Unbaked pie shells
Unbaked cinnamon rolls
Cinnamon roll icing
Try this recipe for pie shells if you don't already have a favorite.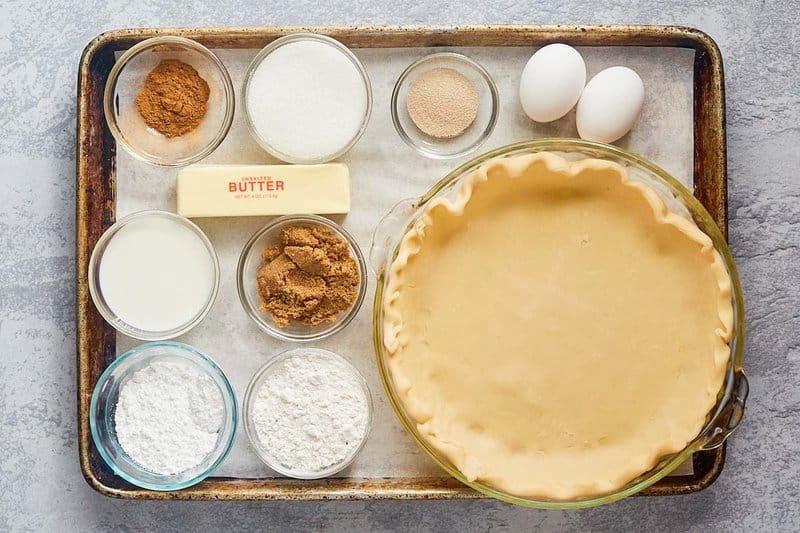 How To Make This Cinnamon Roll Pie Recipe
To prepare the cinnamon roll dough:
Warm the milk to slightly above body temperature, about 100 to 115 degrees. At this point, you can add the active dry yeast to the milk to check if it is still good, but most modern yeasts don't require blooming.
Add the warm milk, yeast, flour, sugar, and eggs to the bowl of a stand mixer with a dough hook attachment. If you don't have a stand mixer, you can use an electric hand mixer with a standard attachment or make the dough by hand.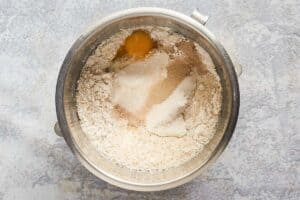 Mix on medium for about three minutes to form a soft but sticky dough.
Oil a large mixing bowl and scrape the dough into it.
Turn the dough in the bowl to coat all sides. Cover the bowl with a clean kitchen towel. Set aside until the dough doubles in size. Depending on the weather, it may take up to two hours.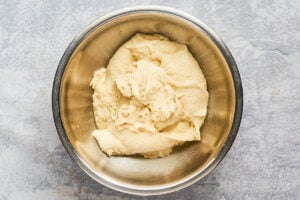 To make the cinnamon roll filling:
While the dough rises, make the filling.
Remove the unsalted butter from the fridge and let it come up to room temperature.
Use a stand or electric mixer with the paddle attachment to cream the brown sugar, cinnamon, and softened butter in a clean bowl.
Cover the creamed butter with a kitchen towel and set aside.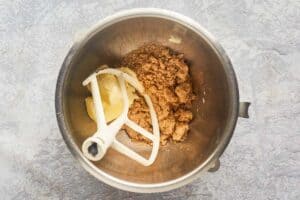 To assemble the cinnamon rolls:
Once the dough doubles in size, it is time to start making the rolls.
Use your hands to form the dough into a rough rectangle.
Roll the dough out into a rectangle about three-eighths of an inch thick.
Spread the cinnamon roll filling edge-to-edge on the dough.
Starting at the short end, gently roll the dough into a log.
Cut into 12 equal pieces.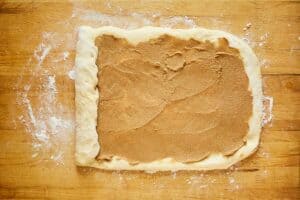 To finish the Cinnamon Roll Pies:
This recipe makes two pies.
Put each of the unbaked pie shells in a pie pan.
Arrange half of the unbaked cinnamon rolls in each unbaked pie shell. Leaving some space between them is okay because the rolls will expand.
Cover the pies with kitchen towels and allow them to rest for 30 minutes on the counter.
Preheat the oven to 375 degrees Fahrenheit.
Bake the pies for 15 to 20 minutes.
Remove the pies from the oven and let them cool in the pie tins for about 20 minutes on a wire rack.
Prepare the icing; see below.
Spread the icing on the cinnamon roll pies and serve.
To make the icing:
While waiting for the pie to cool is the perfect time to make the icing. In a bowl, mix the powdered sugar, melted unsalted butter, and vanilla extract until smooth.
Cover the bowl with a kitchen towel and set it aside.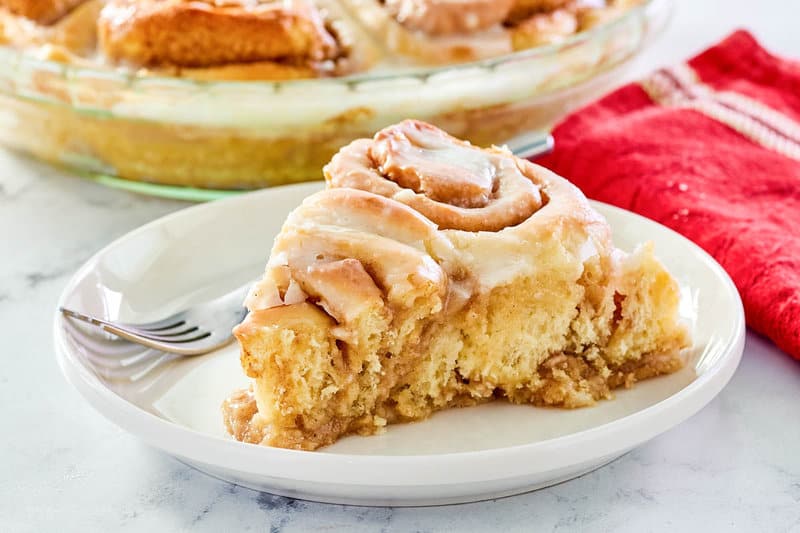 Recipe Variation
There is no denying that making this Cracker Barrel Cinnamon Roll Pie recipe from scratch is a bit of a project. You can use several shortcuts if you find yourself running short on time. Choose one, or use them all; no one will tell.
Opt for canned cinnamon rolls. If you don't have the time to make them from scratch, the ones in a can are an option.
Use pre-made pie shells. Homemade pie crust is best, but frozen ones are perfect for those pie-making emergencies.
Go with prepared icing. Making icing is easy, but it requires time and ingredients you may not have. Sometimes, it is just easier to buy ready-made icing instead.
Sweet Cream Cheese Icing. Make some cream cheese icing instead of simple vanilla icing.
What To Serve With Cinnamon Roll Pie? 
This recipe makes an excellent breakfast pie or after-dinner dessert. Add a dollop of whipped cream, chocolate chips, nuts, and sliced bananas for extra decadence. Serve with bacon or sausage for a full cinnamon roll pie breakfast.
A hot cup of coffee, espresso, or breakfast tea will provide just the right amount of acidity to complement the pie's sweetness.
How To Store the Leftovers
Cinnamon Roll Pie does not need to be refrigerated if you plan to eat it within two to three days. Keep it in an airtight container in a cool part of your kitchen. You can also refrigerate the pie for up to five days.
What's the Best Way to Reheat a Cinnamon Roll Pie?
The best way to reheat cinnamon pie is in the oven:
Preheat the oven to 350°F.
Cut the pie into slices and put them on a baking sheet.
Spray water on top of the pie slices and cover tightly with aluminum foil.
Reheat for 5 to 15 minutes, depending on the starting temperature of the pie.
You can also reheat it in the microwave for about 15 seconds.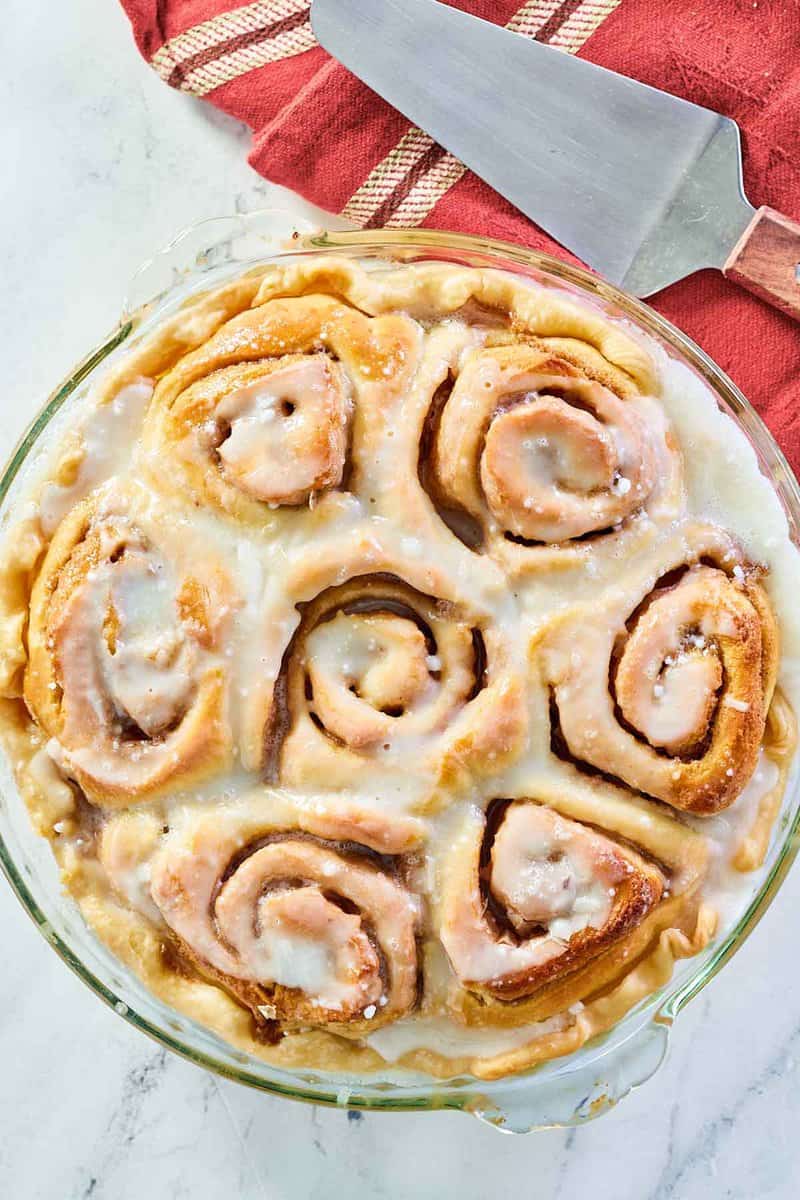 Popular Cracker Barrel Breakfast Copycat Recipes
Favorite Sweet Breakfast Recipes
Check out more of my easy breakfast recipes and the best copycat Cracker Barrel recipes on CopyKat!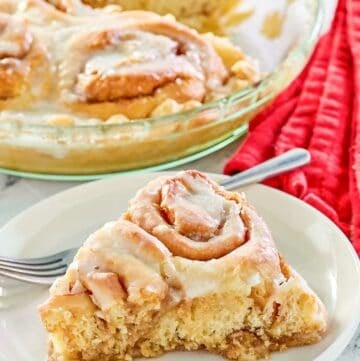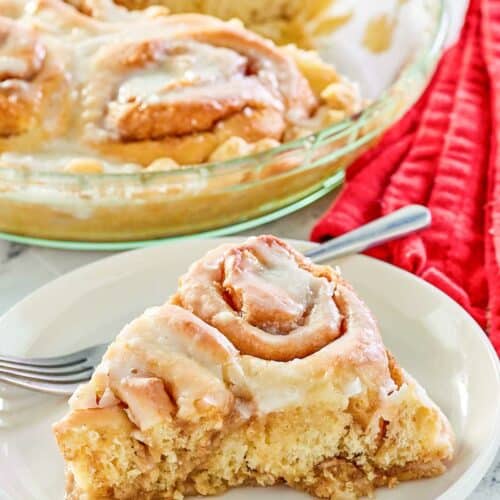 Cracker Barrel Cinnamon Roll Pie
You can make Cracker Barrel's Cinnamon Roll Pie at home with this easy copycat recipe.
Print
Pin
Rate
Add to Collection Go to Collections
Servings: 12
Calories: 630kcal
Ingredients
Cinnamon Roll Dough
1

cup

milk

lukewarm

2

large

eggs

at room temperature

5

tablespoons

butter

softened

4½

cups

all-purpose flour

1½

teaspoons

salt

½

cup

sugar

2½

teaspoons

instant yeast or active dry yeast

or one 1/4-ounce packet of Platinum Yeast from Red Star
Cinnamon Roll Filling
1

cup

brown sugar

6

tablespoons

softened butter

3

tablespoons

ground cinnamon
Pie
2

unbaked pastry pie shells
Cinnamon Roll Icing
2

cups

powdered sugar

2

tablespoons

melted butter

1

teaspoon

vanilla extract

4

tablespoons

milk, heavy cream, or half and half
Instructions
To make the dough, combine lukewarm milk, eggs, all-purpose flour, salt, sugar, and yeast in a mixer. Mix for 3 minutes. The dough will be sticky and that's ok.
Place the dough in a an oiled bowl, and turn dough to grease all sides. Cover with a clean towel. The dough will take 1 to 2 hours to double in size, this will depend on the temperature of the room.
While the dough is rising, make the cinnamon roll filling.
Combine brown sugar, 6 tablespoons softened butter, and ground cinnamon in a bowl.
Mix with a mixer until smooth.
When the dough has doubled in size, turn it out onto a floured board.
Roll out the dough into a rectangle that is ⅜ inches thick.
Spread the cinnamon mixture onto the dough.
Start with the short end and roll the dough, but not too tightly, into a log.
Cut the log into 12 to 14 equal-sized pieces.
Place the center roll into each of the pie shells. Then add the remaining rolls to the pie shell.
Cover with a clean towel, and let the dough rise again for 30 minutes.
Preheat oven to 375°F.
Place both of the cinnamon roll pies into the oven. Bake for 15 to 20 minutes.
While the pies are baking, make the icing by combining 2 tablespoons of melted butter, powdered sugar, and heavy cream. Stir until smooth.
After the pies have been removed from the often, wait about 20 minutes before topping them with the icing.
Nutrition
Calories: 630kcal | Carbohydrates: 100g | Protein: 10g | Fat: 22g | Saturated Fat: 11g | Polyunsaturated Fat: 2g | Monounsaturated Fat: 7g | Trans Fat: 1g | Cholesterol: 67mg | Sodium: 534mg | Potassium: 189mg | Fiber: 4g | Sugar: 47g | Vitamin A: 471IU | Vitamin C: 0.1mg | Calcium: 88mg | Iron: 3mg