Easy Baked Ziti Recipe – Love and Lemons
6 min read
Feeding a crowd? This baked ziti recipe is the easiest way to do it! Saucy, cheesy, comforting, and flavorful, this fuss-free pasta is always a hit.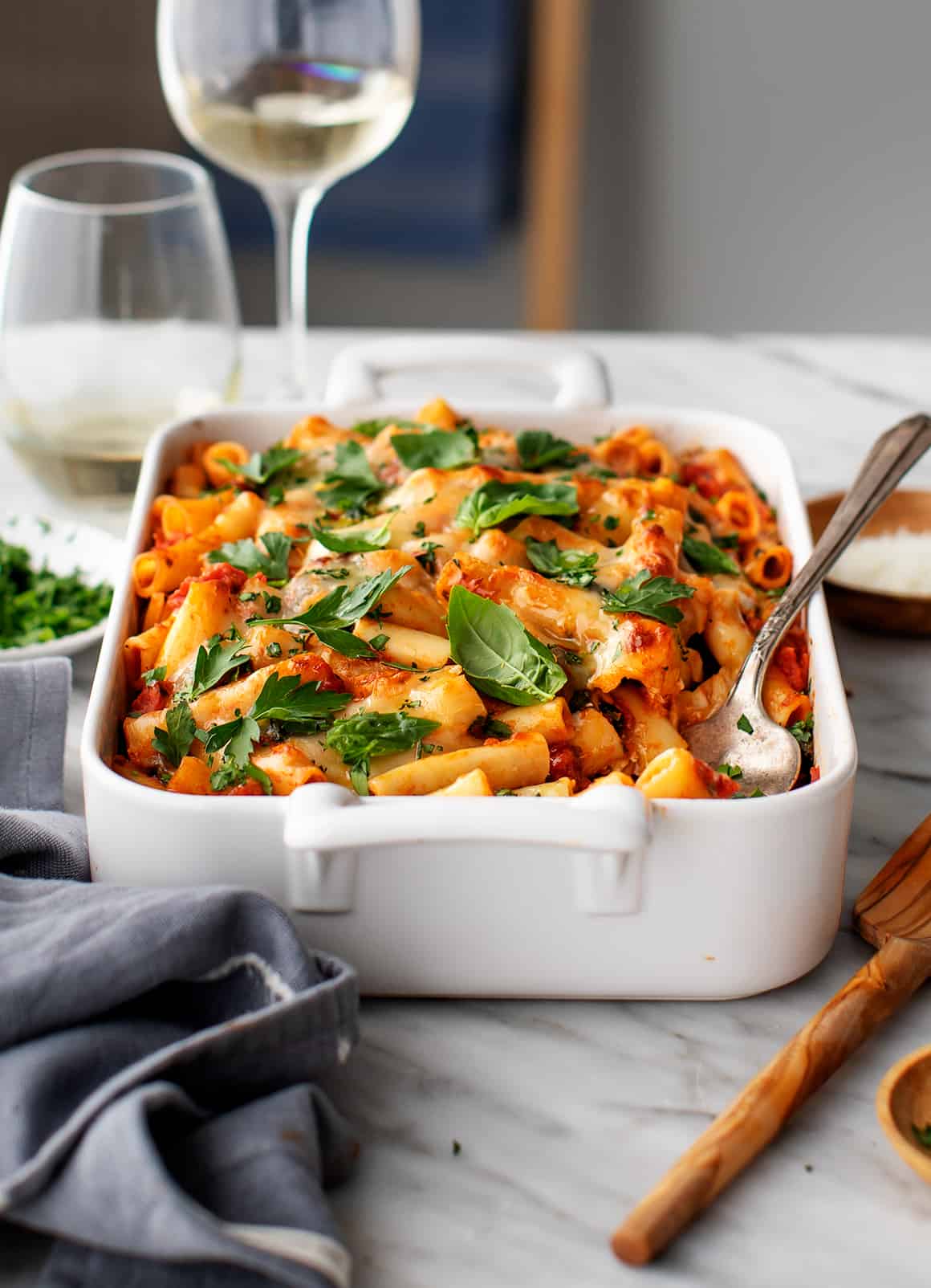 Have you tried this baked ziti recipe?! It's a fan favorite on the blog, and it's one of our family favorites as well. If you have yet to make it, I hope you will this season. This easy baked ziti is a perfect no-fuss recipe for feeding a crowd, and the combo of marinara sauce, pasta, and three (yes, three!) types of cheese is so comforting at this time of year.
This baked ziti recipe is my veggie spin on the version I grew up eating. Reliably present at every potluck or party I attended, it was my favorite comfort food. I loved the jumbles of noodles mixed with tangy tomato sauce, gooey cheese, and Italian sausage or ground beef. These days, I skip the meat in favor of creamy ricotta and lots of fresh spinach, but this baked ziti recipe is still hearty, satisfying, and packed with flavor. I love it, and I think you will too.
Baked Ziti Recipe Ingredients
Here's what you'll need to make this baked ziti recipe:
Ziti, of course! Another tube-shaped pasta, such as penne or rigatoni, would work nicely too.
Marinara sauce – If I have the time, I like to use my homemade marinara sauce here, which comes together with a quick 20-minute simmer on the stove. But store-bought sauce is fair game too! I recommend Rao's.
Ricotta cheese – It creates a creamy layer in the center of the baked ziti. For the best texture, make sure to use whole milk ricotta in this recipe.
Garlic, lemon zest, oregano, and red pepper flakes – I use these ingredients to season the ricotta. The garlic, oregano, and pepper flakes add classic Italian flavor, and the lemon zest brings a delicious, unexpected brightness.
Fresh spinach – It wouldn't be a Love & Lemons recipe if it wasn't loaded with fresh veggies! I sauté a whole pound of spinach in olive oil before stirring it into the pasta.
Smoked mozzarella and pecorino cheeses – For topping. The smoked mozzarella gives the pasta a kick of rich, smoky flavor, which I love, but if you can't find it, no worries! Sub in regular mozzarella. And in a pinch, salty, nutty Parmesan cheese is a great sub for the pecorino.
Torn fresh basil and chopped parsley – I sprinkle them over the final dish for a fresh, vibrant finishing touch.
And salt and pepper – To make all the flavors pop!
Find the complete recipe with measurements below.
How to Make Baked Ziti
This baked ziti recipe is easy to make! Here's how it goes:
First, cook the pasta. Bring a large pot of salted water to a boil, and cook the pasta until al dente. Be careful not to overcook it! It will soften more while it bakes.
While the pasta cooks, make the ricotta cheese mixture. Stir together the ricotta, garlic, lemon zest, oregano, and red pepper flakes, and season with salt and pepper.
Next, sauté the spinach. Drain the pasta, and heat a glug of olive oil in the same pot. Sauté the spinach until it's just wilted. Tip: Work in batches here! I do 1/2 pound at a time so that the spinach cooks evenly. I like all of it to be tender and vibrant green, not slimy or soggy. When I work in batches, I'm able to hit that sweet spot every time.
Gently squeeze some of the excess moisture out of the sautéed spinach and roughly chop it.
Then, mix everything together. Return most of the spinach and all of the pasta to the pot, along with all but 1/2 cup of the tomato sauce. Stir until everything is well combined.
Finally, layer it up. Spread the remaining sauce on the bottom of a large casserole dish, and spread half of the pasta mixture over it. Dollop in the ricotta and the reserved spinach, and scoop the rest of the pasta on top. Top with the grated smoked mozzarella and pecorino cheeses, and drizzle with olive oil. Bake until the cheese is golden brown and bubbling. Enjoy!





Want to get ahead?
This baked ziti freezes well. Assemble it up to the point of baking, cover it tightly with foil, and freeze for up to 3 months. To reheat, bake, covered, at 350°F for an hour, or until heated through. Uncover and bake until the cheese on top is browned and bubbling.
Instead of freezing the pasta, you can also assemble it a few hours, and up to day, in advance, cover it, and store it in the fridge. Allow it to sit at room temperature for 30 minutes before baking according to the instructions in the recipe below.
What to Serve with Baked Ziti
This baked ziti recipe is a delicious cold weather main dish. Pair it with garlic bread, garlic knots, or homemade focaccia for sopping up any stray marinara sauce. Round out the meal with a big salad. Any of these would be fantastic:
Not feeling the salad? Skip it, or opt for a simple veggie side dish instead. Roasted broccoli, roasted Brussels sprouts, and sautéed green beans would all be great choices.
The baked ziti is best on the day it's made, but leftovers keep well for up to 4 days in the fridge. Reheat individual portions in the microwave, or warm larger quantities in a covered pan in a 325°F oven.
More Favorite Comfort Food Recipes
If you love this easy baked ziti recipe, try one of these comforting dishes next:
Want more easy dinner ideas? Check out this post!
Easy Baked Ziti
Serves 6 to 8
This baked ziti recipe is easy to make and perfect for serving a crowd. Filled with tangy tomato sauce, al dente pasta, and three types of cheese, it's comforting and delicious.
4

cups

(32 ounces) marinara sauce

2

cups

(16 ounces) ricotta cheese

2

garlic cloves

,

minced

1

tablespoon

lemon zest

1

teaspoon

oregano

¼

teaspoon

red pepper flakes

¾

teaspoon

sea salt

,

more for the pasta water

Freshly ground black pepper

1

pound

ziti pasta

Extra-virgin olive oil,

for drizzling

1

pound

fresh spinach

1½

cups

smoked mozzarella cheese

¼

cup

grated pecorino or Parmesan cheese

Chopped fresh parsley and/or torn basil leaves

,

for garnish
Preheat the oven to 425°F. Spread ½ cup marinara in the bottom of a 9×13-inch baking dish.
In a medium bowl, combine the ricotta cheese, garlic, lemon zest, oregano, red pepper flakes, ½ teaspoon salt, and several grinds of fresh pepper.
In a large pot of salted boiling water, cook the pasta according to package directions until al dente. Drain.
Return the pot back to the stove. Over low heat, drizzle the bottom of the pot with a little olive oil and add the spinach. Toss and sauté 1 to 2 minutes until just wilted, working in batches if necessary. Turn off the heat, remove the spinach from the pot, and gently squeeze out some of the excess water. Coarsely chop it and set aside.
Add the pasta back to the pot along with the remaining marinara, most of the chopped spinach, ¼ teaspoon sea salt, and more fresh pepper and toss until combined.
Add half the pasta to the baking dish, top with dollops of the ricotta, the remaining spinach, and scoop the remaining pasta on top. Top with the mozzarella and pecorino cheese. Drizzle with olive oil and bake until the cheese is browned, 16 to 22 minutes.
Garnish with fresh basil or parsley and serve hot.