Easy Gluten Free Stuffing Recipe with Cranberries and Apples
6 min read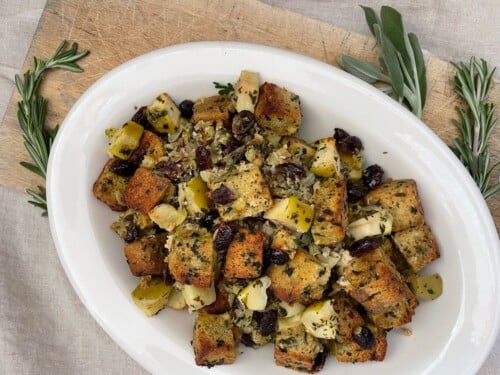 We love this wholesome yet incredibly delicious Gluten Free Stuffing with Cranberries and Apples so much that it's become one of our favorite holiday traditions.
Gluten Free Stuffing with Cranberries and Apples
While it graces our Thanksgiving table every year, it's such an amazing gluten free comfort food that we make it all year round.
Cran Apple Homemade Stuffing
This homemade stuffing recipe melds the flavors of rich almond flour bread with plumped up cranberries, plus onion, celery, parsley, and tart Granny Smith apples.
Gluten Free Thanksgiving
Although making a gluten free Thanksgiving may not seem like a big deal to some, it's important to me.
I don't want anyone to miss out on anything Thanksgiving because of an intolerance to foods or any type of food allergy.
Diagnosed with Celiac Disease
When I was diagnosed with celiac disease way back in 1998, during the Dark Ages of Gluten Free, I eliminated gluten from my diet and simply carried on.
But when my son was diagnosed as a toddler in 2001, I made it my mission to turn all of my favorite childhood recipes into gluten free classics so that my kiddo would not be deprived of treats and comfort food!
Best Comfort Food Recipes
Here's to breaking (gluten free) bread with loved ones and the most delicious low carb stuffing recipe ever!
Gluten Free Stuffing with Cranberries and Apples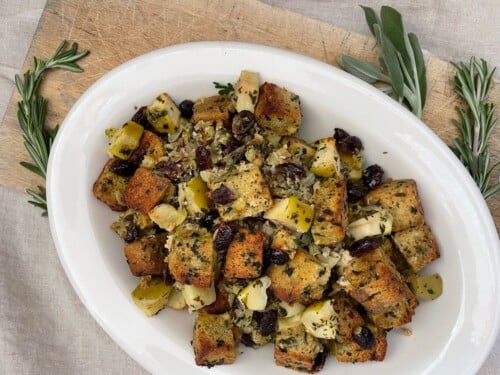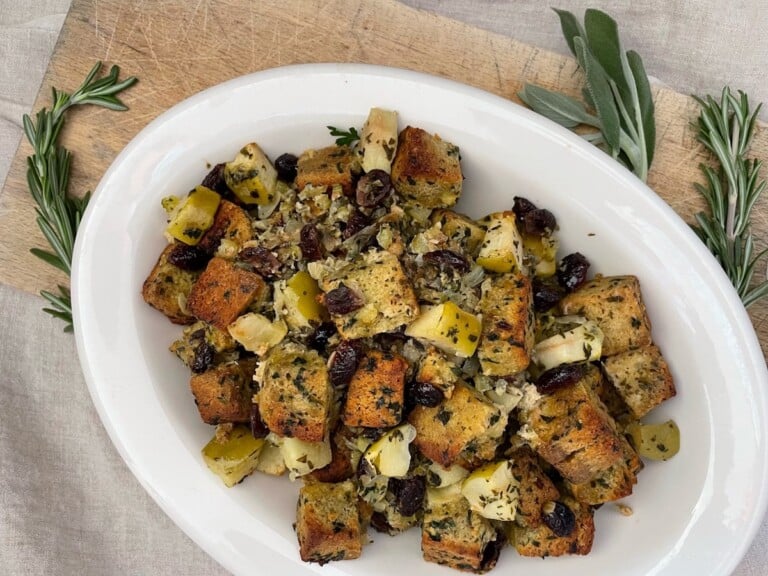 Print
Email
Pin Recipe
Instructions
Soak dried cranberries in chicken broth for 1 hour

Sauté onion until soft, about 10 minutes

Add celery and sauté 10 minutes

Add apple and parsley and sauté for 3 minutes, until apples begin to soften

Cool for 20 minutes

Stir bread cubes into vegetable mixture

Whisk

eggs and salt into cranberry-chicken broth mixture

Add egg-cranberry mixture to stuffing, tossing to combine

Bake stuffing at 350°F uncovered until cooked through and browned on top, 35-40 minutes

Let stand 10-15 minutes

Serve
Prep Time 1 hr 10 mins
Cool Time 30 minutes
Cook Time 1 hr 1 min
Total Time 2 hrs 41 mins
Prevent your screen from going dark
What is Celiac Disease?
Quick aside as we tackle gluten free stuffing for Thanksgiving! If you're new here and wondering what Celiac Disease is, it's an autoimmune disorder that causes damage to the gut and other parts of the body.
Genetic Intolerance to Gluten
Celiac disease is not an allergy, it is triggered by a genetic intolerance to gluten, and is a multi organ system disease with a wide array of symptoms that can be particularly challenging to diagnose.
Given that my son and I both suffer from it, creating holiday food and rituals that bring everyone to the table joyfully, without stress, is a top priority of mine.
Stuffing: Easy Recipes for Baking
I've got your Thanksgiving dreams covered with this Gluten Free Stuffing with Cranberries and Apples recipe!
Gluten Free Recipes for Bread
I start this homemade stuffing with one of my bread recipes with almond flour. Then I add wholesome bone broth, which aids with function of the digestive system and boosts protein intake, making this one healthy side dish.
My Paleo Bread recipe, one of my favorite recipes with almond flour, is key when it comes to the healthy deliciousness of my gluten free stuffing.
Bread Recipes with Almond Flour
I created this recipe for almond flour bread back in 2011. It immediately became a hit featured on Goop, Gwyneth Paltrow's website, and many others as well.
My Paleo Bread recipe has become incredibly popular, with over 1,400 comments here and 80,000 shares on social media.
The Perfect Quick Bread for Stuffing
I bake my Paleo Bread a couple days ahead of time to beat the Thanksgiving rush in my kitchen!
I love a quick bread recipe that's truly quick. The day before Thanksgiving, I cube the bread, then brown it in the oven so that it's ready to go for this homemade stuffing recipe on turkey day.
Is Chicken Broth Gluten Free?
The second delicious main ingredient of this recipe is bone broth. You can use my bone broth recipe, or if you want to take it easy, get store bought.
Bone broth enhances the flavor and nutritional value of my gluten free stuffing.
Best Bone Broth
When time permits, the best bone broth is homemade. I love infusing my recipe with fresh thyme, carrots, celery, onions, and garlic.
Keto Comfort Foods
By the way, broth is one of my favorite, warming comfort foods and a staple for the keto diet.
It's rich in amino acids, healthy fats, and protein. When I can, I make big batches in my Instant Pot so that I have a surplus on hand.
If you don't have time to make it for this gluten free stuffing recipe, feel free to use store-bought broth.
Chicken Broth With No MSG
When using store bought bone broth, make sure to check the label to confirm the product is gluten free and does not contain MSG.
Unfortunately, MSG is a common ingredient that manufacturers add to store bought bone broths, even organic.
Kettle and Fire Bone Broth
Given this, my healthy go-to choice is Fire & Kettle Bone Broth.
Are Dried Cranberries Gluten Free?
Moving on to the secret step that brings an explosion of tart and sweet flavors to this recipe –soaking the dried cranberries in bone broth.
This mouth puckering fruit is naturally gluten free and rich in antioxidants. I use fruit juice sweetened cranberries to keep the recipe healthy and prevent the sweetness from overpowering the other flavors in the stuffing.
As always, If you have been diagnosed with celiac disease or are allergic to gluten, be sure to check the labels of every ingredient you use!
Stuffing vs Dressing
Wondering what the difference is between stuffing and dressing?
Stuffing is a starchy mixture that's roasted in the cavity of poultry. Dressing, however, is the same scrumptious blend but baked in a pan instead of the bird.
Is it Safe to Cook Stuffing Inside of Turkey
I don't bake my stuffing inside the turkey because it doesn't cook evenly. When prepared this way, some parts may be underdone and not safe to eat. Technically this recipe is a "dressing," yet, I still refer to it as stuffing.
Stuffing the Bird? No Thanks.
I bake the stuffing outside the bird to achieve an amazing combination of textures. This way, the cubes of bread brown and get crunchy on the outside while staying deliciously tender in the center.
Best Healthy Gluten Free Stuffing
By the way, I based this Gluten Free Stuffing with Cranberries and Apples recipe on one I found in Bon Appétit more than a decade ago. I love finding mainstream recipes full of gluten, sugar, and other SAD ingredients and making something new out of them, creating healthy dishes my family will enjoy.
Thanksgiving Side Dishes to Impress Gluten Free Guests
If your loved ones suffer from celiac or an allergy to gluten and you're in search of other superstar Thanksgiving side dishes, take a look at these low carb winners:
Stuffing Is a Top 10 Thanksgiving Food
Gluten free stuffing is a healthy, easy recipe that's the perfect addition to your Thanksgiving table, and it's one of my top 10 Thanksgiving foods.
What's your favorite stuffing recipe?
This post is an oldie but goodie from the archives. I first shared this Gluten Free Stuffing with Cranberries and Apples recipe in 2010.