Easy White Fish with Wine Sauce
4 min read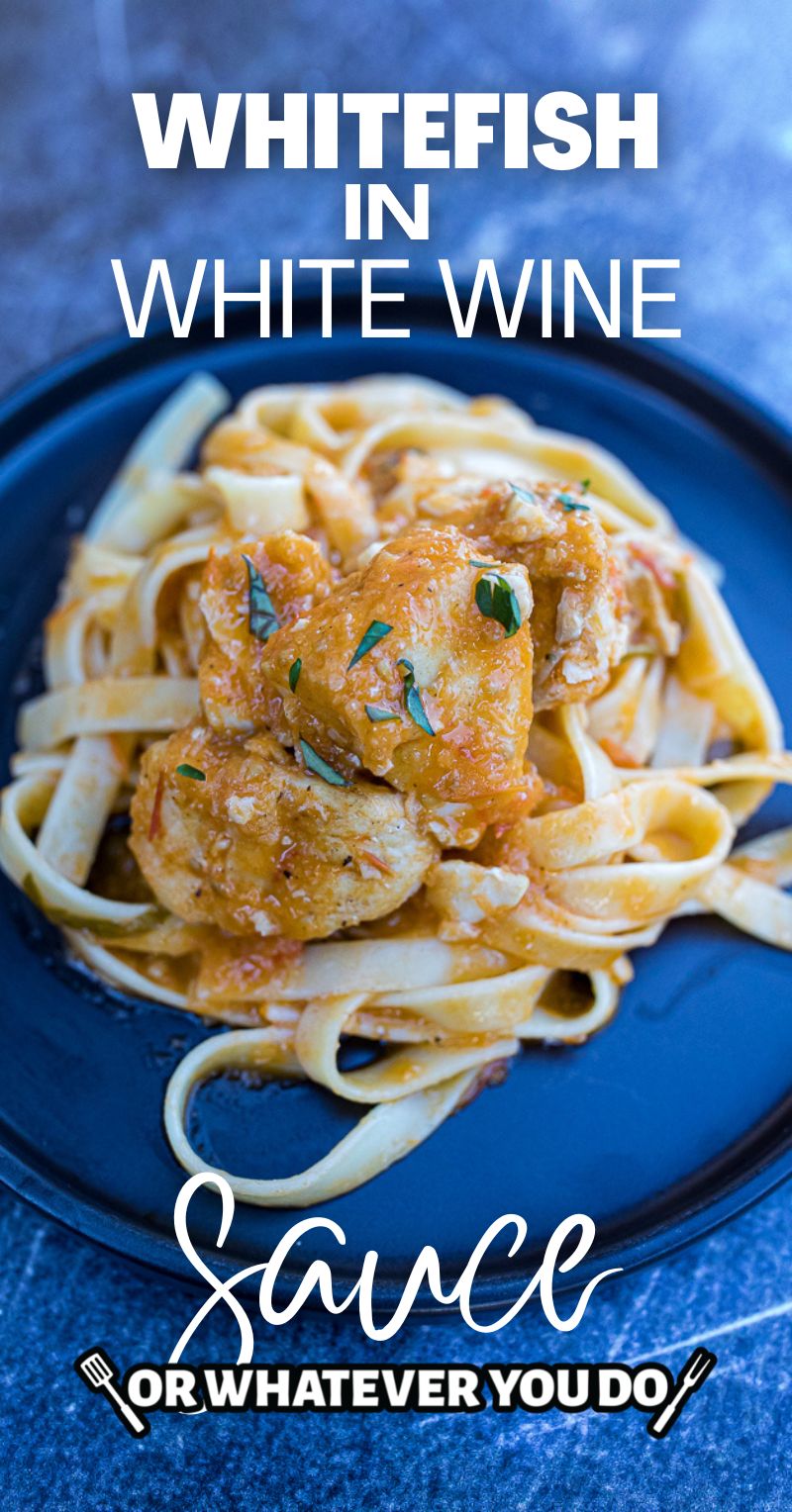 We love cooking with white fish here. Not only is it delicious, but we catch SO MUCH of it that I'm always looking for new ways to use it that go beyond your typically Fried Fish Bites and Lemon Pepper Whitefish. Jeremiah hit it out of the park with his Lingcod Linguine, and that's probably my all-time favorite way to use white fish, but this Whitefish with Wine Sauce is a very very close second.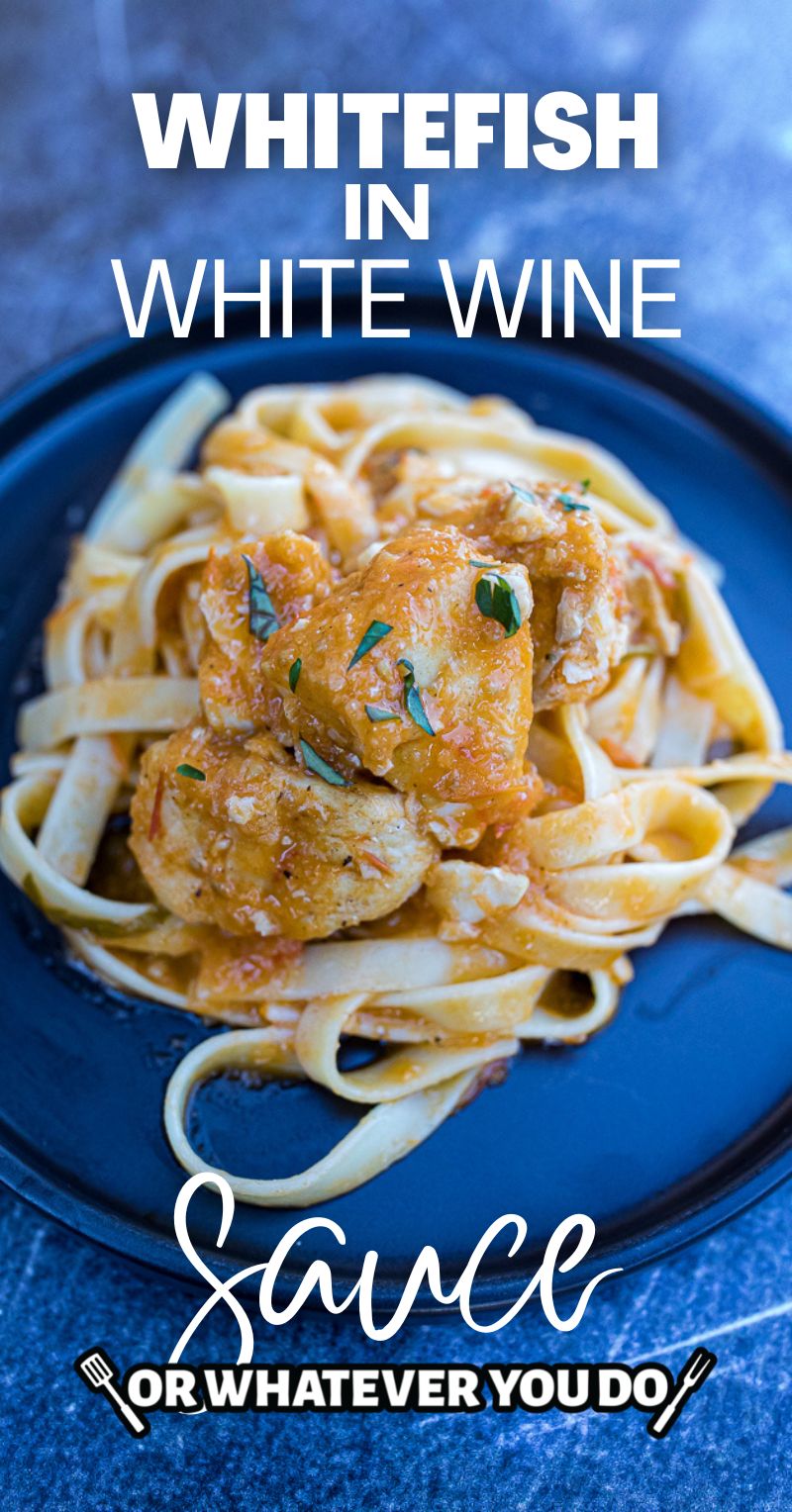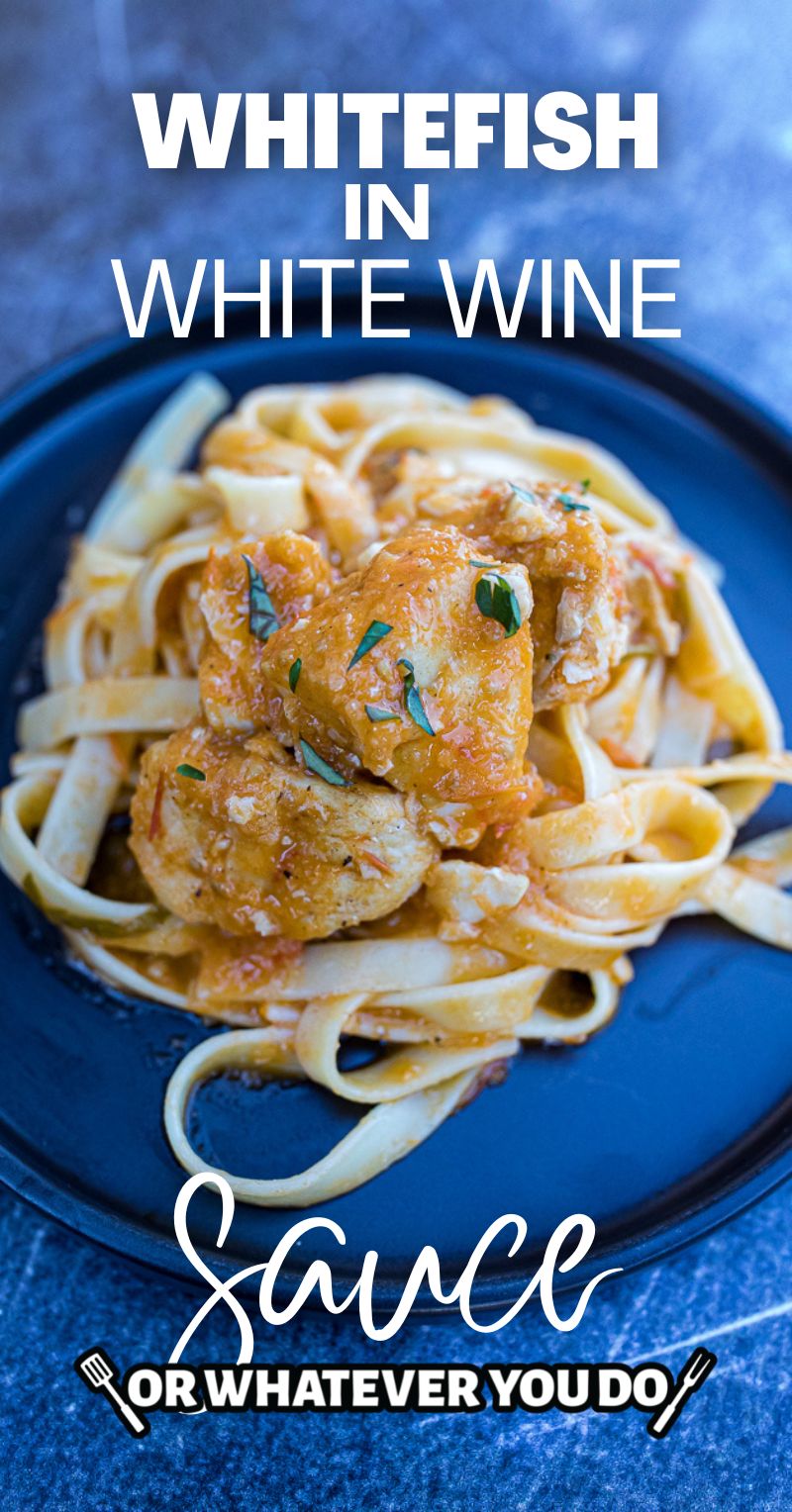 Whitefish Recipe with White Wine Bell Pepper Sauce
Ever since I discovered I didn't actually hate bell peppers, just GREEN bell peppers, I've been mildly obsessed in making up for lost time and consuming copious amounts of all of the red, yellow, and orange bell peppers I possibly can. Suddenly I love fajitas (check out my chicken, shrimp, and steak versions here). Stuffed Peppers are something I look forward to instead of avoid. This Sarma Stuffed Cabbage Soup is one of my favorite meals.
This bell pepper white wine sauce really leans on and celebrates that fresh, bright bell pepper flavor, and blending it makes it kid-friendly too. My kids who wouldn't want to touch a large chunk of vegetable with their brother's fork, even, gladly will eat this sauce.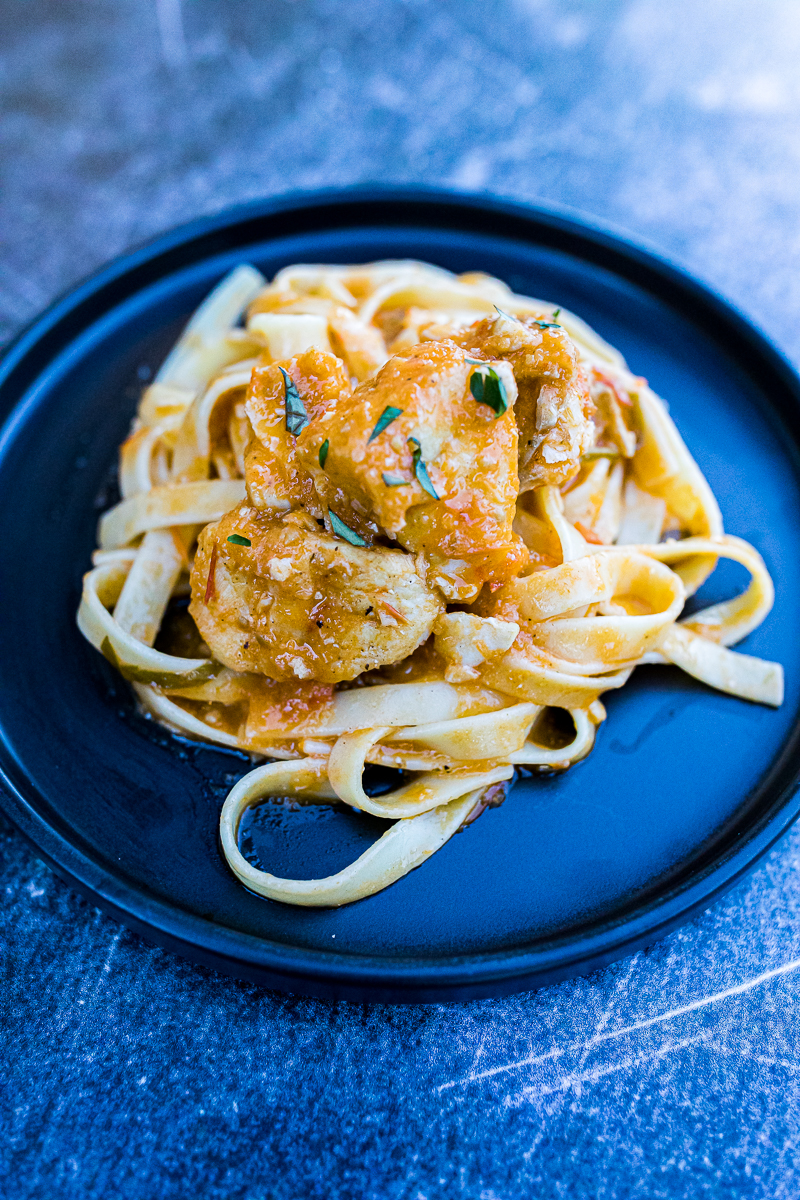 White Fish with White Wine Sauce shopping list
Wondering if you have to hit the store? Here's the list of items you'll need to make this recipe. For specific amounts, please refer to the printable recipe card at the bottom of the post.
butter
olive oil
cherry tomatoes
red bell pepper
orange bell pepper
onion
garlic
red pepper flakes
dry white wine
vegetable stock
cornstarch
cold water
fresh basil leaves
fresh parsley
white fish filets
linguine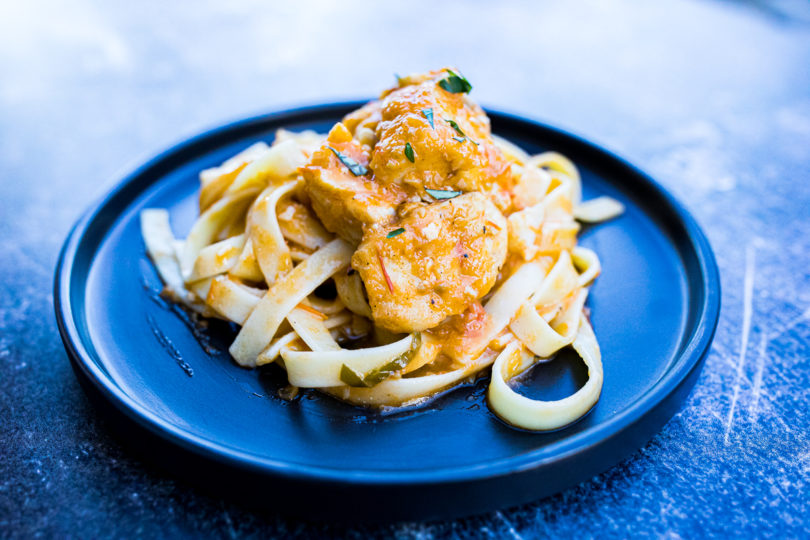 How to make Whitefish with White Wine Sauce
This is just the overview so you can see what you're actually getting into here. When you are cooking, you'll want to use the full recipe at the bottom of the page.
Saute
Saute the vegetables in the butter and oil.
Make into sauce
Add the wine and stock. Simmer until everything is tender. Blend in batches until smooth. Thicken, if necessary.
Add the fish
Bring the blended sauce back up to a simmer and add in your fish. Cover and cook until flaky.
Make the pasta
While the sauce is cooking, make your pasta in well-salted water.
Enjoy
Serve a healthy serving of sauce over pasta or zoodles.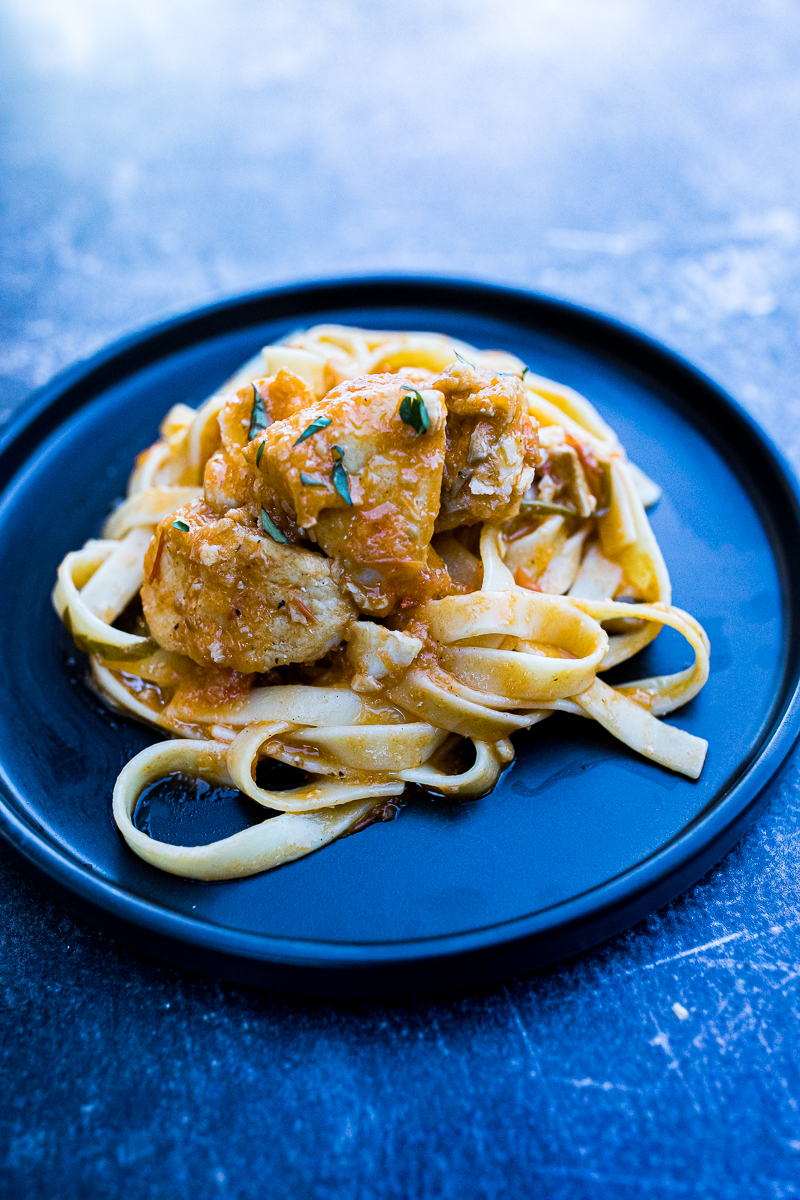 Whitefish with White Wine Sauce FAQ
How do you store leftovers?
Store these in the fridge, covered, for up to 2-3 days, max.
What's the best way to reheat leftovers?
Most of the time I tell you to stay FAR away from the microwave with fish, but in this case it actually works pretty well when reheating this sauce. Just go easy and don't overdo it or you'll ruin the texture of the fish.
Are there any substitutions for fish?
Sure! You can also use chicken or shrimp in this recipe. You can also omit the meat or fish completely and make this a vegetarian meal.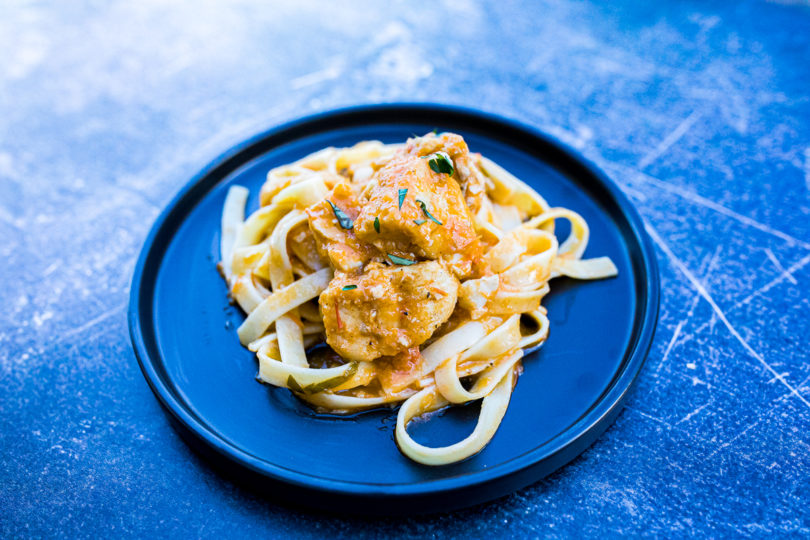 More fantastic fish recipes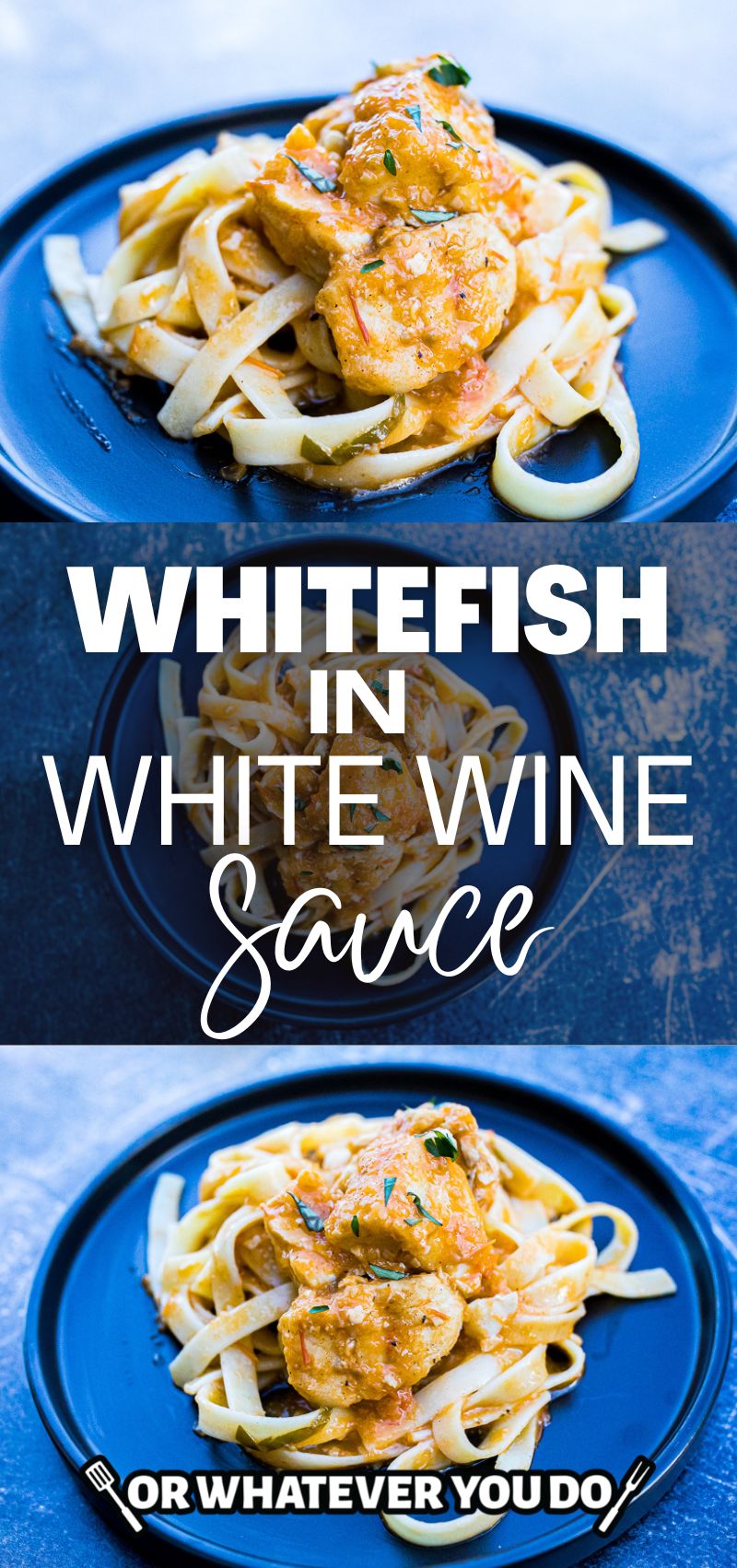 Prep Time
15 minutes
Cook Time
30 minutes
Total Time
45 minutes
Ingredients
4 tablespoons butter
2 tablespoons olive oil
3 cups cherry tomatoes
1 red bell pepper
1 orange bell pepper
1 medium onion
3 cloves garlic
1 teaspoon red pepper flakes
1 cups dry white wine
1 cup vegetable stock
1 teaspoon salt (add in bit by bit, according to taste)
1/2 teaspoon pepper
1 tablespoon cornstarch*
2 tablespoons cold water*
6 fresh basil leaves
2 tablespoons fresh chopped parsley
1 pound fresh white fish filets, bones removed
1 pound linguine
Instructions
Prep all of your vegetables by slicing the cherry tomatoes in half, removing the stems and seeds from the bell peppers, and dicing them into chunks. Cut the onion up as well as the garlic.
Melt your butter in a large stockpot. Add the olive oil and heat over medium heat.
Add the bell peppers and onion to the preheated pot. Saute over medium heat for 10-15 minutes, stirring frequently.
Add in the garlic and red pepper flakes and cook for 2 minutes.
Add in the white wine and vegetable stock and simmer for 15 minutes, until all of the vegetables are tender. Add salt, a bit at a time, stir well, and taste. You might not need the whole teaspoon, or you may need a little extra. Follow your heart. 😉
Remove from heat and let cook for 10-15 minutes, and then carefully blend with a stick blender or in batches in a regular blender.
Add the sauce back to the pot and bring it up to a simmer. If necessary, thicken by combining the cornstarch and cold water into a slurry and then whisking into the sauce mixture. Reduce the heat to low.
Bring a big pot of well-salted water to a boil. Cook the pasta until it is al dente.
Reduce the heat to low and add in your whitefish. Cover and let cook for 5-6 minutes.
Serve the whitefish and sauce over the pasta. Enjoy!