Perfect Soft and Fluffy Dinner Rolls
7 min read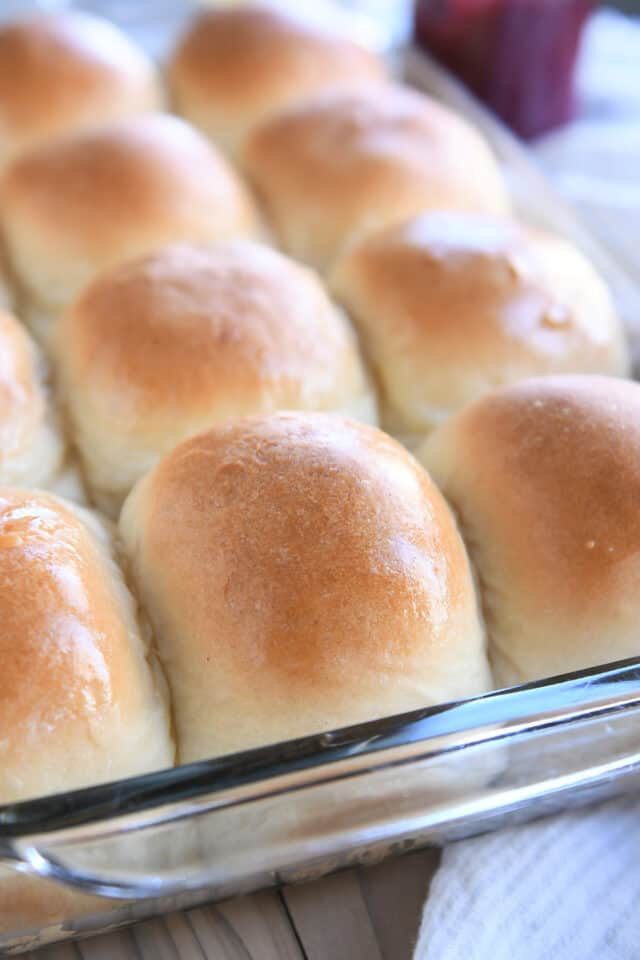 Get ready for the most perfect soft and fluffy dinner rolls of your life. They are fast, easy, and so delicious!
If you feel like I don't have any business posting a new dinner roll recipe, think again.
These soft and fluffy dinner rolls are the culmination of every good roll I've ever talked about. They are perfect for a holiday meal…or for really ANY meal!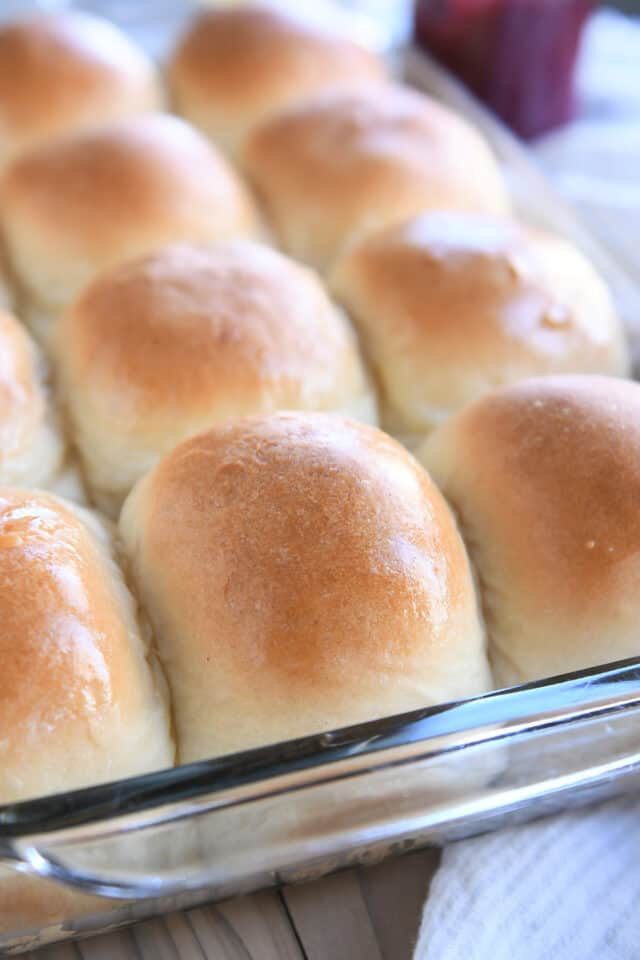 Dinner Roll Dough
Of all the many roll recipes living happily on my site, today's soft and fluffy rolls are most like these epic French bread rolls except that this new recipe produces rolls that are slightly richer and even fluffier.
That is due, in part, to:
milk + water
addition of an egg
butter instead of oil
The milk is scalded, which means it is heated until just before boiling and then cooled. This helps break down the protein structure (which makes yeast breads lighter and fluffier).
After it cools a bit, the sugar, butter and yeast is added and hangs out until the yeast gets bubbly and foamy.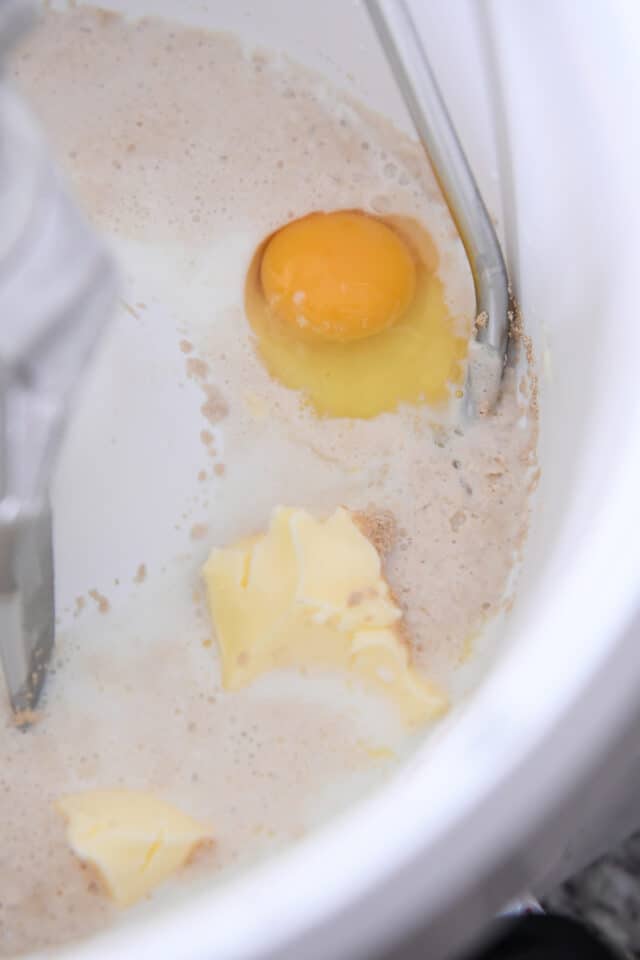 The Secret to Making the Best Rolls
If I could share the biggest key to success for perfect dinner rolls every time, it would be watching the flour amount very closely so the dough isn't over floured.
As much as I'd like to give an exact flour amount, there are many factors that can make the flour amount slightly different for people.
Humidity, elevation, liquid temperature, the way we each measure flour – those are just a few examples.
For this recipe, add 3 3/4 to 4 cups flour all at once and start the mixer. The dough will look shaggy and messy.
Continue adding flour gradually, and only if needed, until the dough just starts to clear the sides of the bowl and forms a sticky ball.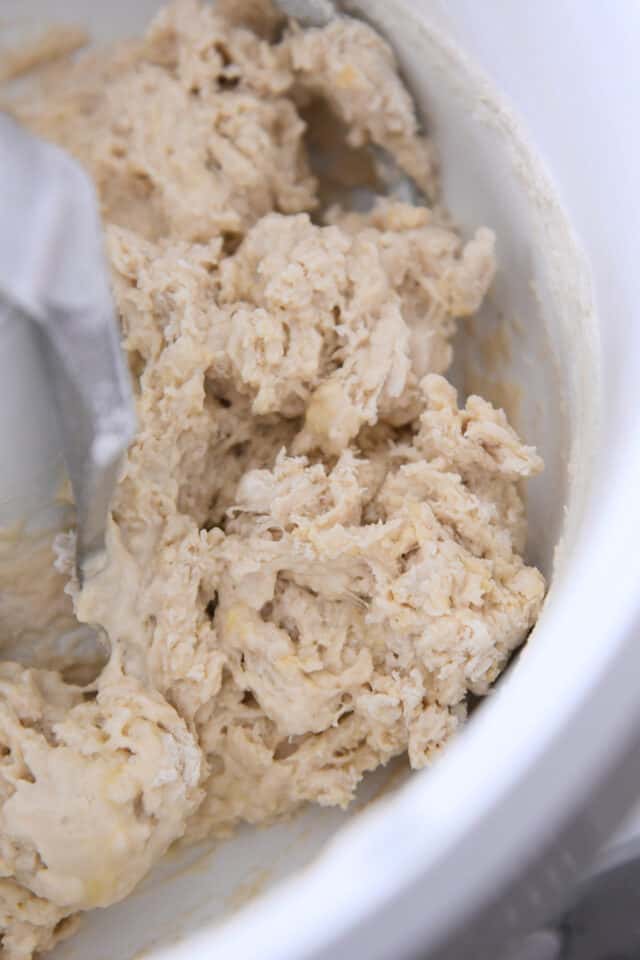 As the dough kneads, it will form a very soft, smooth ball of dough.
If the dough starts clinging to the bottom or sides of the bowl during kneading, add flour a tablespoon at a time until it clears the sides of the bowl again (you don't need to restart kneading time if adding small amounts of flour).
Let the dough rise until doubled. I am usually lazy and let it rise right in the mixing bowl but you can transfer to a lightly greased bowl and cover to let rise.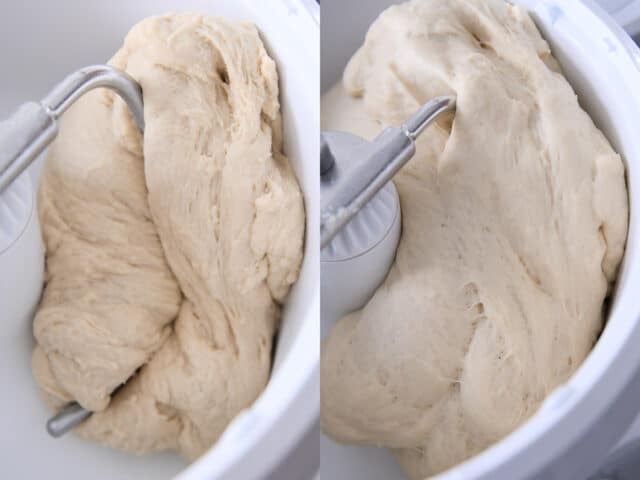 Shape and Rise
A single batch of these soft and fluffy dinner rolls fits perfectly in a 9X13-inch pan.
A doubled batch fits great on a half sheet pan.
Each dough ball will weigh right around 3 ounces, give or take. Space them a little bit apart in the baking pan and let them rise until very puffy and the sides are touching.
Don't skimp on the rising! If they don't rise long enough, they won't reach their fluff-fluffy potential.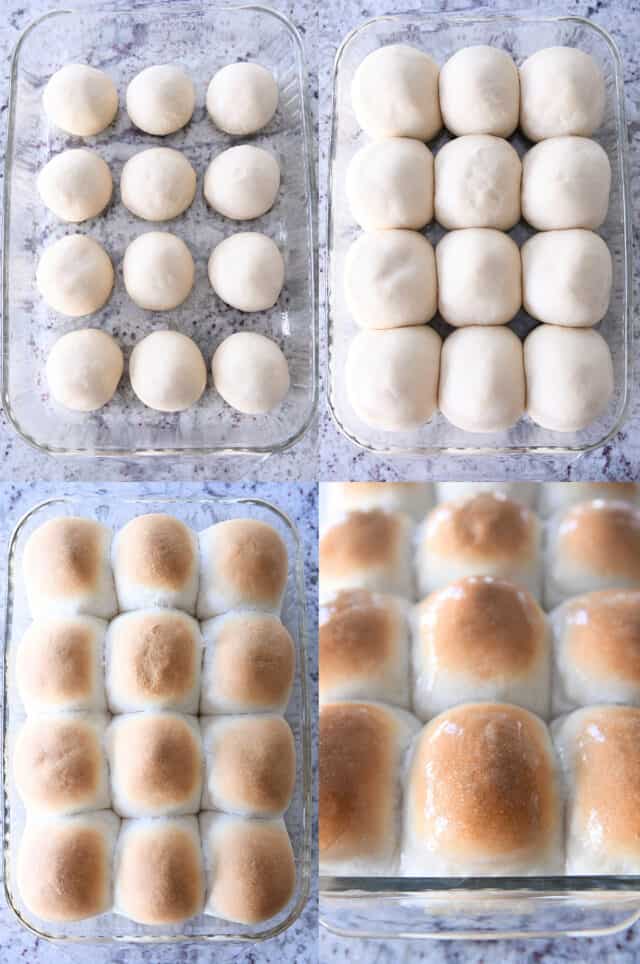 How to Get Perfectly Golden Rolls
Bake the rolls for 18-20 minutes until golden on top and bottom.
If your rolls aren't browning on top, even after the full baking time, it could be due to a couple of different reasons:
oven rack position: I've found in my oven that positioning an oven rack in the middle or upper middle helps my rolls brown better than an oven rack in a lower position
oven temperature: all ovens heat a little differently – even if set to the same temperature. It could very well be that your oven bakes on the cool side. Increasing the oven temp by 15-25 degrees can also help the rolls brown well on top.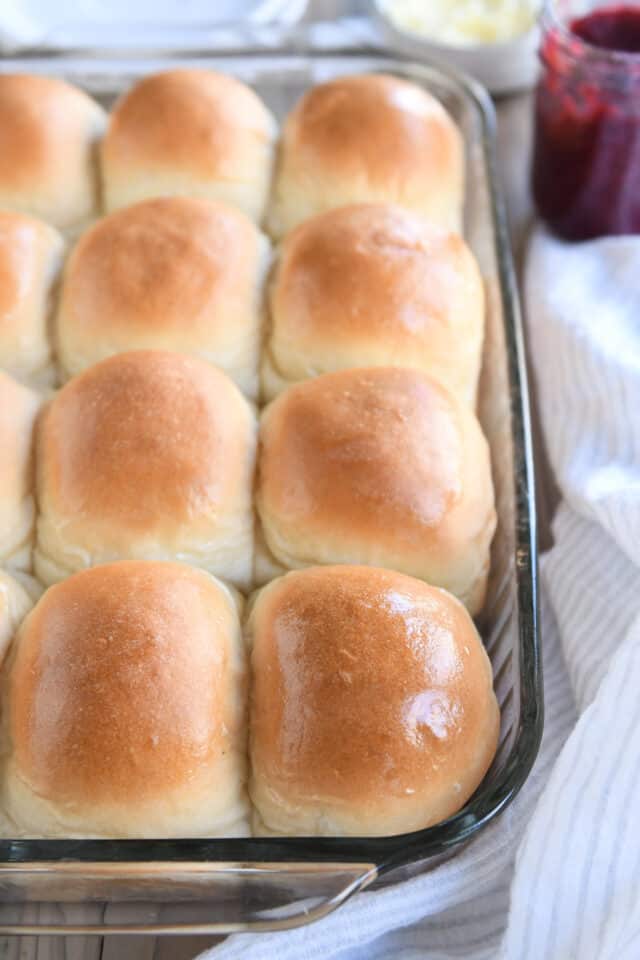 Best Dinner Rolls Ever
This truly is one of the best dinner roll recipes ever. The rolls are insanely fluffy.
But even with the extreme fluffiness, they still have the heft and structure of a good, homemade roll.
Meaning: they won't disintegrate into crumbly air or smoosh into oblivion with one swipe of butter.
They are sturdy and soft. Plush and perfect.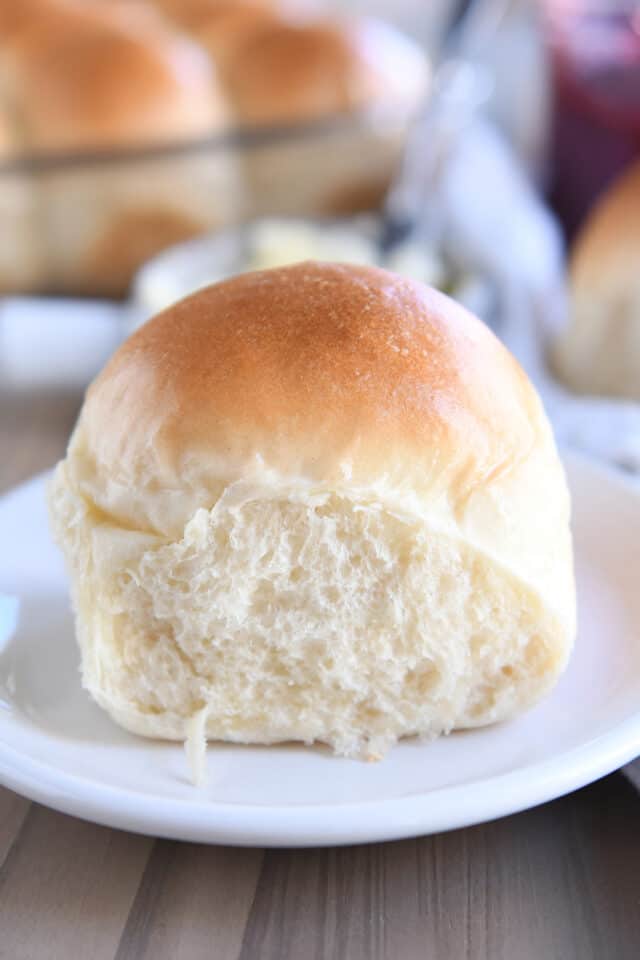 I've given some make-ahead instructions in the notes of the recipe. These rolls can be made ahead of time (to rise in the refrigerator and bake later) and/or frozen.
I'm actually making 252 of these babies later this week for a school banquet (that's 21 batches – 10 double batches and one single batch 😅).
While it will undoubtedly be an extremely long day and not something I want to repeat again for at least a decade, I'm not worried about the rolls turning out, because this recipe is golden. Simple and foolproof.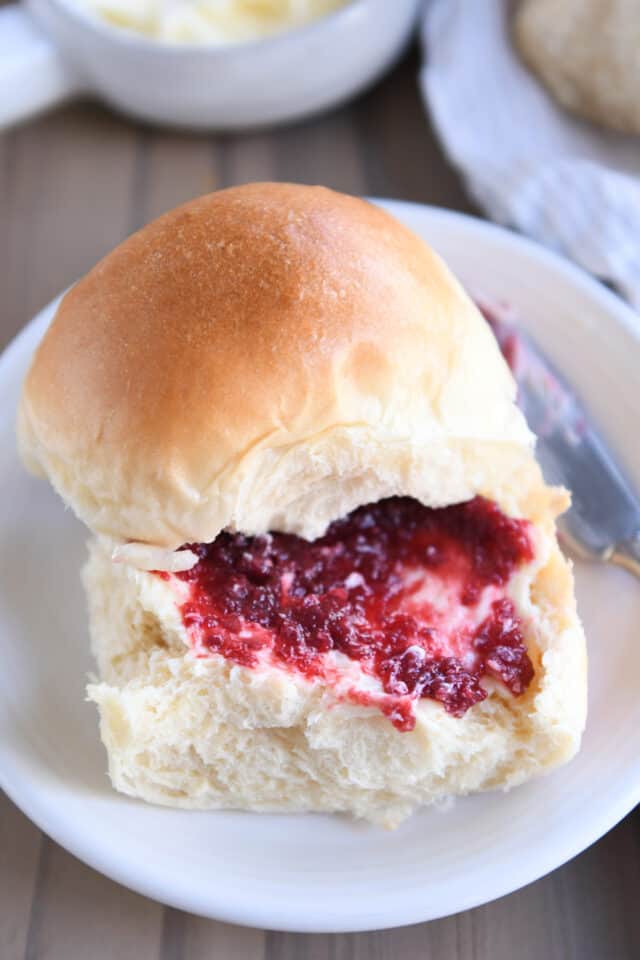 My Go-To Dinner Roll Recipe
If you are looking for an easy go-to dinner roll, look no further. If you already have a favorite dinner roll, this one may change your mind.
I can't wait for you to make these rolls and let me know what you think!
Just remember the two main rules to follow with homemade rolls:
liberally butter the tops of the warm rolls right out of the oven
don't skimp on the butter (and jam) when it comes time to enjoy the finished product
And there, my friends, you have the secrets to a very happy life. 😉💗
One Year Ago: Pumpkin Rosemary Dinner Rolls 
Two Years Ago: Creamy Baked Mashed Potatoes with Buttery Parmesan Crumbs Make-Ahead! 
Three Years Ago: Pressure Cooker Lasagna Soup + Stovetop Directions
Four Years Ago: Delicious Cranberry Pear Crumble
Five Years Ago: Buttery, Flaky Make-Ahead Overnight Crescent Dinner Rolls No Kneading/No Stand Mixer 
Six Years Ago: Skillet Honey Garlic Chicken 20-Minute Meal
Seven Years Ago: Stuffed Apple and Bacon Sweet Potato Casserole
Eight Years Ago: Warm Russian Tea
Nine Years Ago: Smoky Corn Chowder 
Ten Years Ago: Whole Wheat Blender Pancakes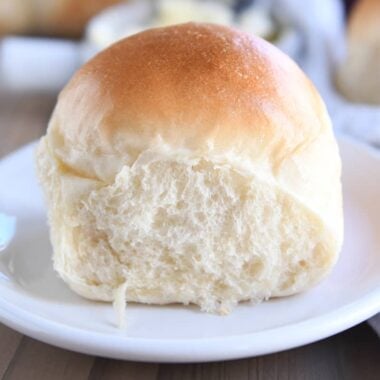 Perfect Soft and Fluffy Dinner Rolls
1 ¼

cups

milk

¼

cup

water

¼

cup

(

57

g

)

butter, softened or melted

2

tablespoons

(

27

g

)

granulated sugar (see note)

1

tablespoon

instant or active dry yeast

1

large

egg

1 ¼

teaspoons

salt

4 ¼ to 4 ½

cups

(

604-639

g

)

all-purpose flour

Additional butter, for brushing hot, baked rolls
Heat the milk until tiny bubbles form around the edges and the milk is steaming. Pour into the bowl of a stand mixer fitted with the dough hook.

Add the water, butter, and sugar. Let the mixture cool until warm (if you dip a finger in, it should feel like a warm bath – not too hot, not too cold, just right).

Stir in the yeast and let rest for 5-7 minutes until the yeast is foamy (technically, you don't need to let the yeast activate before adding the flour, but I find in yeast bread recipes with milk, the dough rises quicker/better if I let the yeast activate first).

Add the egg, salt and flour (start with 3 3/4 to 4 cups flour) and mix, adding additional flour gradually, until the dough clears the sides of the bowl and forms a soft, sticky ball. Don't over flour the dough.

Knead for 5-6 minutes until the dough is soft and smooth.

Let the dough rise in a warm spot until doubled, about an hour or so. (I usually let the dough rise right in the mixing bowl, but you can transfer to a lightly greased bowl and cover.)

Grease a 9X13-inch pan. Lightly punch down the dough and turn out onto a lightly greased countertop.

Divide the dough into 12 equal pieces (3 to 3.5 ounces each). Roll each piece into a round ball and place in the prepared pan, spacing 1/2-inch or so apart (four rows of three rolls).

Preheat the oven to 375 degrees F. Place an oven rack in the middle position.

Cover and let the rolls rise until doubled. The rolls should be very puffy with the sides touching.

Bake the rolls for 15-20 minutes until golden on the tops and bottoms. Butter the tops of the rolls immediately out of the oven.
Sugar: if you want a sweeter roll, increase the sugar by 1-2 tablespoons.
Flour: I haven't tried these rolls with all whole wheat flour, but they work well subbing in 1-2 cups of the all-purpose flour with whole wheat flour (preferable white whole wheat, kamut or einkhorn for a lighter texture).
Make-Ahead: the rolls can be placed in the baking pan, covered with greased plastic wrap, and immediately refrigerated (don't let them rise in the pan first). They can rest in the refrigerator for 24 hours (they'll rise some in the fridge). Take them out of the refrigerator in time to come to room temperature and rise fully if they haven't already. Bake as directed in the recipe. Baked and cooled rolls can be frozen in resealable bags. 
Serving: 1 roll, Calories: 239kcal, Carbohydrates: 41g, Protein: 7g, Fat: 5g, Saturated Fat: 3g, Cholesterol: 27mg, Sodium: 241mg, Fiber: 1g, Sugar: 3g
Follow @MelsKitchenCafe on Instagram and show me the recipes you are making from my blog using the hashtag #melskitchencafe. I love seeing all the goodness you are whipping up in your kitchens!
Recipe Source: from Mel's Kitchen Cafe
Disclaimer: I am a participant in the Amazon Services LLC Associates Program, an affiliate advertising program designed to provide a means for me to earn fees by linking to Amazon.com and affiliated sites. As an Amazon Associate I earn from qualifying purchases.