Stovetop Simmer Pot (Stove Top Potpourri)
4 min read
One of my favorite things to make for friends and neighbors (or myself) during the winter months are simmer pot bags. They remind me of being a kid when my Mom taught me how to make these. A Simmer pot is a little bundle of ingredients like fresh citrus, greens, and spices that you place on your stovetop with water and when left on low heat, they fill your space with the most wonderful holiday smell! Some people call it stove top potpourri. In this post I'll explain how I create these bags for gifting, and I've prepared a free gift tag download with the instructions so you can tie right on and start sharing!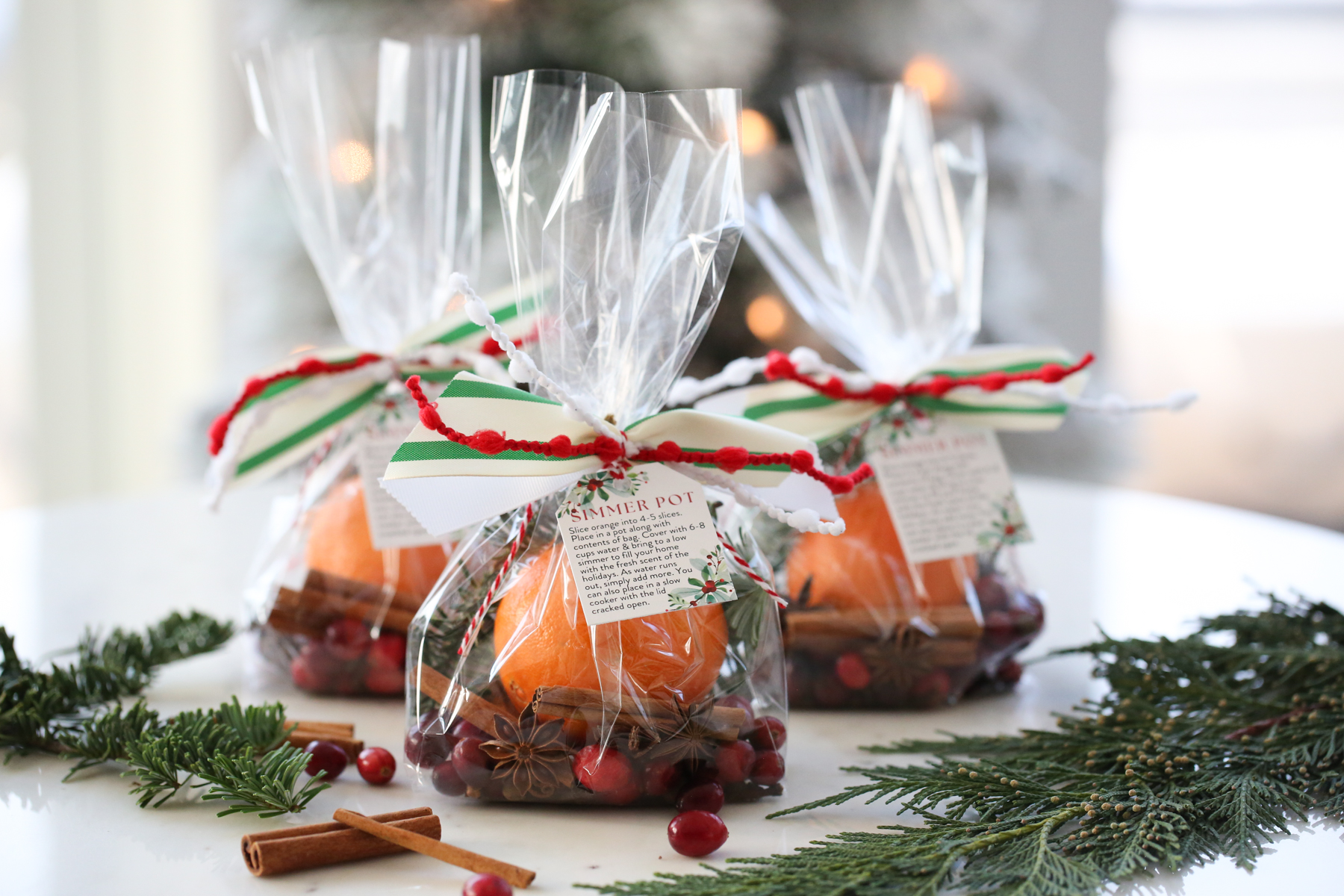 Ingredients and Supplies
Oranges – I like to buy the large bags of inexpensive navel oranges. You don't need to splurge here because they won't be eaten! Orange is my personal favorite, but lemon would work as well.
Fresh Cranberries – I would not use frozen here since you want them very dry and firm. A standard bag of fresh cranberries works great. This is a great use for leftover cranberries if you have a partial bag from Thanksgiving!
Fresh Spices – Cinnamon Sticks are a must, I also love whole cloves. If you only use a few spices I would use those two. My favorite special touch is star anise, it's both fragrant and beautiful! Whole allspice berries are also festive. See my note below on the best places to source whole spices in bulk to save money.
Greenery – I like to simply snip a few evergreen sprigs from my yard. Anything like Pine or spruce works great. If it smells good on the tree, it will work great! During the winter season around Christmas time you can purchase little bundles of fresh greens at places like Lowe's and Home Depot and Trader Joes. They are near the fresh wreaths. You could also use rosemary.
Cellophane Bags: I like to use a bag with a gusset- that just means it expands open on the sides, and creates a flat bottom. My bags I'm using here are 4″ x 9.5″ and anything similar to that will work great. Here's a link to something in that size range.
Tips for Buying Spices
Check your local grocer with bulk bins. Bulk spices are purchased by the pound and are a fraction of the cost of a standard bottle. You can buy a large bag of things like cloves and cinnamon sticks for just a few dollars.
Try an international market, or the international aisle of your grocery store. At my grocery store a small bottle of star anise cost close to $10, but just a couple aisles over, with the latin foods like dried chili peppers, I was able to purchase the bag above for about $1.50. Many international markets carry very affordable spice options.
Costco often sells large containers of cinnamon sticks for a great price during the holiday seasons.
Restaurant Supply Stores are also a great option for bulk spices and great prices.
Assemble the simmer pot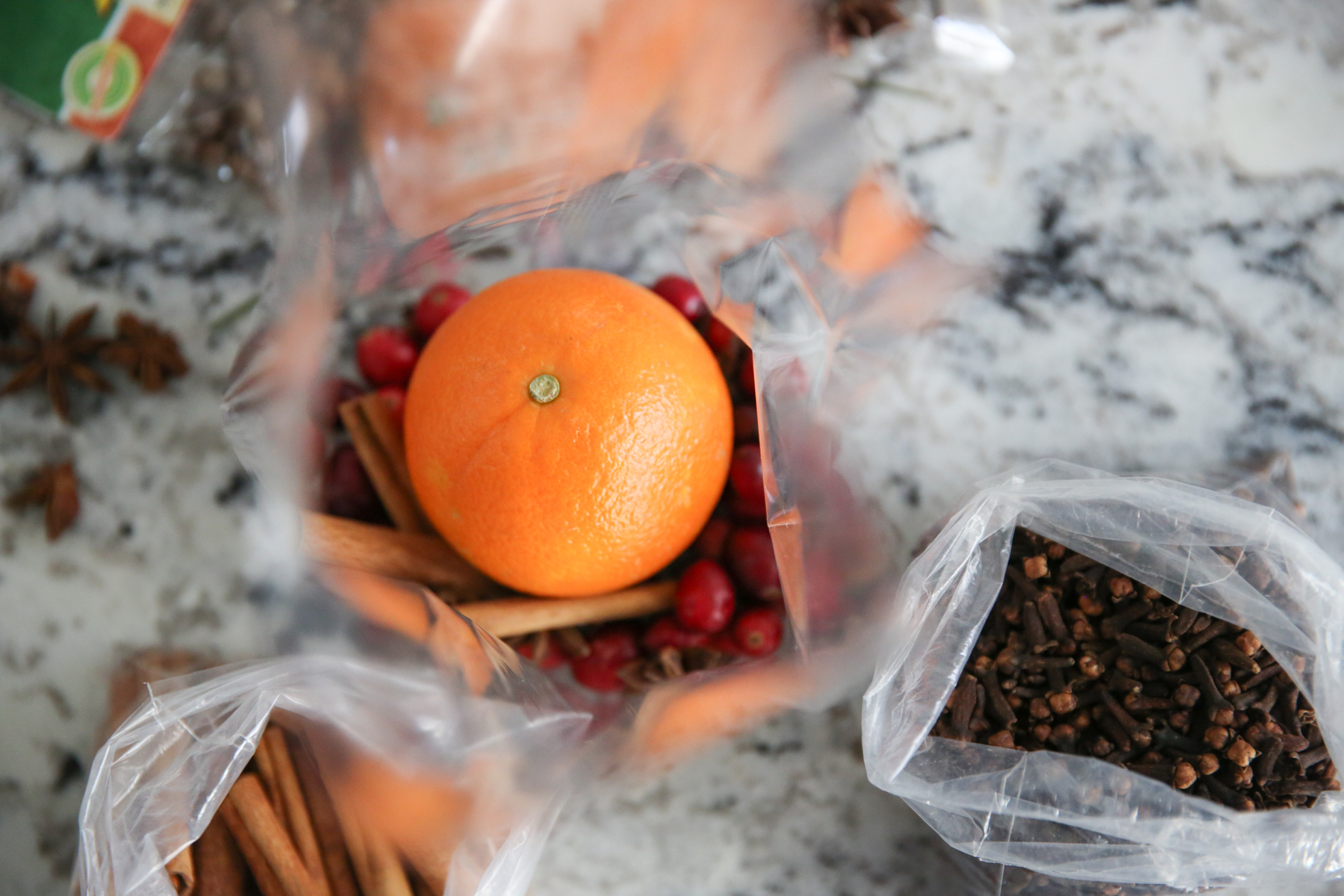 Assembly is easy! You can very easily create a little assembly line and make quite a few of these at once. Or even make a few kits for yourself in reusable containers. For gifting I love a simple cellophane bag.
Place whole orange in cellophane bag
Add a handful of fresh cranberries
Add spices such as cloves and allspice
Nestle cinnamon sticks and star anise in front
Add a sprig or two of fresh greenery
Tie bag with ribbon or twine, attaching gift tag if desired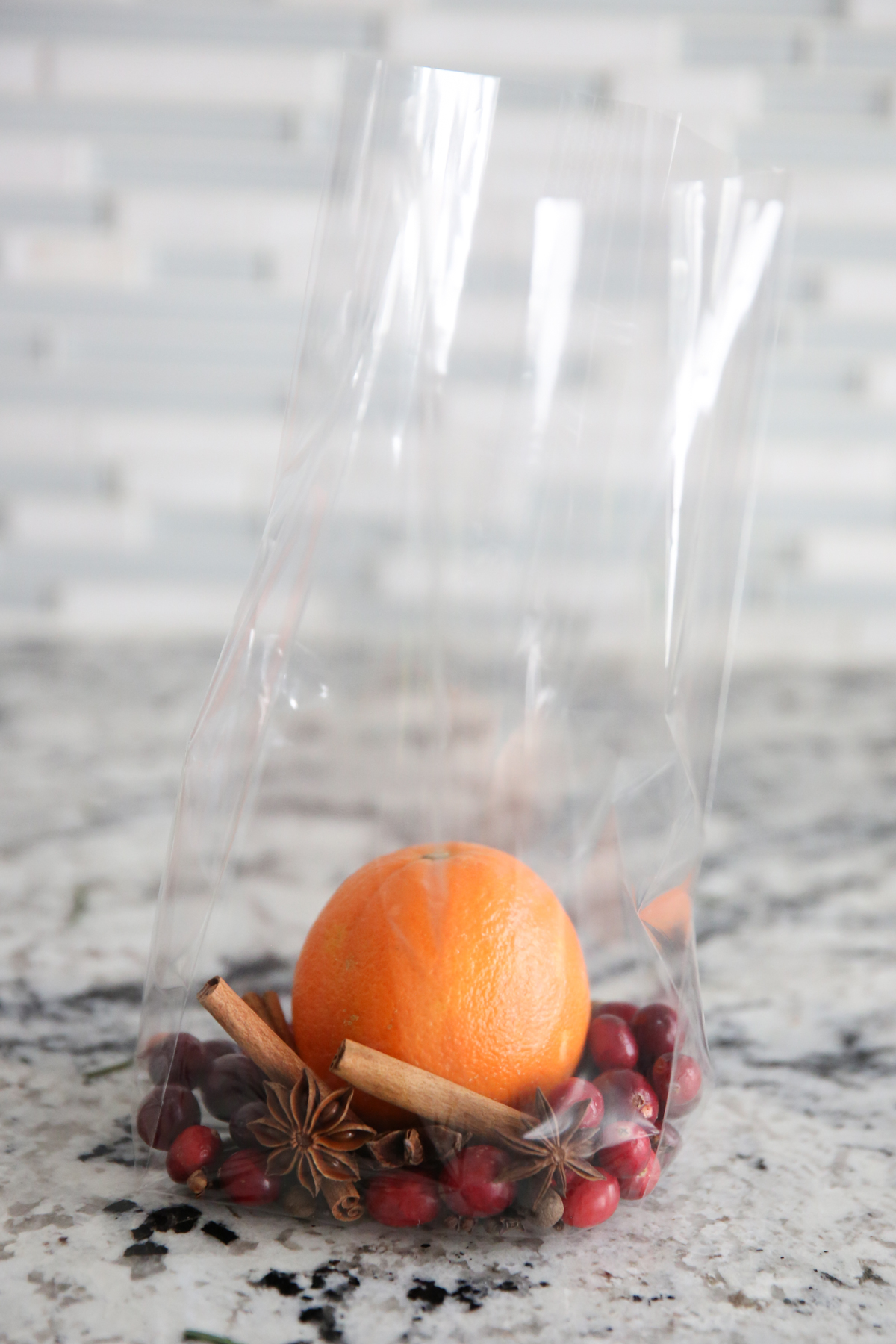 How to Use a Simmer Pot
Using these cute bags couldn't be easier. Simply slice the orange and place it in a small pot on your stove top, then add the rest of the bag contents. Cover with water and bring to a low simmer. It will make your home smell AMAZING. You can also place it all in a slow cooker with plenty of water and leave that on low with the lid off, or cracked.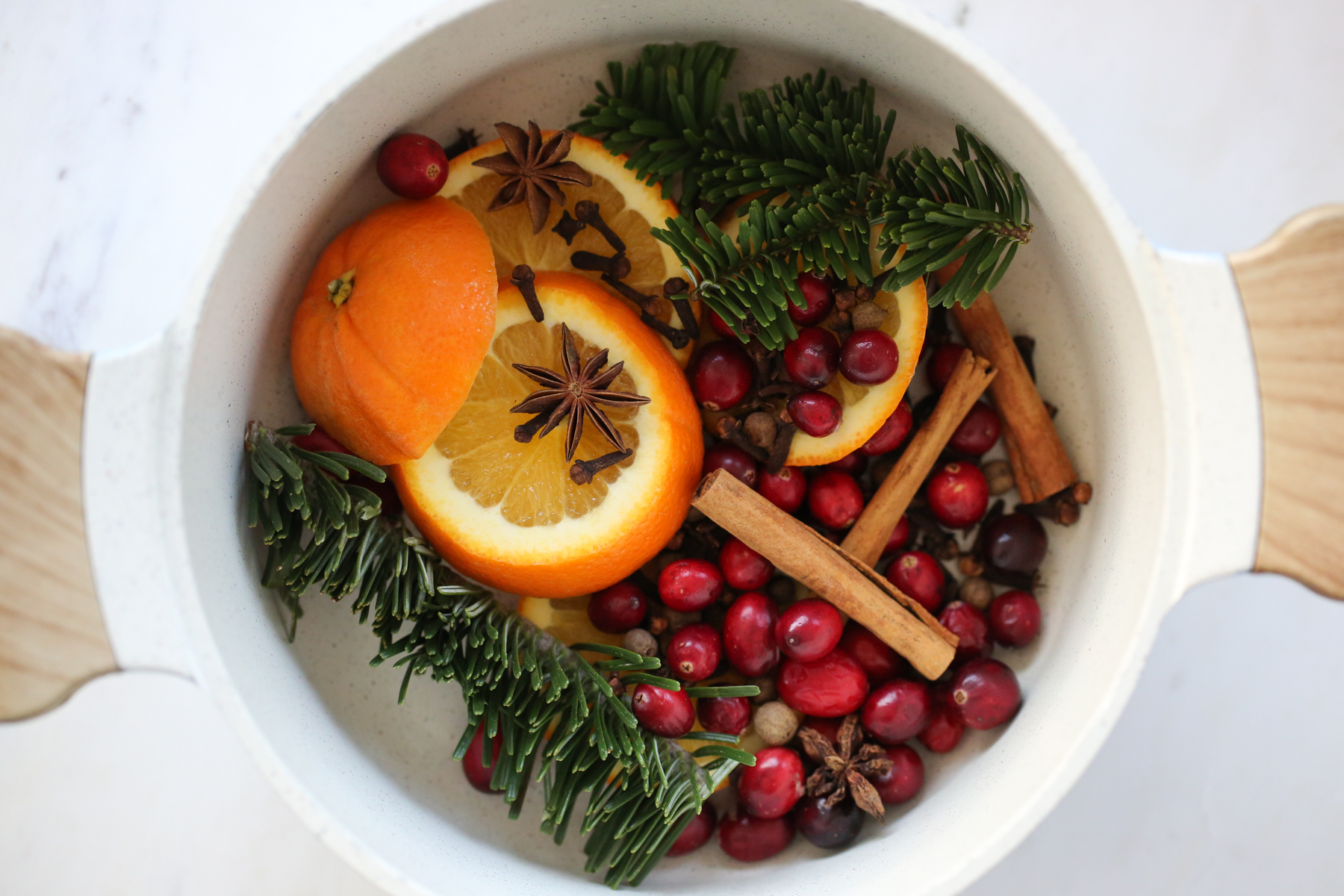 Free Gift Tag
I like to attach a small gift tag to the simmer pot bag so people know what to do with these, you are welcome to use them! Simple cut out and punch a hole wherever you like. I cut the corners off of my tags to create the shape you see in my photos.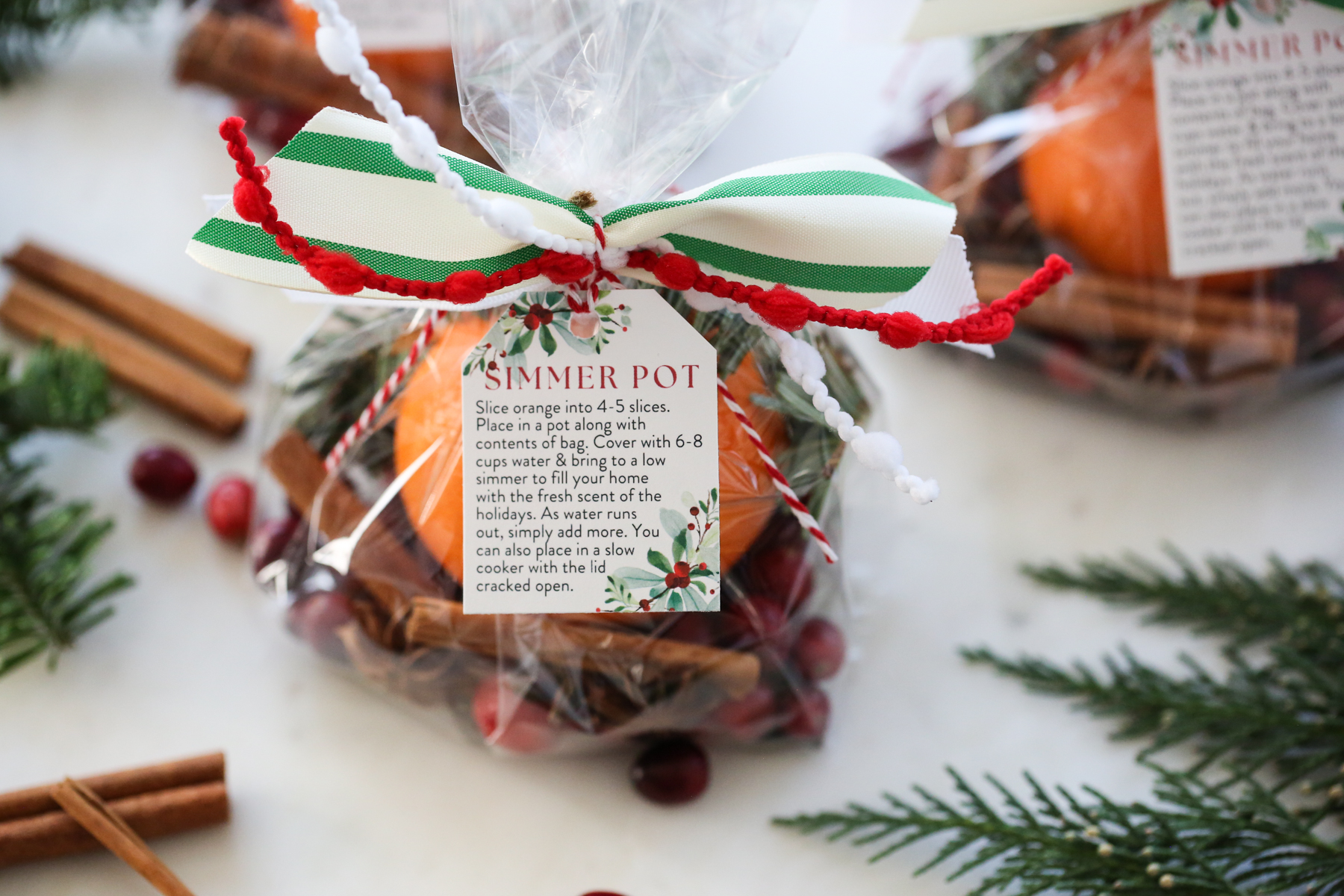 I hope you enjoy using these as much as I do. Simmer Pots such lovely, thoughtful gifts and they're also kind of a nice break from all the sweets this time of year! If you'd like more ideas for great gifts from the kitchen, I have an entire book! It's FULL of recipes, tutorials, downloads, packaging ideas and more.
Here's few other no-cook ideas for gifting that you might enjoy:
Orange Coconut Sugar Scrub
Homemade Citrus Extracts
Fizzy Peppermint Bath Salts
Free Printable Candy Bar Wrapper
Frequently Asked Questions
How far in advance can I make these? I have made these up to a week in advance and they stay nice and fresh. You will want to make sure your cranberries are completely dry when they go in the bag, and there are no spoiled ones in there. Moisture starts creating condensation, but as long as things are dry, they stay nice and fresh. I like to put mine in the fridge, or a cool place (like a garage) if they'll be sitting for a while.