The Best 35 Appetizers for your Holiday Party
9 min read
Are you ready for the hustle and bustle of the Christmas party season? I've got one step covered for you. Here is a list of the Best Appetizers for your Holiday Party! Everything is simple to make, can be prepped ahead of time, and absolutely delicious!
Don't forget the cocktails! Check out my roundup of 24 Easy Christmas Cocktails for some holiday drink inspiration.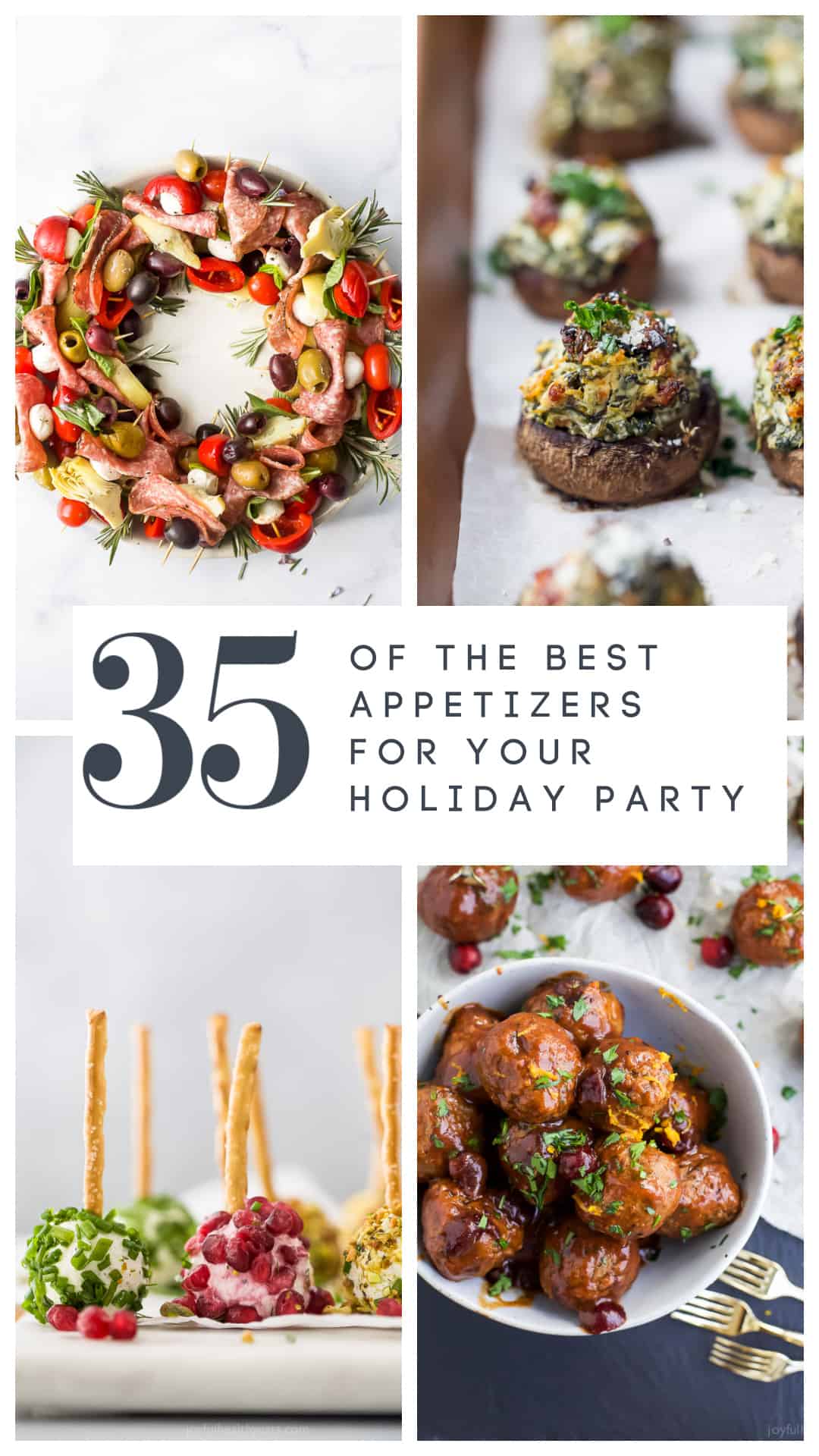 The Best Holiday Party Recipes
Whether you are the host or a guest at a holiday party, you are likely going to make some sort of holiday appetizer. Right?
Well, today I'm taking all the stress out of "what to bring." I'm giving you 35 of my favorite appetizers for your holiday party. There is something for everyone on this list. And the beauty is that they are all so easy to make! I can relate to wanting to be part of the party instead of spending all of your time prepping for the party.
What Makes The Christmas Appetizers?
Here is why this list of appetizers for your holiday party is a little bit different than regular ol' appetizers.
They feature seasonal ingredients. I won't be eating watermelon at Christmas time, but I will be using ingredients like mushrooms, hearty herbs, and cheeses that are more seasonally appropriate for this time of year.
They look festive and fun! Believe me, you want to be making the dish that everyone is talking about how beautiful it is! It's not hard, I promise. You can make these holiday party recipes look remarkable with very little culinary skills!
You can make them ahead of time. Whether you're enjoying them at home with your family or bringing them to a party, these holiday party recipes can be made in advance! No last-minute prepping is needed.
How Many Appetizers Do You Need For a Party?
It's always tricky trying to figure out how much to prepare for your holiday party. As a general rule of thumb, I like to make 5-7 appetizers per person if I'm serving dinner as well.
But I will make 10-12 per person if I am having a cocktail party where only the holiday appetizers are being served.
Tips for Preparing Holiday Appetizers in Advance
Here are some helpful tips to keep in mind when making these appetizers for your holiday party.
Invest in a good storage container. You may think that you won't use a large plastic food storage container with a handle, but believe me, they come in handy! A large container is good for cheese plate ingredients and small bites. You can also use things like beeswax wrap to cover a bowl for dips and spreads.
Individually flash freeze when it's appropriate. Sometimes you can even freeze an appetizer which means you can make it even further ahead of time. And it makes party-day prep even easier! Make sure that you individually freeze smaller items on a sheet tray first. This will prevent them from sticking together.
Add a sticky note with instructions. Use sticky notes or tape to label any pre-made appetizers. You can write the reheating or any other reminders on a sticky note and then place it right on the storage container.
The Best 35 Appetizers for your Holiday Party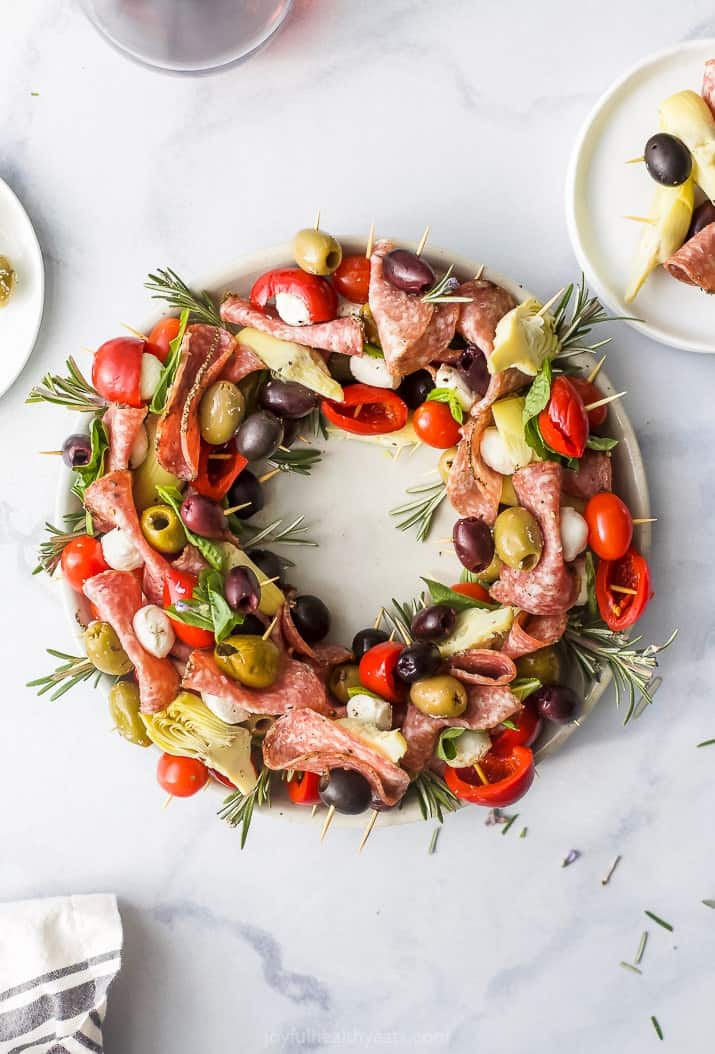 Festive Antipasto Skewers Christmas Wreath
This Festive Antipasto Skewers Christmas Wreath is amazing, isn't it? It's one of those holiday appetizers you'll make year after year. Made with peppered salami, mozzarella balls, olives, cherry peppers, artichokes, and fresh basil.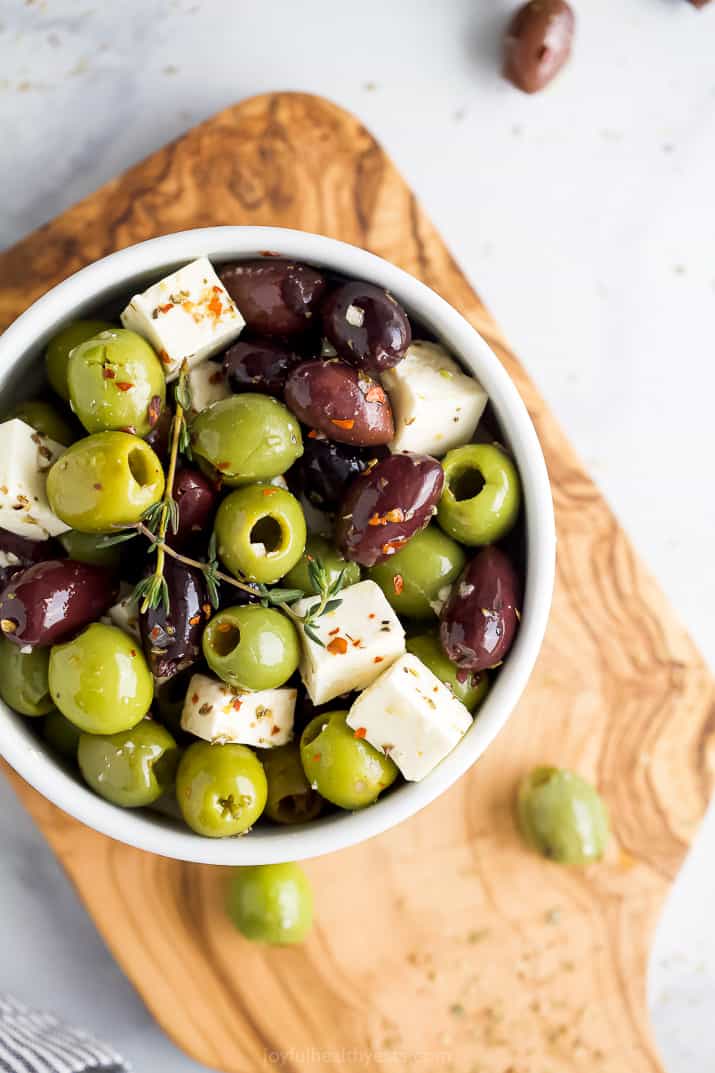 Garlic Marinated Olives
This recipe comes together in less than 15 minutes and you only need a few ingredients! It's one of the best holiday appetizers for your holiday party when you're short on time.
Cheesy Bacon Stuffed Peppers
These Bacon Stuffed Peppers are perfect for the holidays! Top these little pepper bites with a dab of pepper jelly and I guarantee you'll be in heaven! You can freeze them ahead of time, too!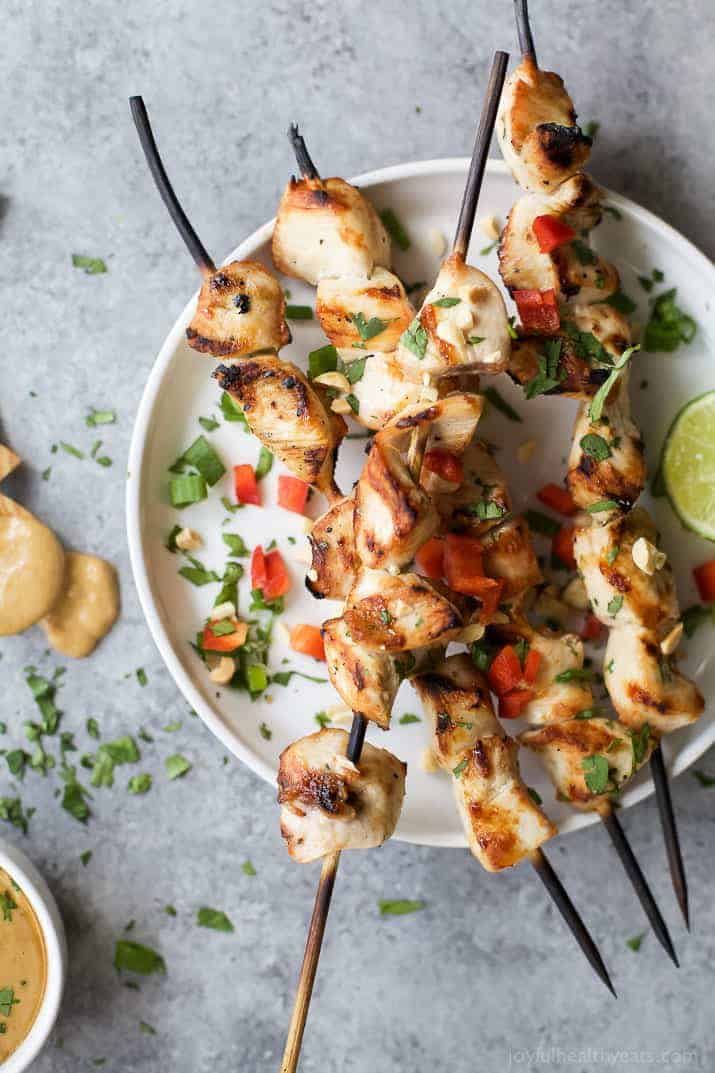 Grilled Sesame Lime Chicken with Spicy Thai Peanut Sauce
These chicken skewers are perfect for a cocktail party because they will fill you up without weighing you down. These Grilled Sesame Lime Chicken skewers are even delicious when served chilled with the Spicy Thai Peanut Sauce.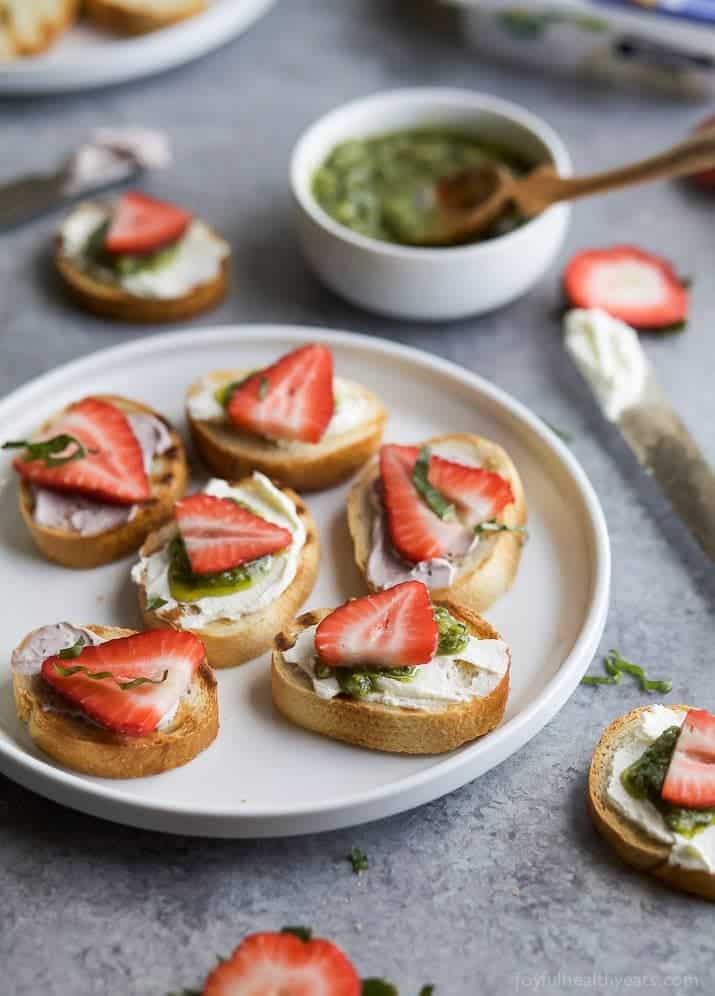 Pesto Cream Cheese Strawberry Bruschetta Bites
Here's a kid-friendly holiday appetizer! The bright green pesto pairs perfectly with the sweet strawberries. It's a combo that will keep them guessing, but they'll certainly come back for more!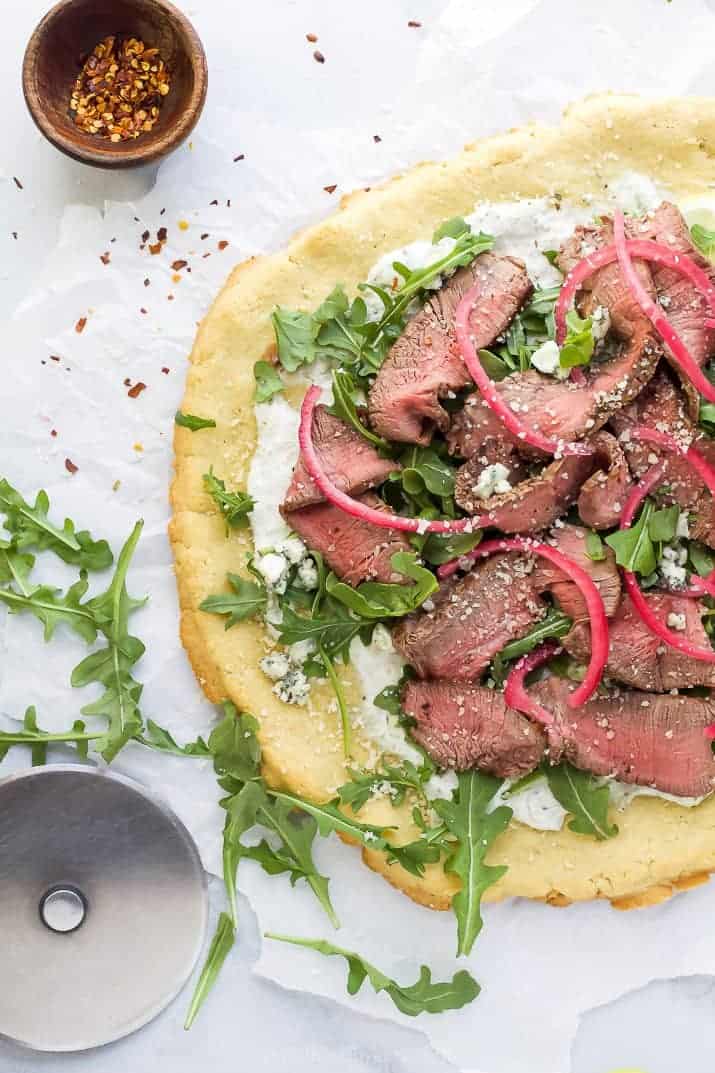 Easy Steak Flatbread Pizza with Gorgonzola Sauce
I like to make this Steak Flatbread Pizza for a party and cut it up into small wedges for easy grabbing. It's flavorful and filling and pairs perfectly with a bottle of red wine!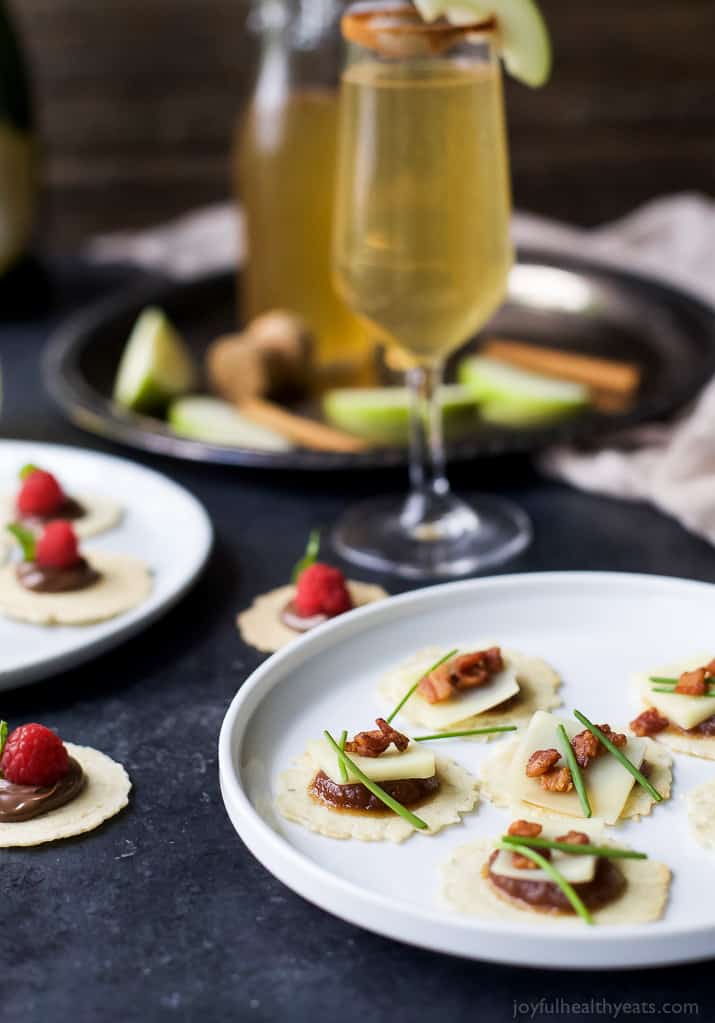 Sweet & Savory Holiday Appetizer Bites
This collection of sweet and savory bites is also a great choice of holiday appetizers for the whole family. Who can say no to Raspberry Nutella bites or Cheddar Bacon Bites?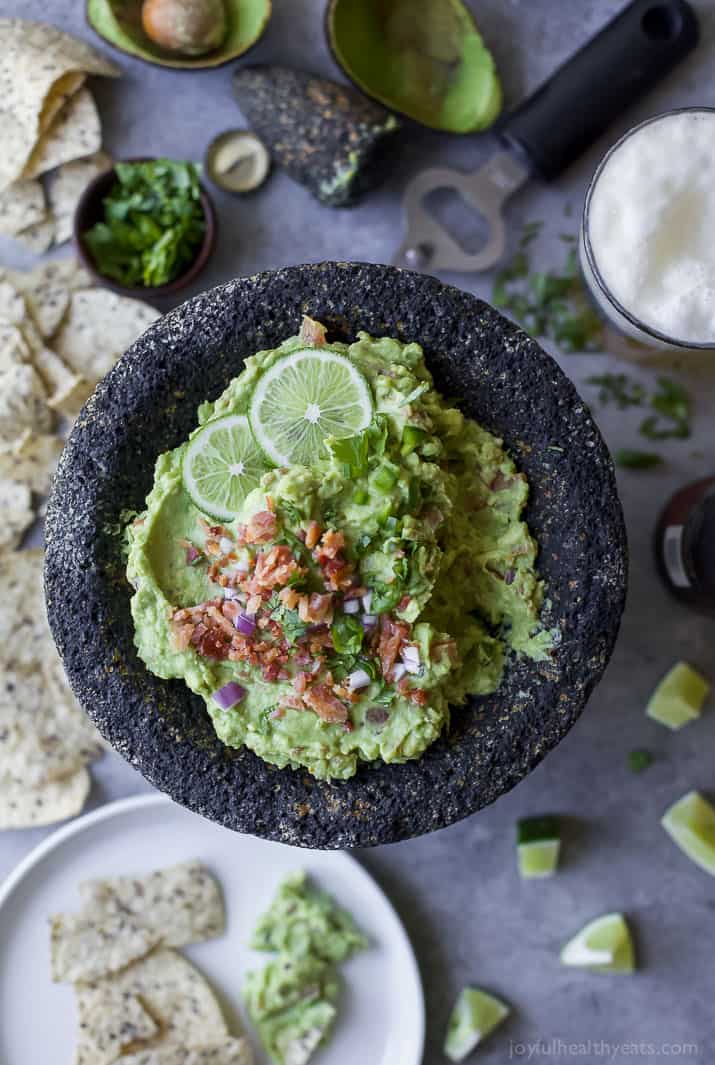 Creamy Bacon Guacamole
Guacamole is always a hit at any party – holiday or not! Adding bacon to this guacamole adds so much flavor and is a great dip to serve with vegetables, pita chips, or tortilla chips.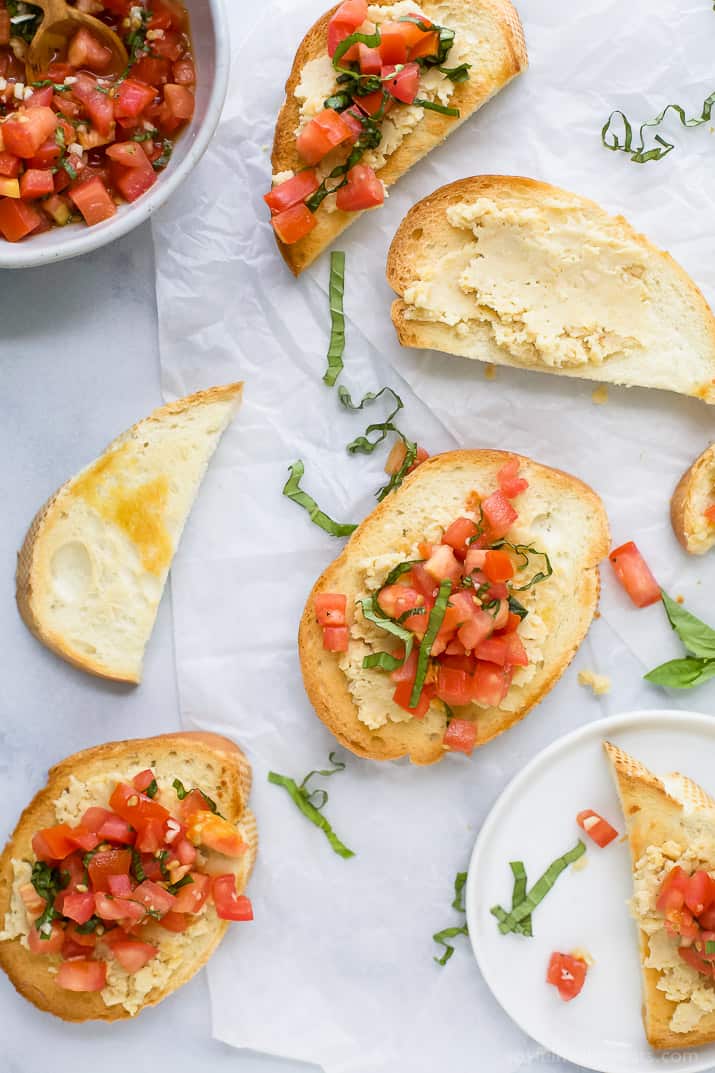 Smashed Chickpea Crostini with Bruschetta
This is a great option for those who are looking for vegetarian holiday appetizers. I love how they look, too! The bright red tomatoes are sprinkled with fresh basil for the ultimate pop of holiday colors.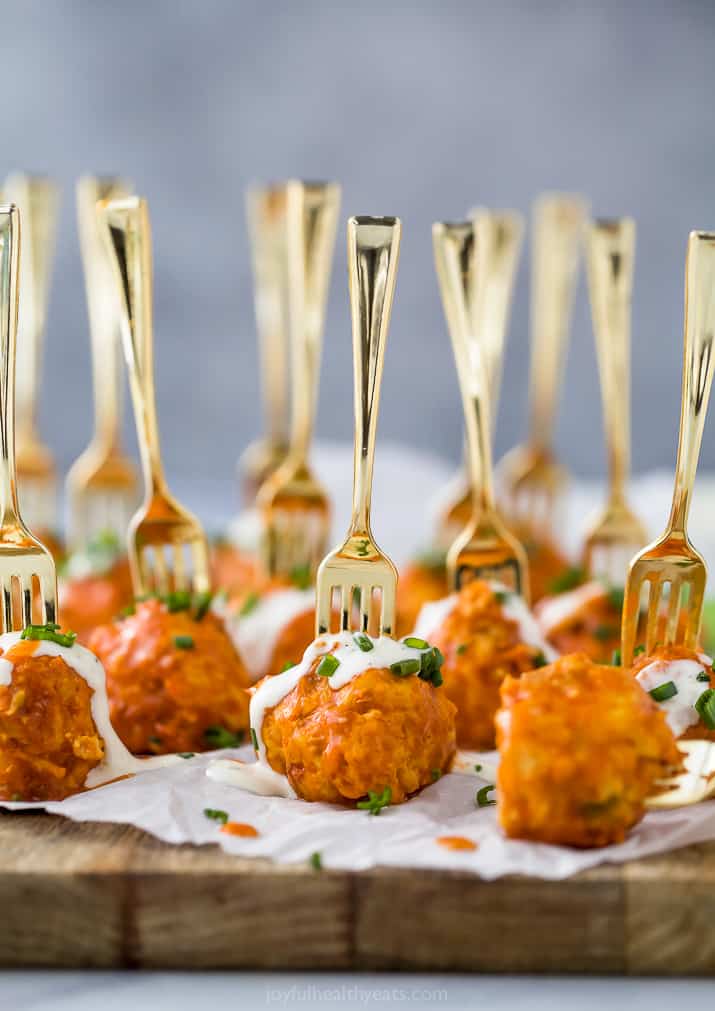 Crockpot Buffalo Chicken Meatballs
No one wants to eat buffalo wings at a holiday party, but turn it into a meatball and it's a winner! This is a tasty alternative to the messy fried wings you're used to. They are so easy to serve with mini forks or festive toothpicks.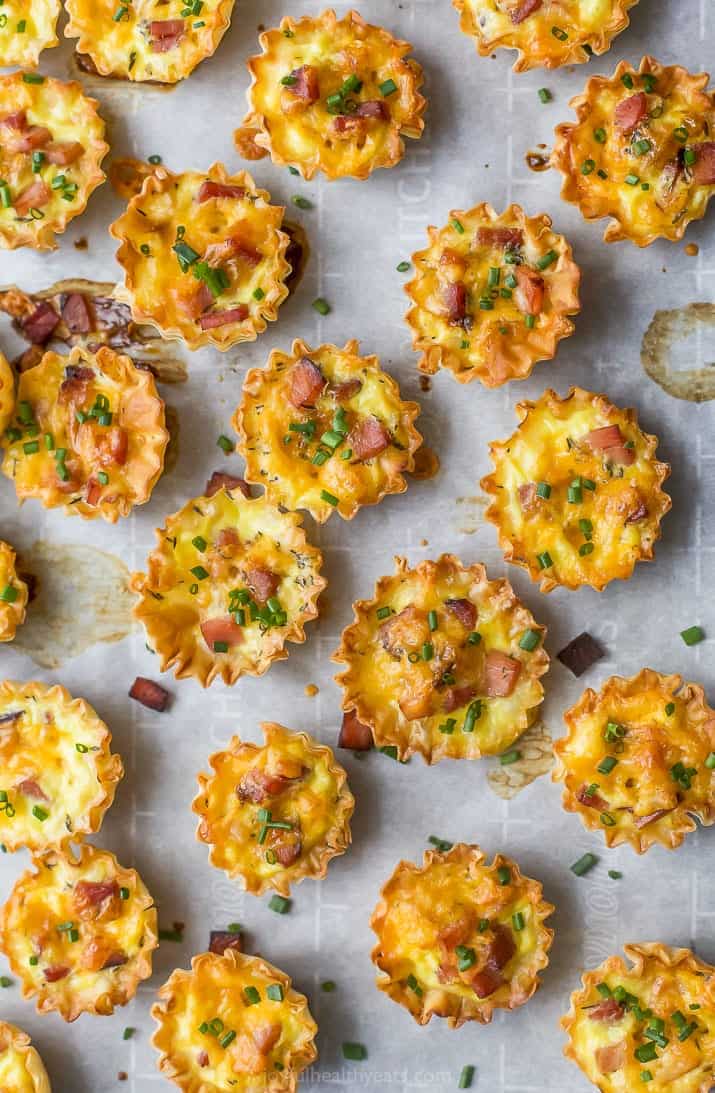 Ham & Cheese Mini Quiches
These Ham & Cheese Mini Quiches are some of the best holiday appetizers for your party! They are savory little bites that everyone will want to come back for more! Every bite is full of cheesy flavor and has buttery flakiness from the phyllo dough.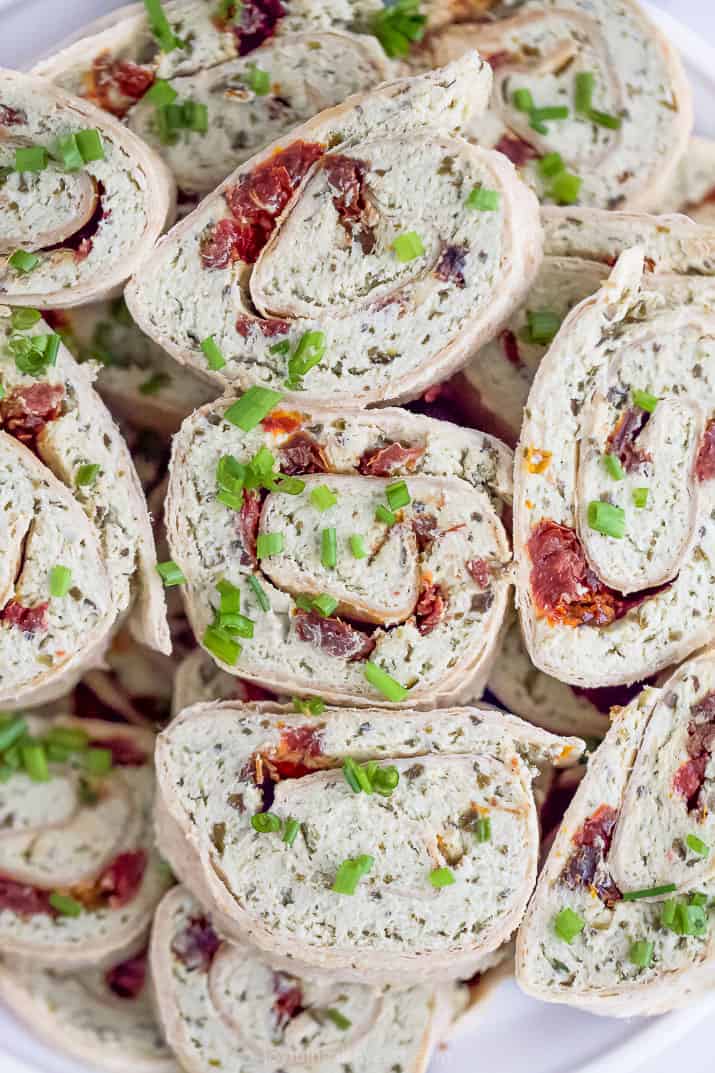 Pesto Chicken Pinwheels
Easy Pesto Chicken Pinwheels make the perfect holiday appetizer because they're easy to make and can be served cold. The chicken salad is bursting with flavor from sun-dried tomatoes and fresh herbs.
Creamy White Queso Dip
Ok, so this one isn't quite as beautiful as the others, but it's SO tasty and is always a hit. The queso bowl is always empty after my holiday parties. It's a great dip that can be made quickly or reheated very easily!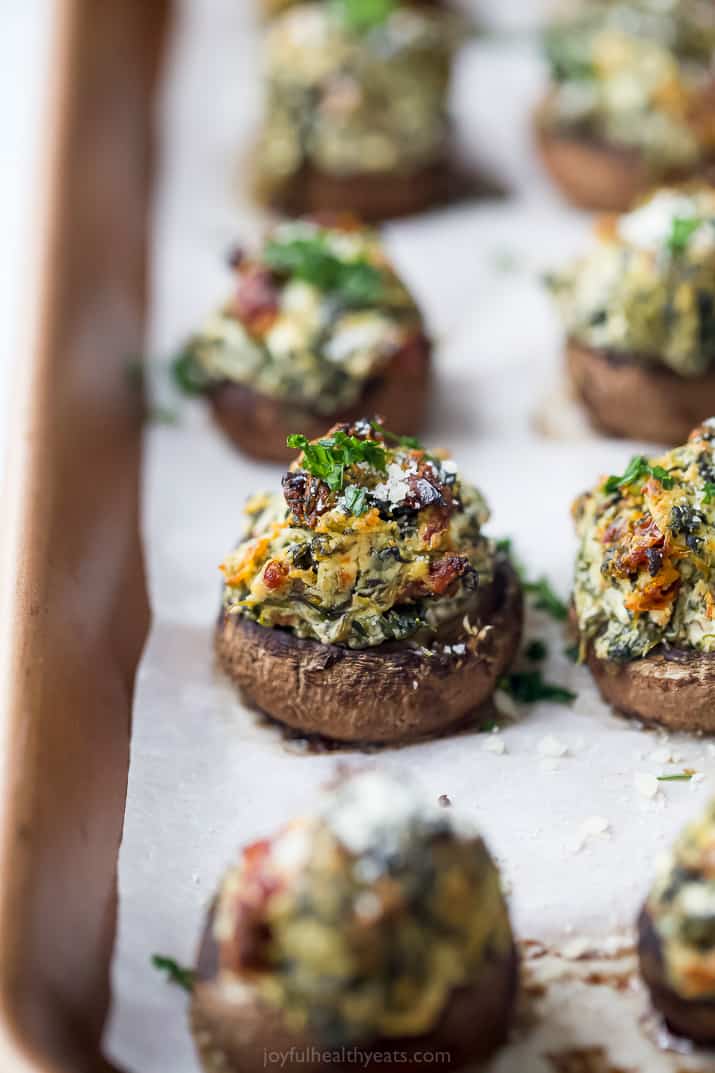 Easy Spinach and Goat Cheese Stuffed Mushrooms
These stuffed mushrooms take less than 30 minutes to make and you would never know it! They taste just like they are off of a fancy restaurant menu but you can make them right at home for your next holiday party.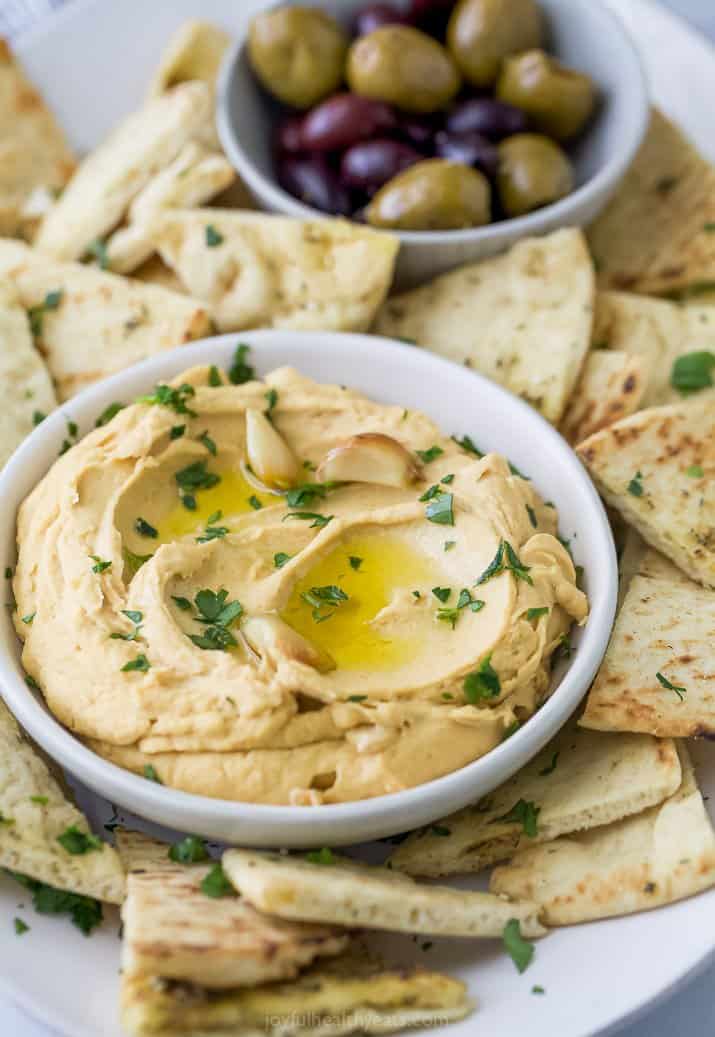 Creamy Roasted Garlic Hummus
I love to serve hummus at a party for a healthy vegetarian option. Plus, you can make it ahead of time and there's no last-minute prep involved! Just put the bowl out during the party and you're all done!
Cajun Shrimp Sweet Potato Bites
These fun and festive little bites are what everyone is going to be talking about. "Who made these?!" is all you're going to hear at the next holiday party when you bring this one-of-a-kind holiday appetizer!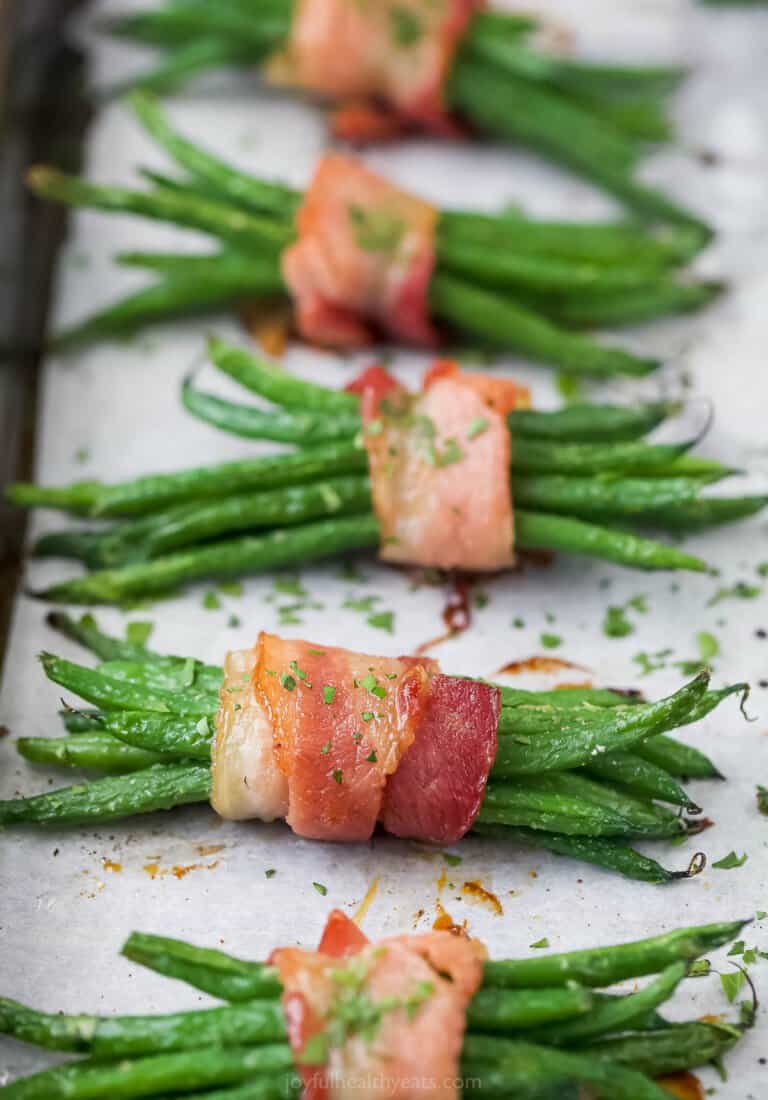 Bacon Green Bean Bundles
These Green Bean Bundles are the ultimate holiday appetizer – fancy, elegant, flavorful, and super easy to make! Fresh green beans are wrapped in bacon, seasoned with garlic powder, brushed with maple syrup, and then oven-roasted to perfection. You can reheat them, too, for quick and easy serving.
.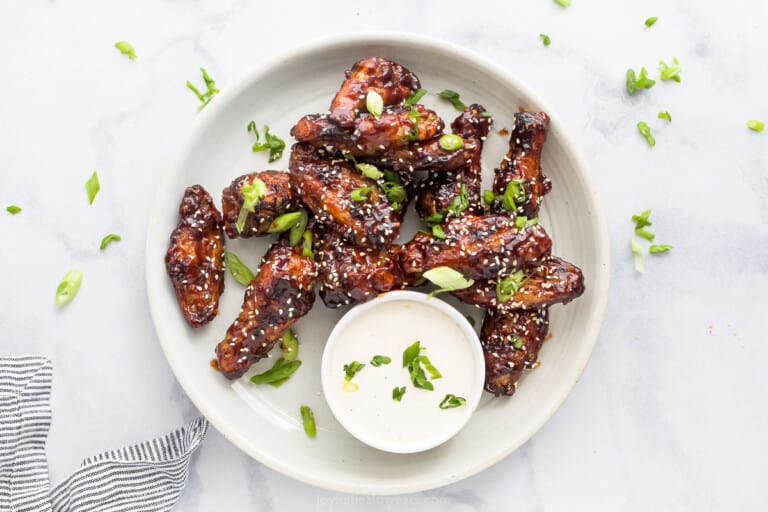 Asian Baked Chicken Wings with Raspberry Hoisin Glaze
If you're going to be brave and make chicken wings for a party, let these ones be it! Your guests will be licking their fingers with smiles on their faces after they try these sweet and savory chicken wings.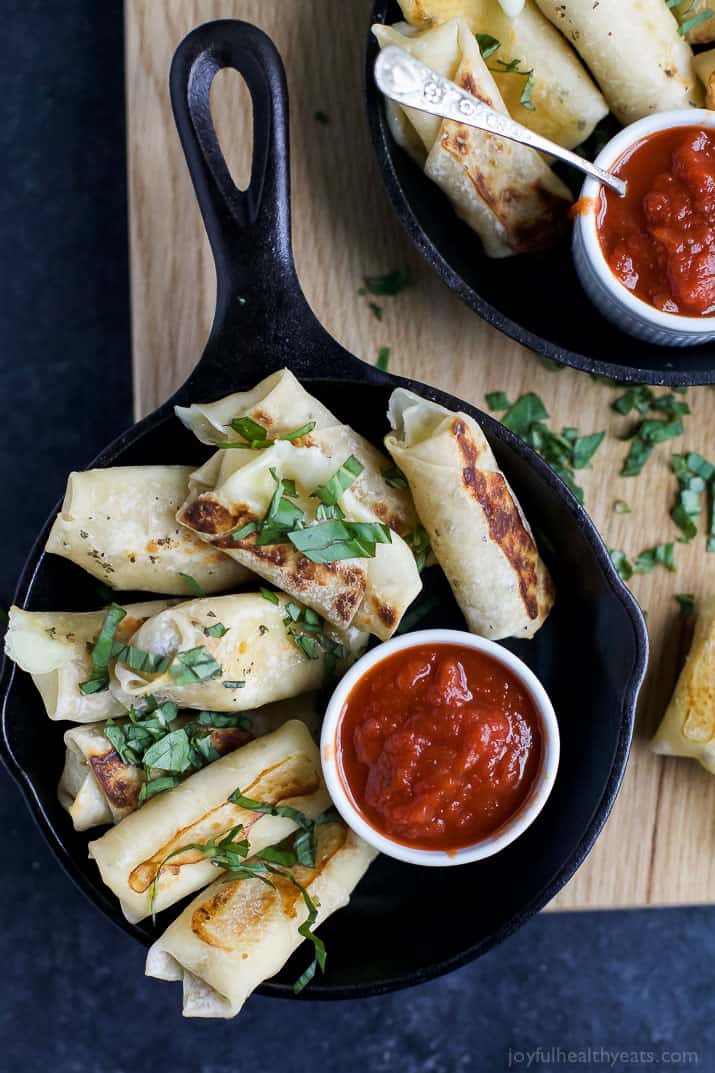 Baked Mozzarella Sticks with Wonton Wrapper
These Baked Mozzarella Sticks are a healthier option to consider when making your holiday appetizers. Wonton wrappers filled with gooey cheese and baked until golden brown and then served with marinara sauce for a perfect, crowd-pleasing party appetizer idea!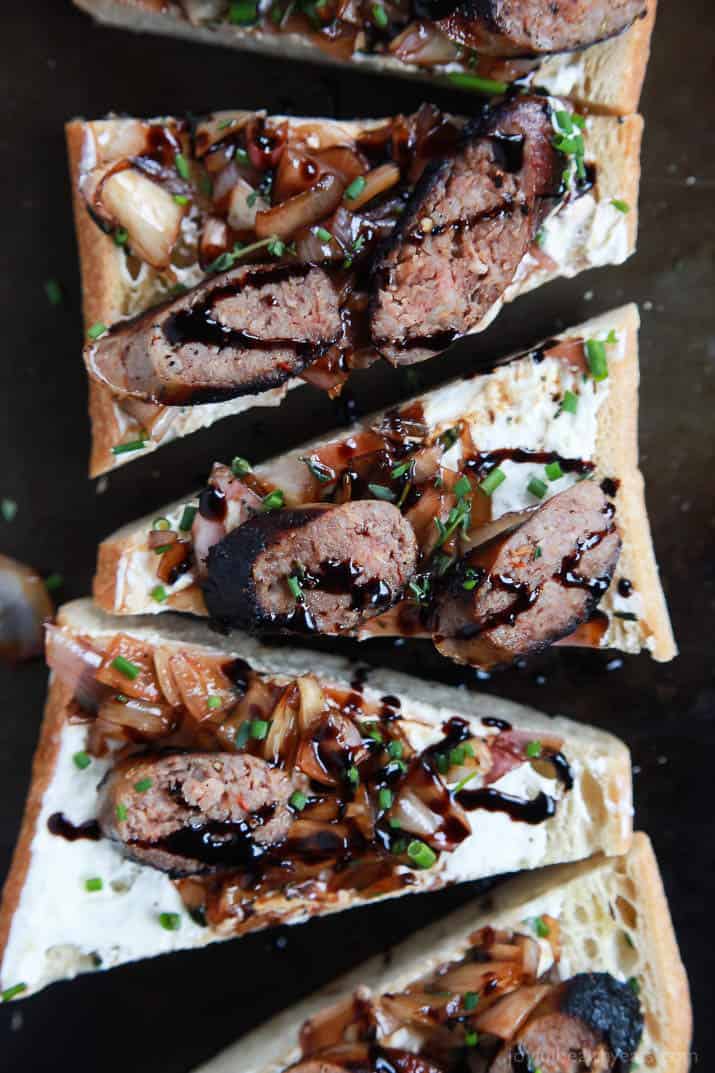 Balsamic Italian Sausage Crostini with Whipped Goat Cheese
This crostini is topped with crispy pan-seared Italian Sausage, whipped Goat Cheese with a hint of garlic, and finished off with a caramelized balsamic shallot relish. It's a rich and savory holiday appetizer that will be sure to please the crowd!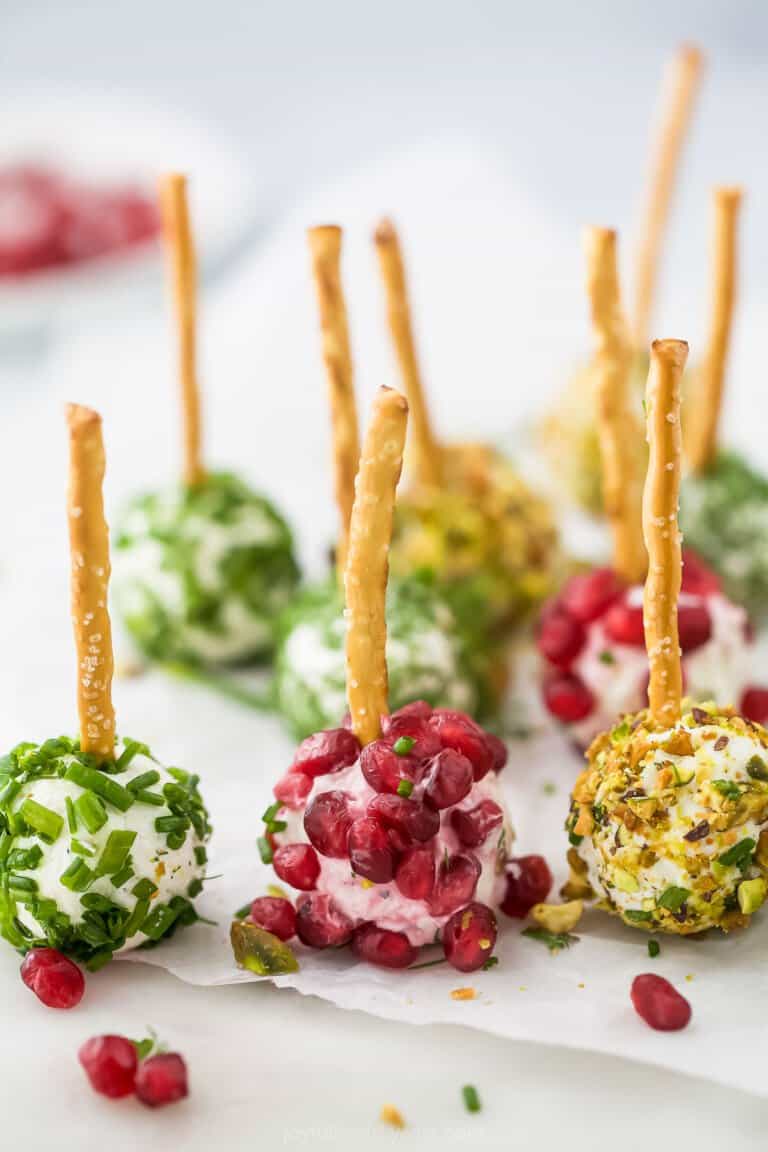 Assorted Holiday Goat Cheese Balls
This is an easy no-bake recipe! There are four yummy topping variations – fresh dill, chives, pistachios, and pomegranate seeds! With mini pretzel sticks acting as edible toothpicks, they're perfect to serve as Christmas appetizers.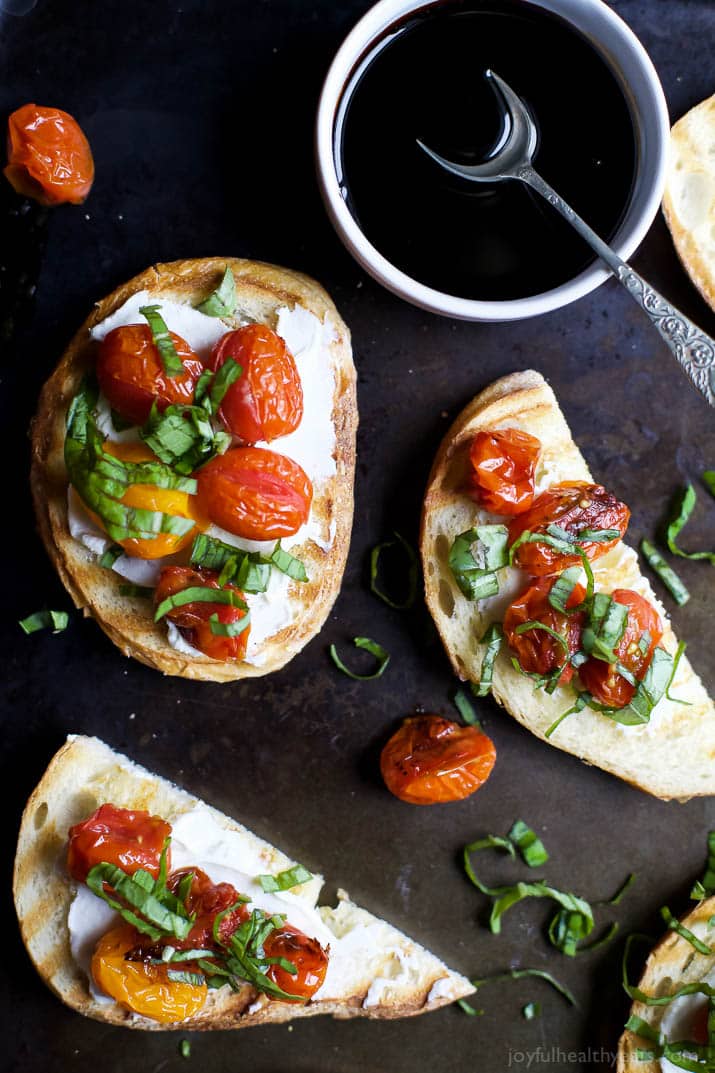 Roasted Tomato Bruschetta with Whipped Goat Cheese
Another perfect blend of Christmas colors with remarkable flavor. Crunchy toasted bread is topped with creamy tangy goat cheese, roasted tomatoes, fresh basil, and a drizzle of sweet balsamic reduction. These little bites are so delicious the platter will be empty in no time at all.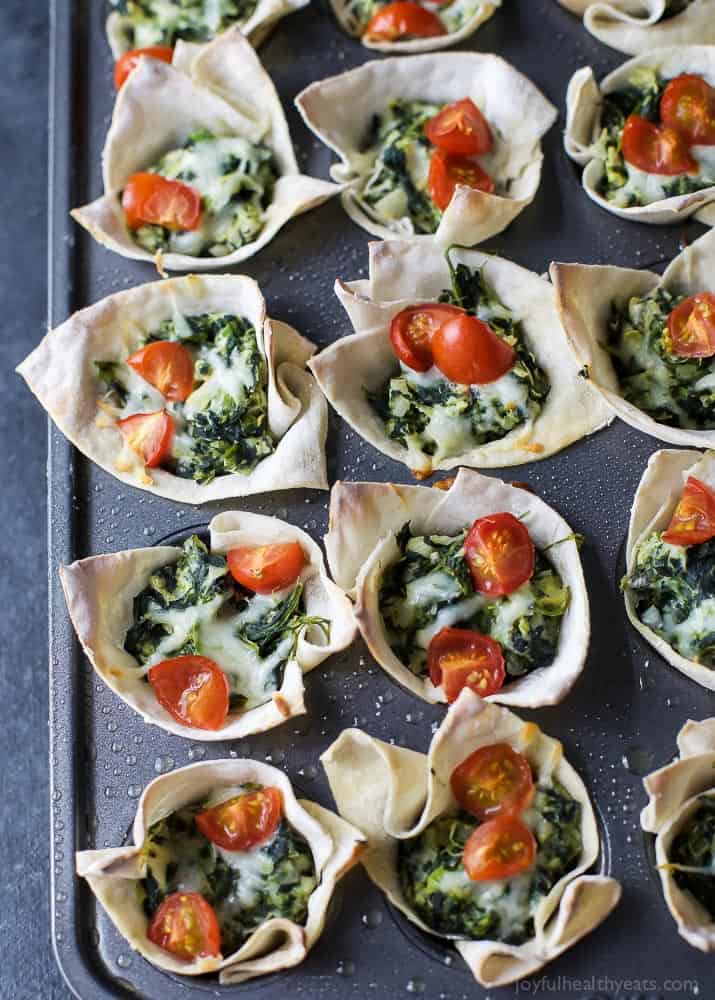 Spinach Artichoke Dip Wonton Bites
These baked Spinach Artichoke Dip Wonton Bites are filled with homemade spinach artichoke dip. It's healthy and one of the easiest holiday appetizers for your holiday party.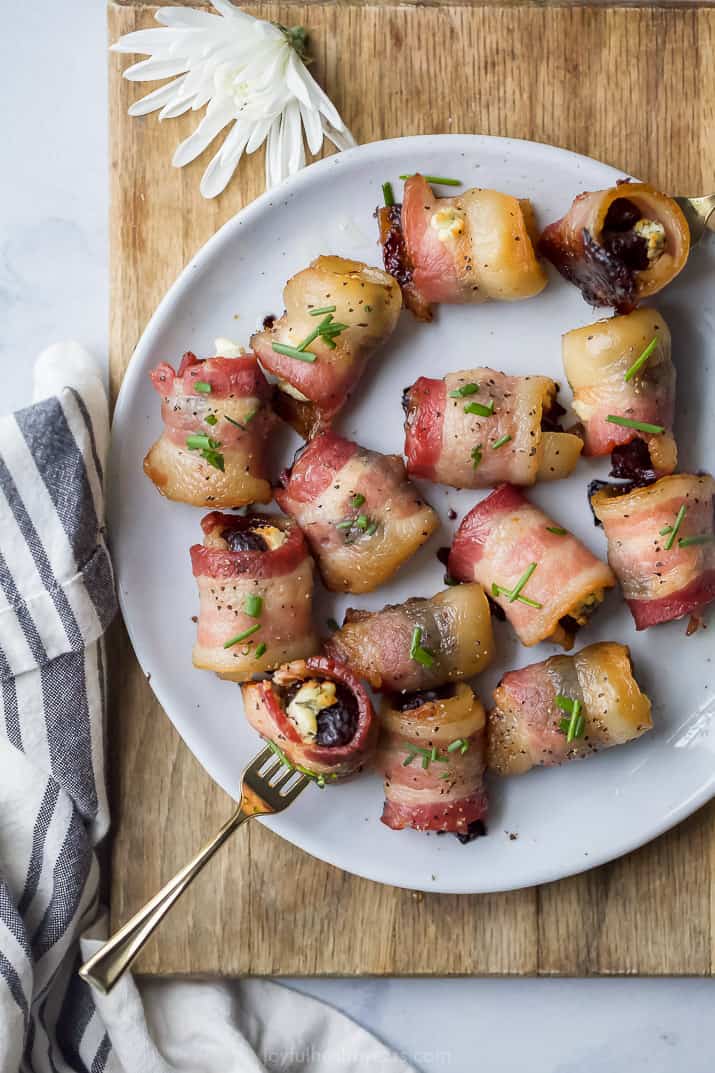 Bacon Wrapped Figs with Herb Goat Cheese
These Bacon Wrapped Figs with Herb Goat Cheese are such an easy appetizer idea – but they look super fancy! It's up there when it comes to my list of top holiday appetizers.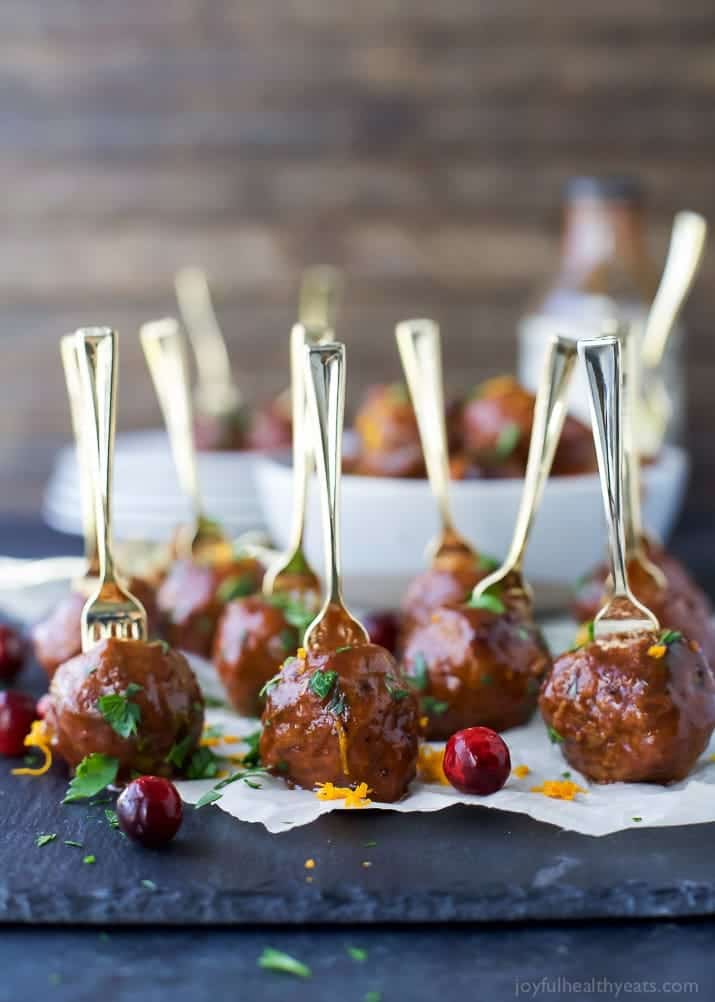 Crockpot Cranberry BBQ Meatballs
This is one of my favorite holiday appetizers! Crock Pot Cranberry BBQ Meatballs are covered in a sweet spicy Cranberry BBQ sauce that'll make you swoon! Serve them with festive toothpicks or mini disposable forks.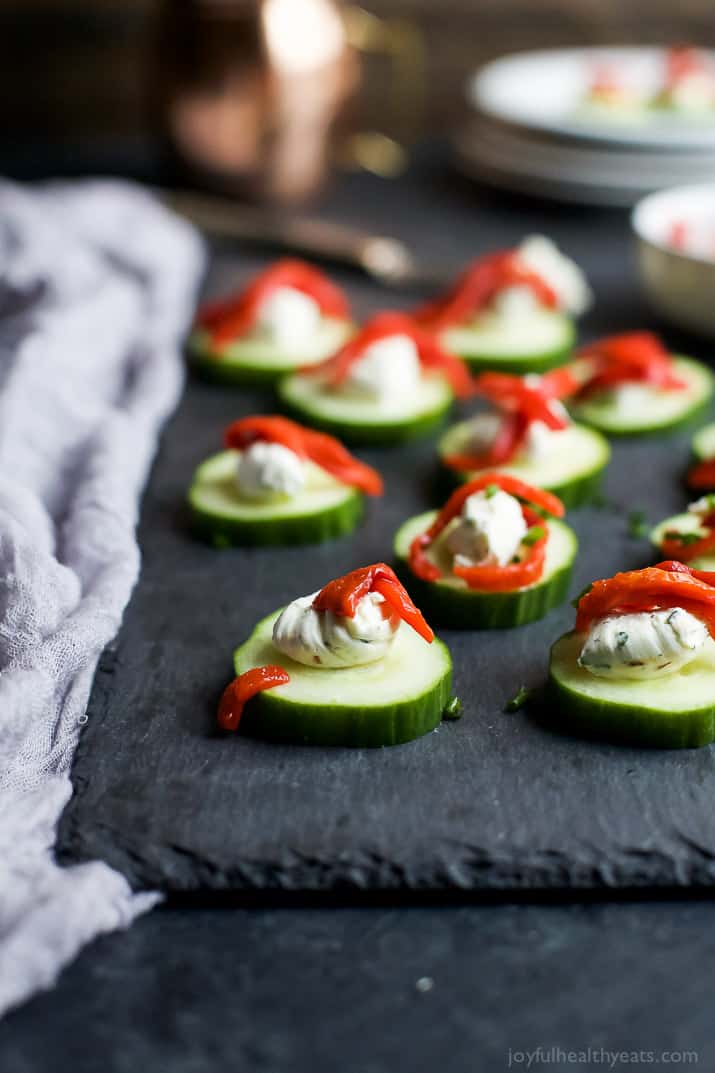 Herb Cream Cheese Cucumber Bites
Fresh Simple Cucumber Bites are the perfect refreshing and festive holiday appetizer. Sliced cucumbers are topped with a zesty Herb Cream Cheese and sweet Piquillo Peppers.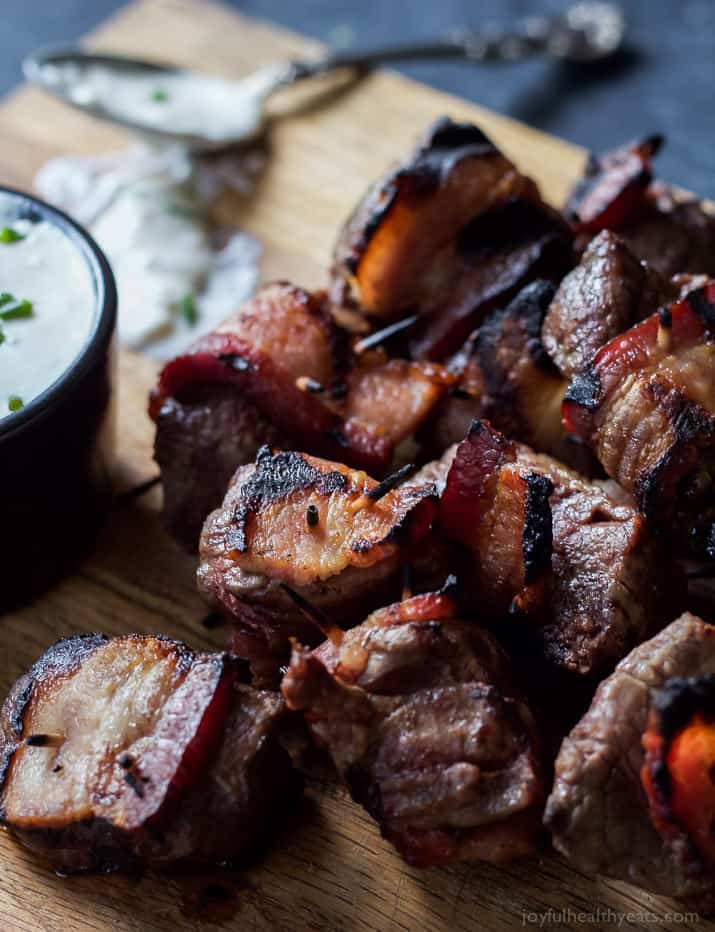 Bacon Wrapped Tenderloin Bites with Creamy Horseradish Sauce
These tender beef bites are rich, salty, and perfectly seasoned to create the ultimate holiday appetizer. Your guests will feel right at home when they eat these wholesome bites at your holiday party.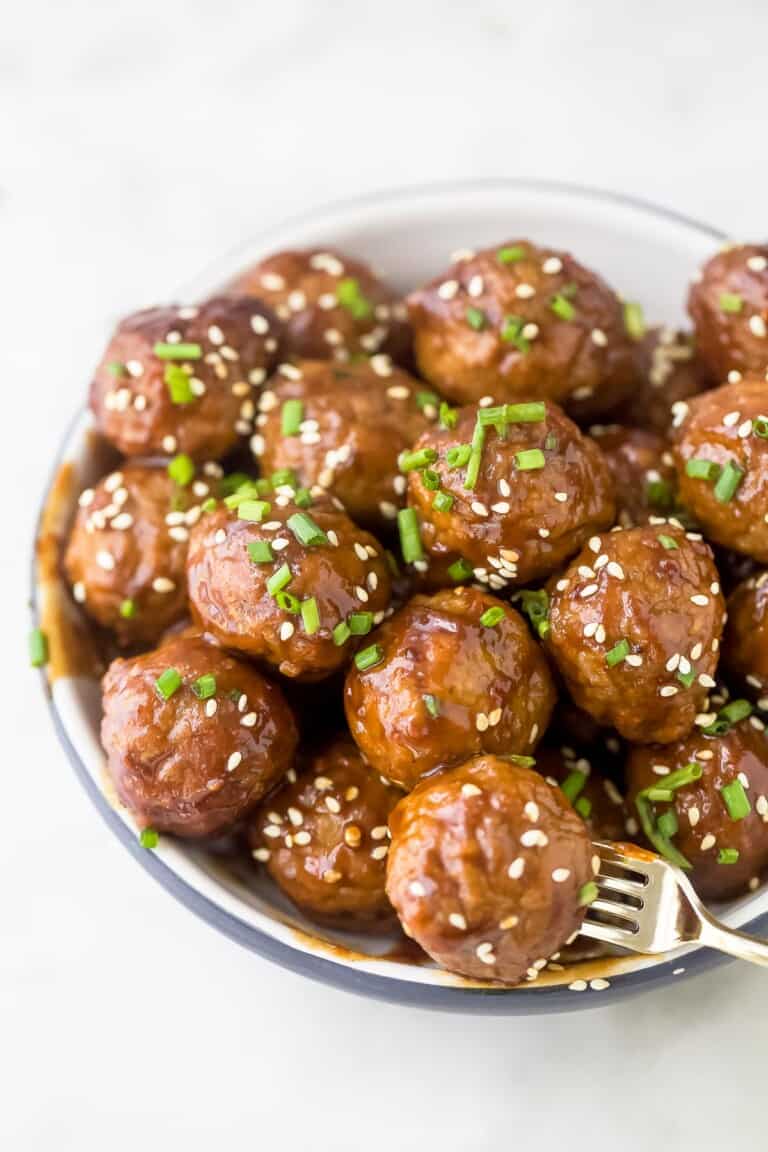 Easy Crockpot Asian Meatballs
Shh, this recipe has a little secret. These meatballs are actually frozen meatballs revamped to create a delicious Asian-inspired holiday appetizer. Slow-cooked in a scrumptious raspberry ginger hoisin sauce, these sweet and spicy Crockpot Asian Meatballs are incredibly easy to make!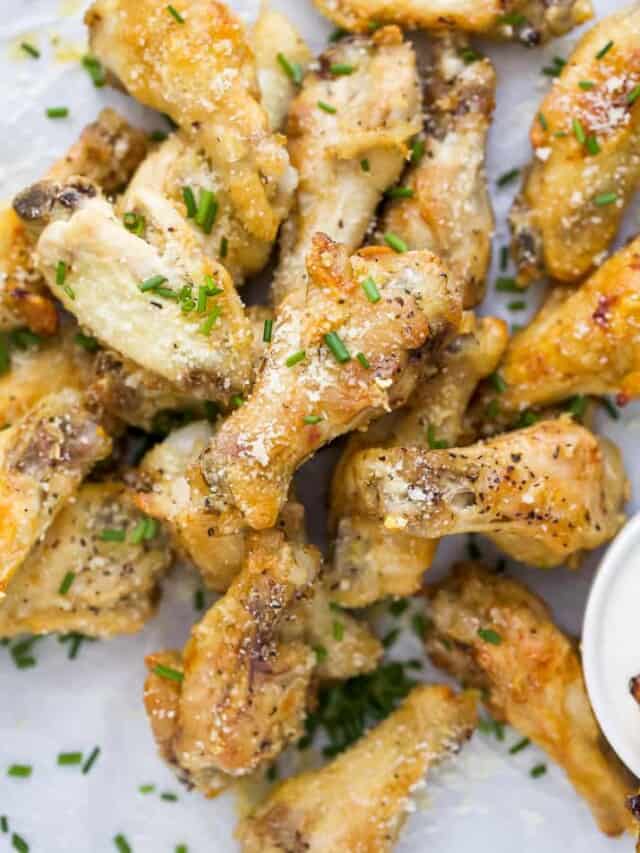 Crispy Garlic Parmesan Baked Chicken Wings
These Crispy Baked Garlic Parmesan Chicken Wings will be the life of the party! Baked instead of fried for a healthier option, then tossed in a mouthwatering garlic parmesan sauce! I like to make them for parties because they are baked and less messy!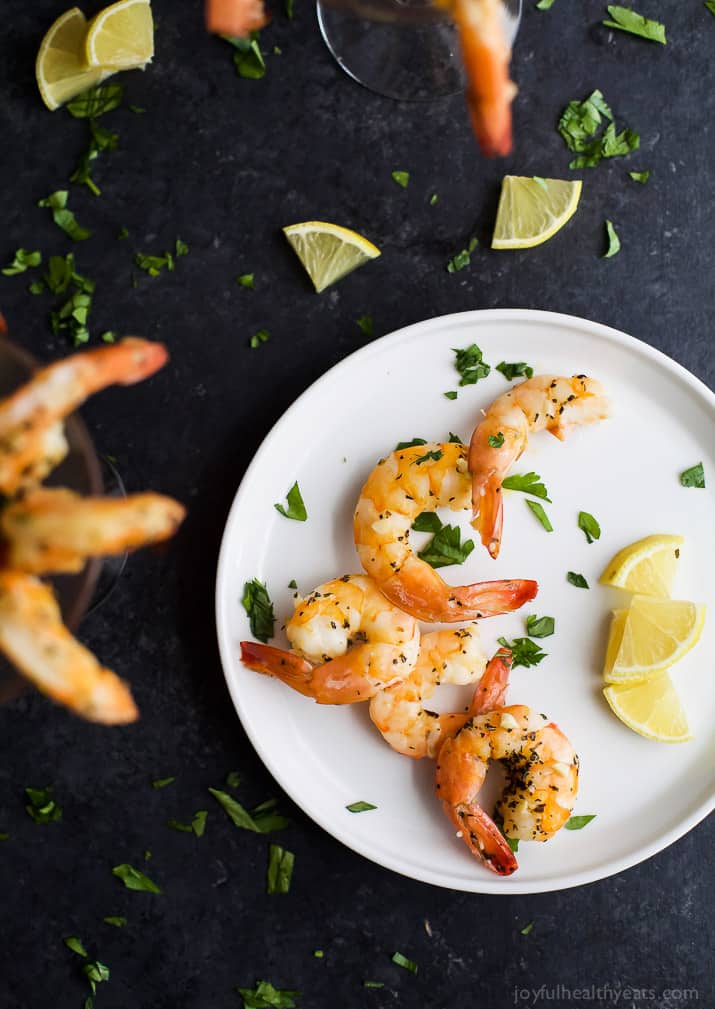 Garlic Herb Roasted Shrimp with Homemade Cocktail Sauce
These Roasted Shrimp are the best holiday party appetizer! It's a fun spin-off of the traditional shrimp cocktail. Your guests will be impressed with your creativity in such a simple dish!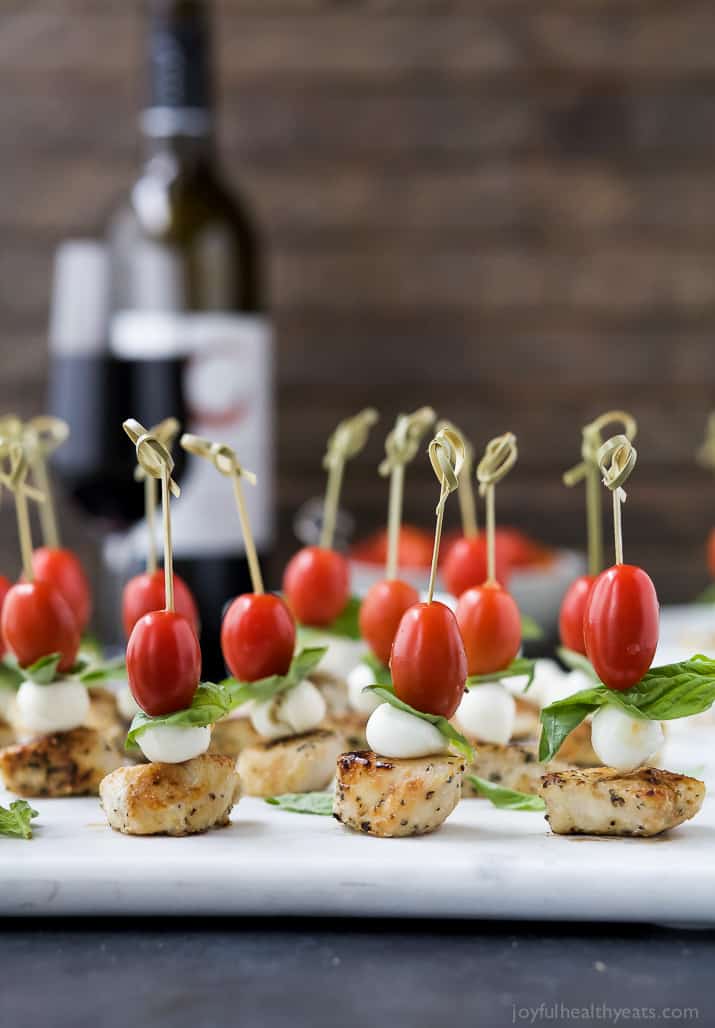 Caprese Chicken Skewers with Balsamic Glaze
These Caprese Chicken Skewers are one of my favorite healthy holiday appetizers. They are gluten-free but that doesn't mean they aren't for everyone! All your friends and family are going to love these little festive bites.
Smoked Gouda & Apple Crostini with Honey Drizzle
This crostini hits all the high notes – sweet, salty, savory and crunchy! It's an easy holiday appetizer with only 5 ingredients!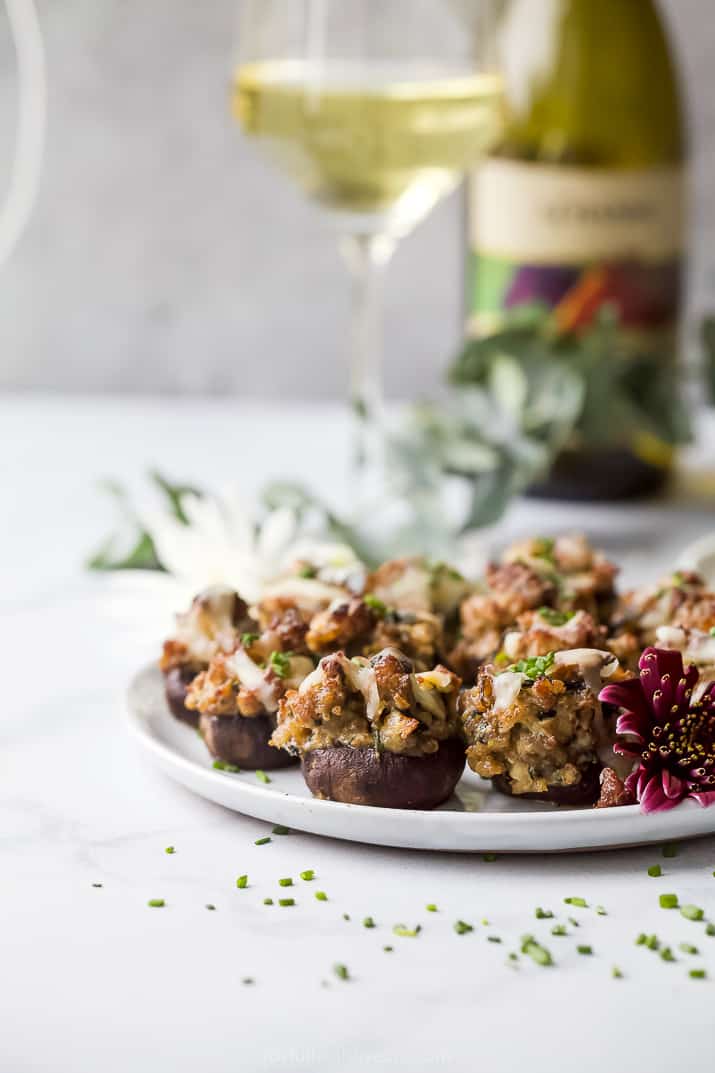 Cheesy Sausage Stuffed Mushrooms
This Cheesy Sausage Stuffed Mushrooms recipe is the perfect Thanksgiving or Christmas appetizer idea! Baby bella mushrooms are filled with a cream cheese sausage mix that's pretty irresistible. Your guests will keep coming back for more!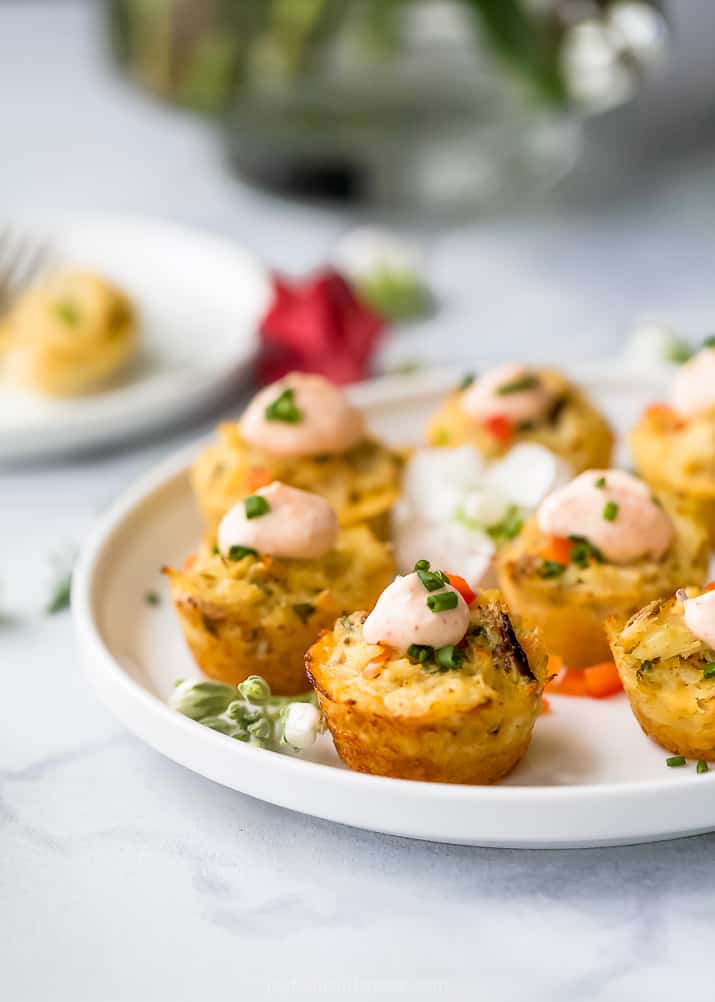 Mini Baked Crab Cakes with Sriracha Sauce
These Mini Baked Crab Cakes are made with lump crab meat, yogurt, lemon, and gluten-free panko and topped with a spicy sriracha sauce. These crab cakes are the perfect healthy party appetizer!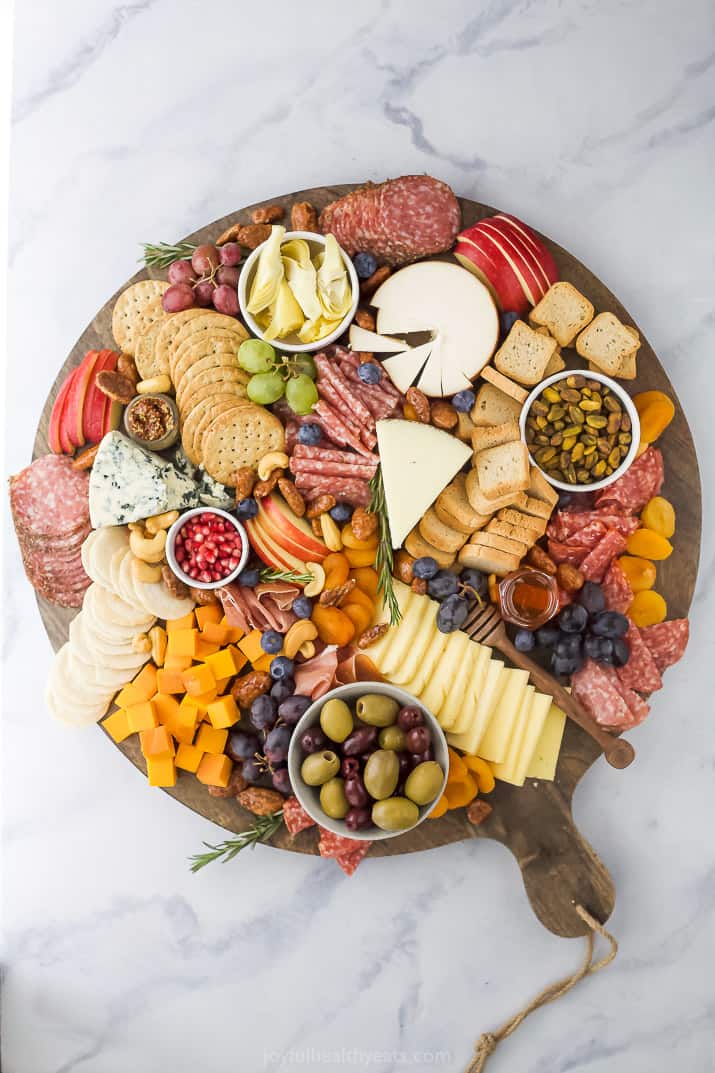 The Ultimate Holiday Cheese Board
Last but not least, the Ultimate Holiday Cheese Board! I have step-by-step photos so that it's so easy to create the cheese board that everyone's going to be posting on Instagram!
DON'T MISS A RECIPE ->