The Best Chocolate Pie Recipe
8 min read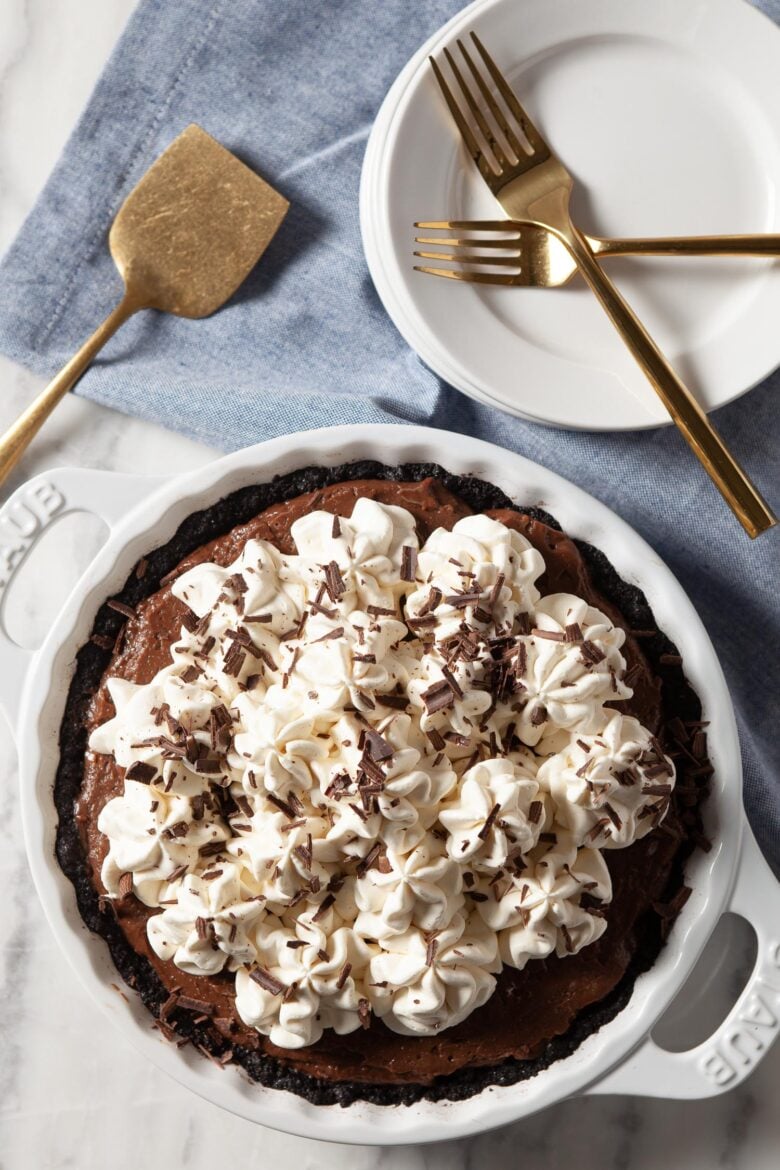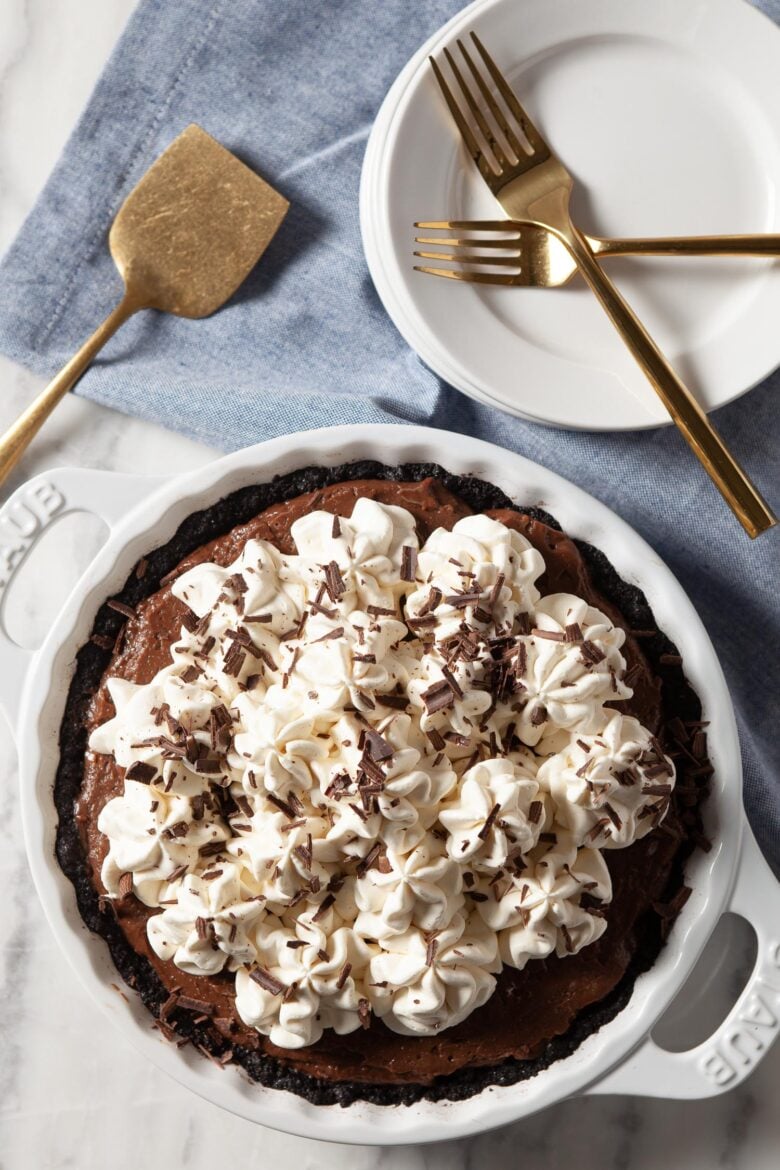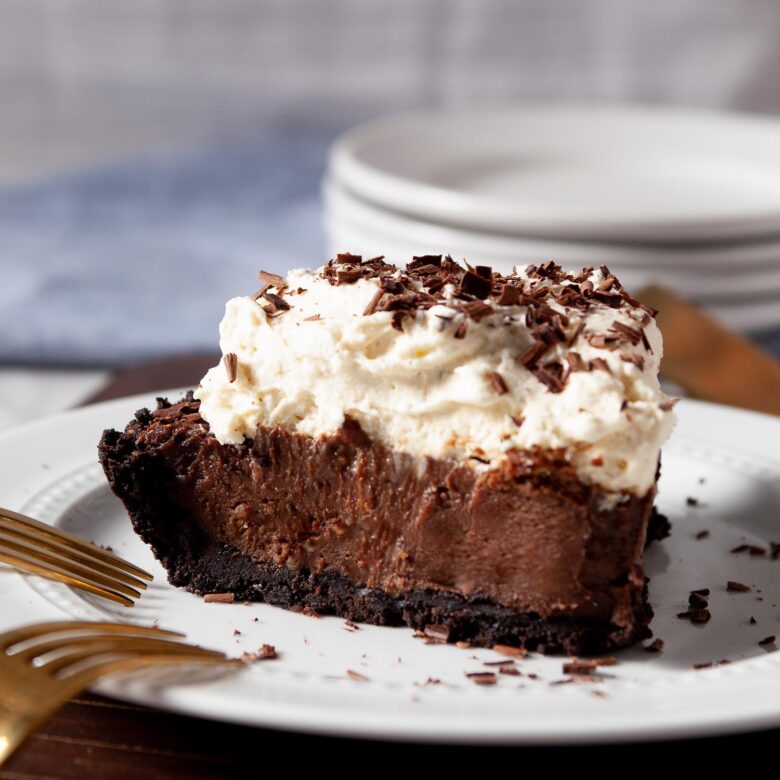 The Best Chocolate Pie Recipe
Chocolate pie is a favorite dessert that often includes a flakey golden crust base and a rich chocolate filling. However, for THIS homemade chocolate pie, we took things up a notch and made the original recipe even better!
To do so, we created a crunchy Oreo crust, filled it with a decadent mocha chocolate center, and topped it all off with an amazing stabilized whipped cream.
The end result is a truly show-stopping dessert that will have your guests licking their plates and begging for the recipe. In real life, this chocolate cream pie gets a plethora of requests. We can't wait for you to taste it.
Why You'll Love this Homemade Chocolate Pie
It's simple to whip up and stores well, meaning you can easily make it ahead of time.
This easy chocolate pie tastes even better than your local bakery's and is perfect for feeding a crowd!
The instant coffee granules enhance the chocolate taste for a deep, rich, fudge-like flavor.
The stabilization of the whipped cream guarantees it stays light and fluffy and doesn't run all over the place.
Easily adjusted to be caffeine and alcohol-free, this homemade chocolate pie is loved by kids and adults alike.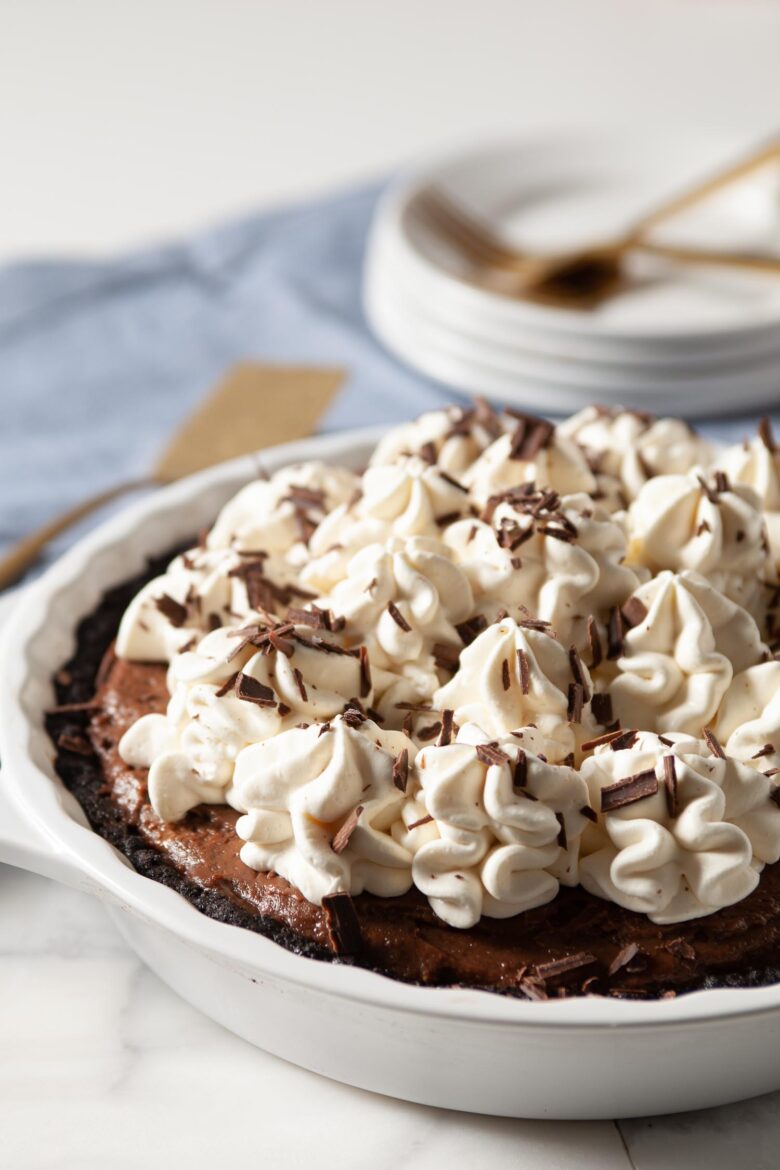 Key Ingredients
In this chocolate pie recipe, you'll find a host of common baking staples like butter, sugar, and cornstarch. However, there are a few key ingredients that contribute toward the luscious texture and ultra-indulgent taste you won't find in any other chocolate pie recipe. Here are the key ingredients you'll need:
Oreos – Chocolate Oreo cookies are removed of their cream filling and crushed into pieces to form the base of the pie crust.
Instant Coffee Granules – Contrary to popular belief, the inclusion of coffee granules does not create a coffee flavor in the chocolate pie but instead enhances the chocolate taste even more. If preferred, feel free to use decaffeinated crystals. 
Half and Half – This is the secret to creating a ridiculously smooth and creamy filling.
Semi-Sweet Chocolate Chips – Regular chocolate chips are melted down to form the base of the filling.
Gelatin Powder – This is crucial to creating whipped cream that does not melt or spread.
Heavy Whipping Cream – Using heavy whipping cream instead of regular whipping cream helps the whipped cream hold its shape longer so you can prepare your homemade chocolate pie hours or even days in advance!
Kahlua Liqueur – We love the flavor profile of Kahlua with this mocha chocolate pie. However, you can easily substitute it with vanilla extract to keep this recipe kid-friendly.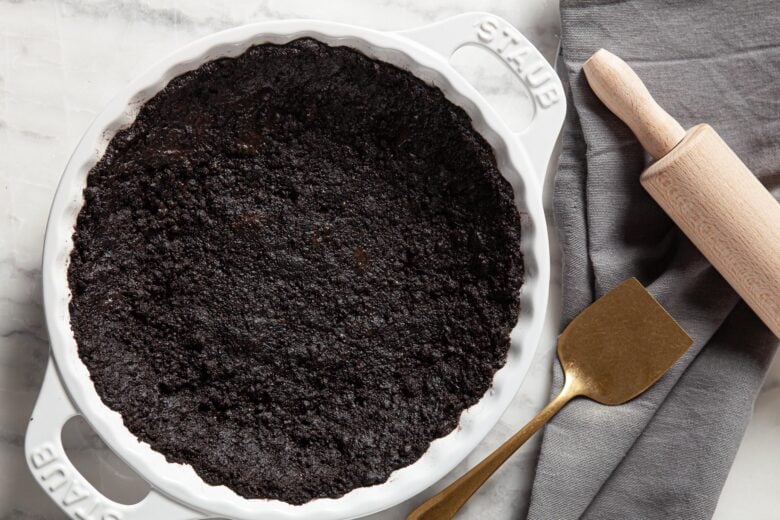 Tips for the Best Chocolate Pie Recipe
This is the best chocolate pie not only because of how absolutely scrumptious it is but also because it's so easy to make! With the simple instructions and tips below, you're guaranteed to have one rave-worthy dessert.
Use Cold Eggs. Chilled egg yolks are much easier to separate from their whites. Room temperature eggs are much more likely to break and combine.
Wet Your Knife. For smooth, clean pieces of pie, use a sharp knife, run it under water, and wipe it clean after each slice.
Short on time? Use a Store-Bought Crust. Yes, homemade does taste best. But if you need to, grab a pre-made chocolate pie crust instead. Just note that they're usually much thinner than homemade versions meaning they will bake faster. So, be sure to keep a close eye on your oven.
Chill Your Chocolate Pie. To create the best chocolate pie, cover the filling, and let it chill in the fridge for at least 4 hours to allow it to set.
Avoid Coagulated Gelatin. Pour the gelatin into the whipped cream mixture slowly, and beat continuously to prevent it from coagulating or clotting. However, if it does, bring it back to a lukewarm temperature before you continue.
Don't Overbeat. Try not to overbeat the whipped cream. If the peaks are a bit past firm and the mixture is a little clumpy that is fine, but you don't want to beat so long that it has curdled completely.
Garnish! For an extra Instagram-worthy presentation, add a dusting of cocoa powder or chocolate shavings on top of your pie before serving.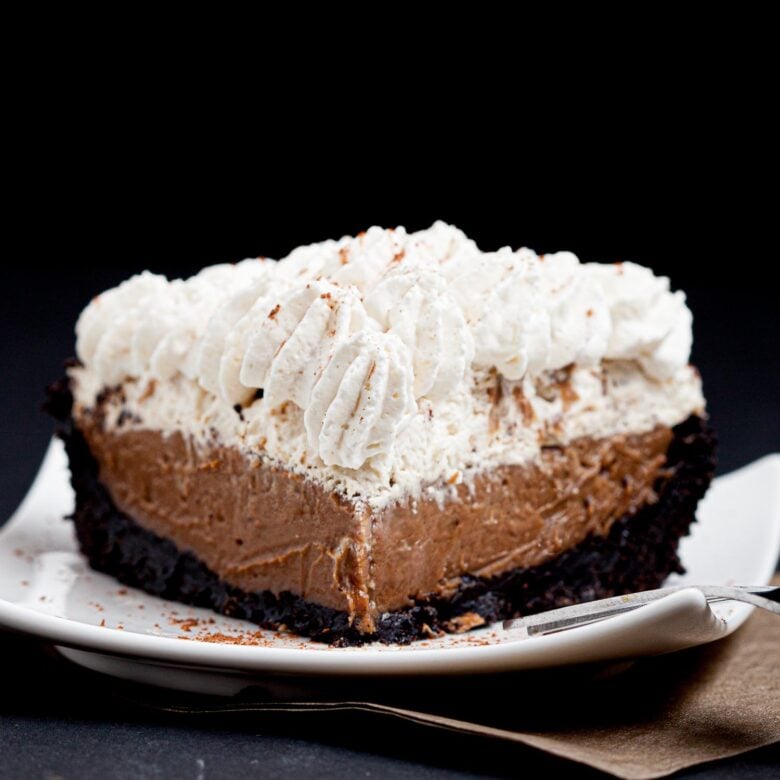 Chocolate Pie Commonly Asked Questions
How do you ensure a thick pie that isn't runny? 
Take your time creating the filling, and make sure everything is melted and well combined. Then, be sure to allow plenty of time for your pie to chill in the fridge. You'll be sure to have the best chocolate pie!
How should I store leftover chocolate pie? 
If you're lucky enough to have leftover, cover it in plastic wrap and store it in the refrigerator. Leftover pie that has been topped with regular whipped cream will stay fresh for about 3 days. Pie that has been topped with stabilized whipped cream can be kept in the fridge for up to 1 week.
Can I freeze this homemade chocolate pie recipe?  
Yes! One of the things that makes this the absolute best chocolate pie recipe is that it can easily be frozen. To do so, wrap the chocolate pie (whipped cream and all) with plastic wrap. Then, add a layer of aluminum foil, and freeze it for up to 3 months. To enjoy, let it thaw in the fridge overnight, and dig in the next day.
Can I prepare the whipped cream ahead of time? 
Absolutely. The stabilized whipped cream can be prepared in advance and kept in an airtight container in the fridge for 2-3 days or in the freezer for up to 1 month.
---
More to Bake and Eat
The Best Boston Cream Pie – Say goodbye to bland and boring pie thanks to the use of moist custard and tender sponge cake.
Blueberry Pie – Fresh blueberries are encased in a flakey, buttery crust to create the most delectable blueberry pie you'll ever sink your teeth into.
Best Banana Cream Pie Recipe – Made with a velvety custard and loaded with bananas, we absolutely adore this sweet dessert.
Streusel Pumpkin Pie Recipe – This is without a doubt the best pumpkin pie we've ever had the privilege of devouring. Give it a try, and see if you agree!
Easy Key Lime Pie – Jaw-dropping delicious, you won't believe how easy this pie is to create or that it comes together with just 5 ingredients.
---
---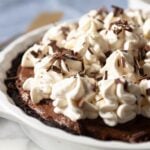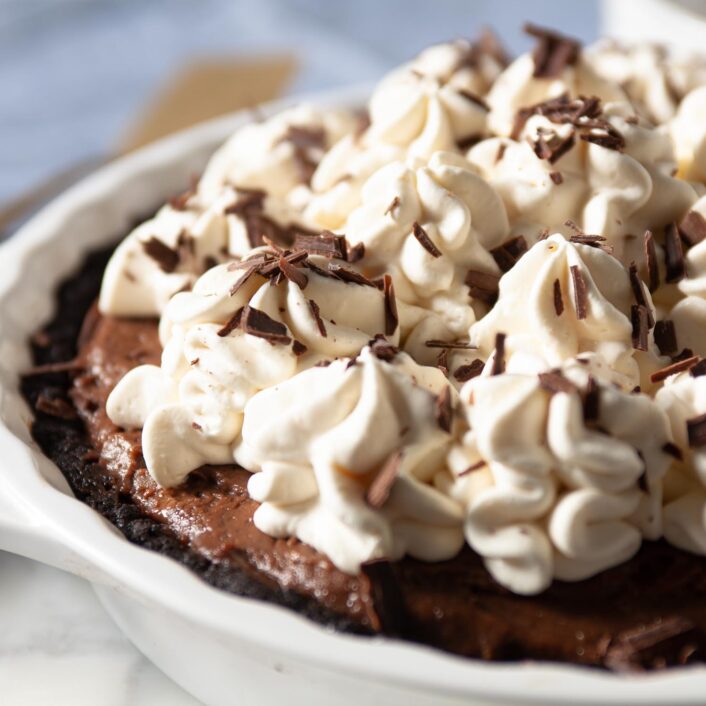 The Best Chocolate Pie
Silky, rich, and smooth, this is the best chocolate pie recipe you'll ever taste! Made with an Oreo crust and topped with stabilized whip cream, it's perfect for holidays, birthdays, and more.
Servings: 8 makes one 9 inch pie
For the Crust:
2

cups

finely crushed Oreo cookies

,

filling removed, from a 14.3oz package

½

cup

salted butter

,

melted
Stabilized Whipped Cream:
2

TB

water

2

cups

heavy whipping cream

,

very cold

¼

cups

powdered sugar

2

TB

Kahlua liqueur*

,

or vanilla extract
Make Crust
Preheat oven to 350F with rack on lower middle position. In a bowl, combine the crushed cookie crumbs with melted butter until mixture resembles damp sand. Press tightly into bottom and along the sides of a greased 9-inch pie plate. Bake for 10 minutes. Set aside to cool.
Make Filing
In a heavy saucepan, combine sugar, cornstarch, and coffee crystals, whisking until smooth. Add half and half and beaten yolks to the saucepan. Whisk to combine. Bring the mixture to a boil over medium heat, whisking continuously. Whisk while boiling for 1 minute, or until filling is smooth and thick – this will happen quickly, so do not leave stovetop unattended. Remove from heat.

Add the chocolate chips and 2 TB butter into the hot filling. Whisk to fully incorporate, until thick and smooth. Transfer filling into the prepared pie crust. Smooth top out evenly, place cling wrap directly onto surface of filling, and chill in fridge at least 4 hours.
Make Stabilized Whipped Cream
Place the mixing bowl and beaters in freezer to chill. In a small bowl, combine plain gelatin powder with 2 TB water, letting the gelatin soak up the water completely. Microwave the gelatin for 10 seconds at a time, until it's a hot, thick liquid. Stir, cover, and set aside.

In the chilled mixing bowl, add the heavy whipping cream, powdered sugar, and Kahlua liqueur (or vanilla extract). Beat on medium-high with chilled beaters until mixture is ribbony, not quite at soft peaks.

If gelatin has coagulated, microwave it several seconds just until it's a lukewarm liquid. Slowly and steadily, drizzle gelatin into the heavy cream mixture, directly over the constantly beating whisks. Beat to firm peaks. If you over-beat a bit past firm peaks and whipped cream is a bit clumpy, it's fine.

Spread or pipe the whipped cream on top of chilled pie. Garnish with cocoa powder or shaved chocolate. Cover and chill until ready to serve.
*Instant coffee crystals, or granules, provide a deep and complex flavor that compliments chocolate. There will be no "coffee flavor" in the pie. You can also use decaffeinated coffee crystals. 
*Kahlua liqueur has the perfect flavor profile for this chocolate pie. If you don't want to use liqueur, substitute with 2 TB vanilla extract. 
*Chocolate pie can be made several days in advance. 
*If you enjoyed this recipe, please come back and give it a rating ♡
Serving: 1slice | Calories: 697kcal | Carbohydrates: 69g | Protein: 8g | Fat: 60g | Saturated Fat: 34g | Polyunsaturated Fat: 4g | Monounsaturated Fat: 18g | Trans Fat: 1g | Cholesterol: 225mg | Sodium: 229mg | Potassium: 378mg | Fiber: 3g | Sugar: 45g | Vitamin A: 1670IU | Vitamin C: 1mg | Calcium: 141mg | Iron: 6mg
Did you make this?
Leave a comment below and tag @chewoutloud on Instagram