Traeger Grilled Venison Striploin – Or Whatever You Do
3 min read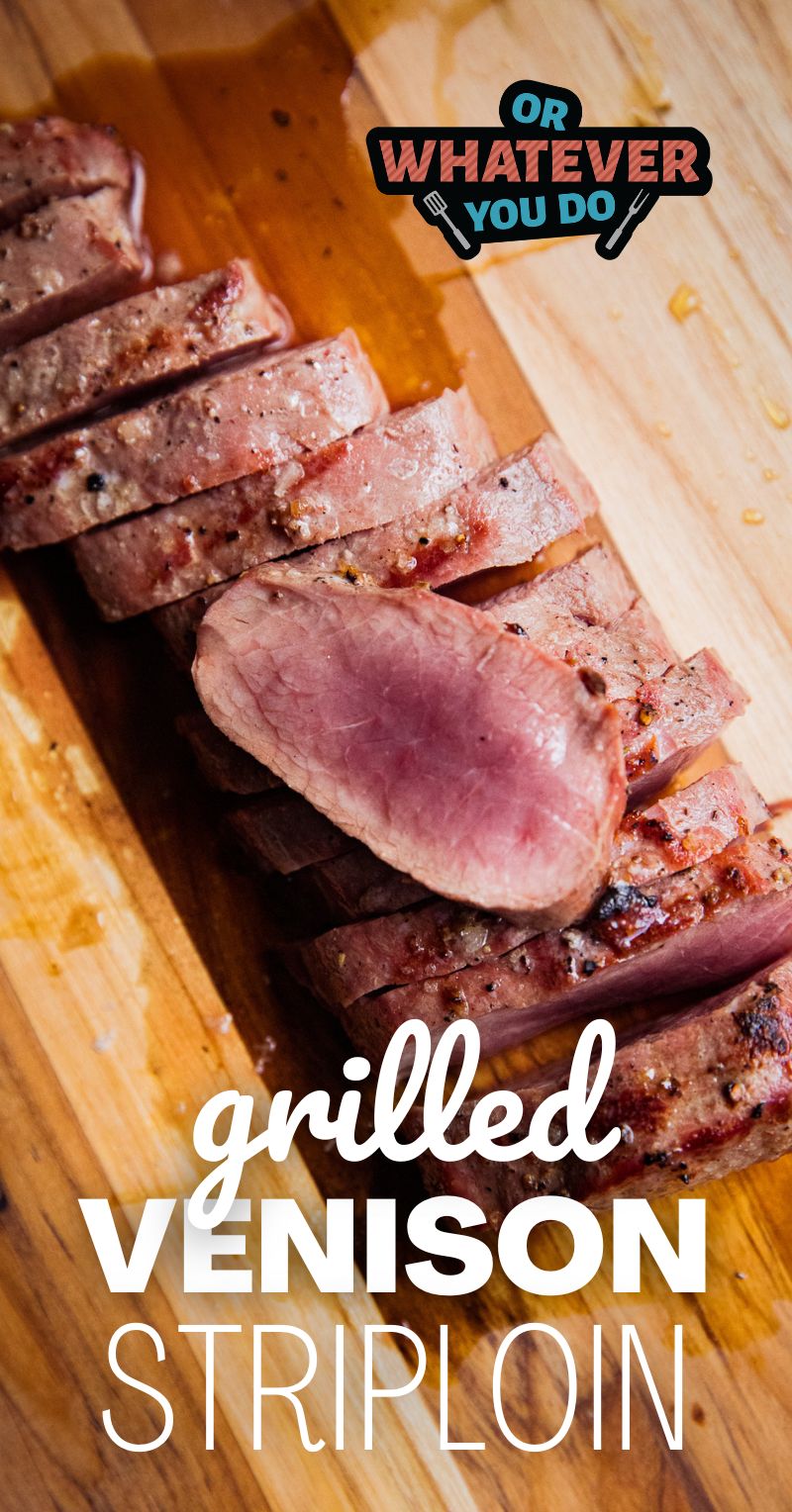 Our Traeger Grilled Venison Striploin is one of the most tender cuts of meat on the entire deer. It is prized for its flavor, versatility, and simplicity. This recipe is as simple as it is fast, and the pellet grill is the perfect spot to cook this exceptional piece of meat. Don't skip the chimichurri! It adds a great tang to your final bite.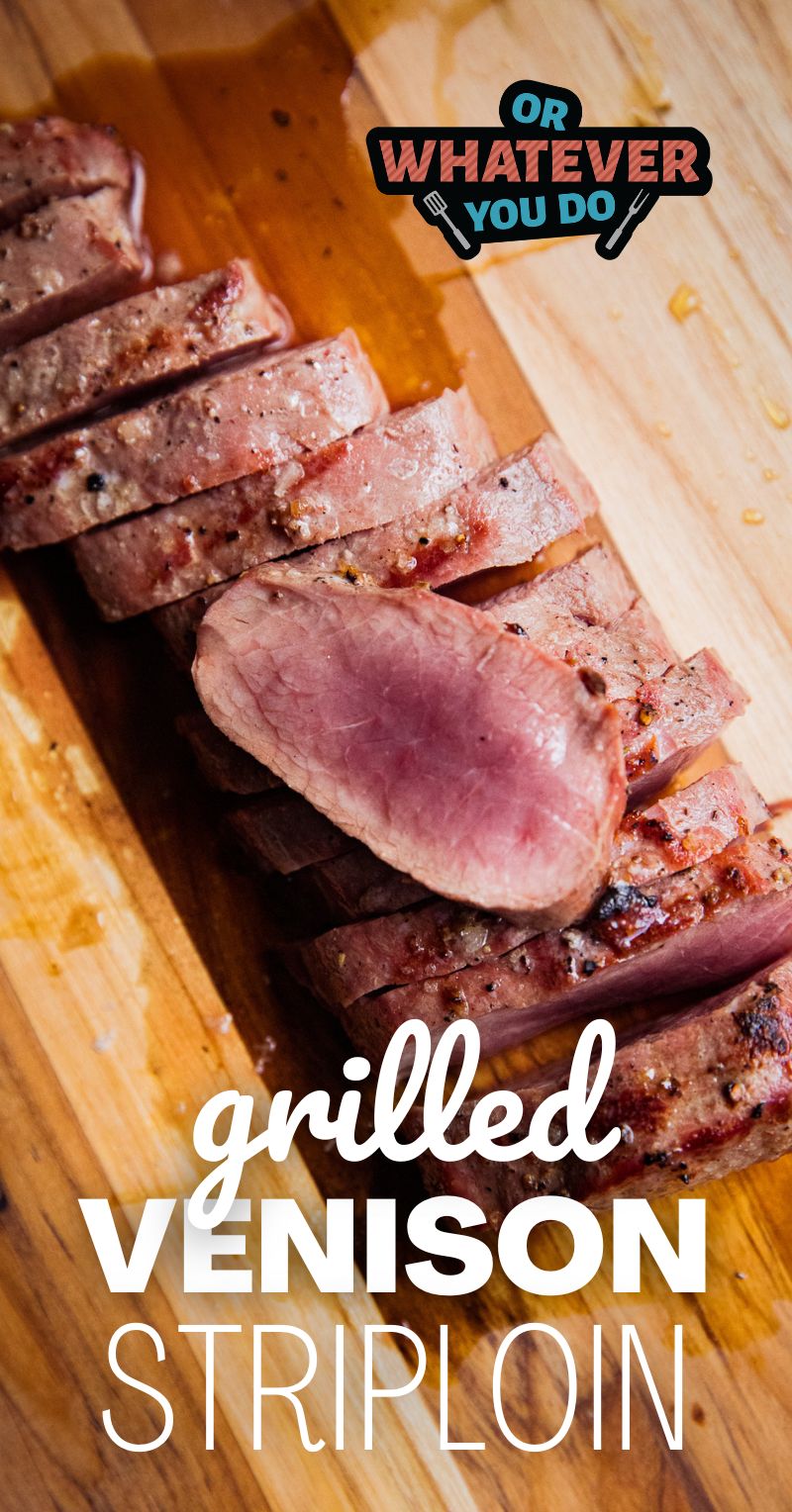 Traeger Grilled Venison Striploin
The venison striploin, also known as the backstrap, is my favorite cut of venison to cook. It is quick, easy, lean, and packed with flavor and nutrients. There's a reason it is one of the most prized off of the whole deer! Chances are your hunting friends won't be gifting you this fancy cut, so you had better start hunting if you want one, or get on the waitlist for Maui Nui (which is where we source our venison). Either option is worth it. Venison is one of the healthiest red meats you can eat.
We served this medium-rare venison sirloin steak with some pre-made sauce from Cham Vietnamese Dipping Sauce. It is just the right amount of herby and spicy for venison. You can get 5% off if you use the code "OWYD" too.
Want to make your own sauce? Try this excellent Cranberry Chimichurri from Chiles and Smoke!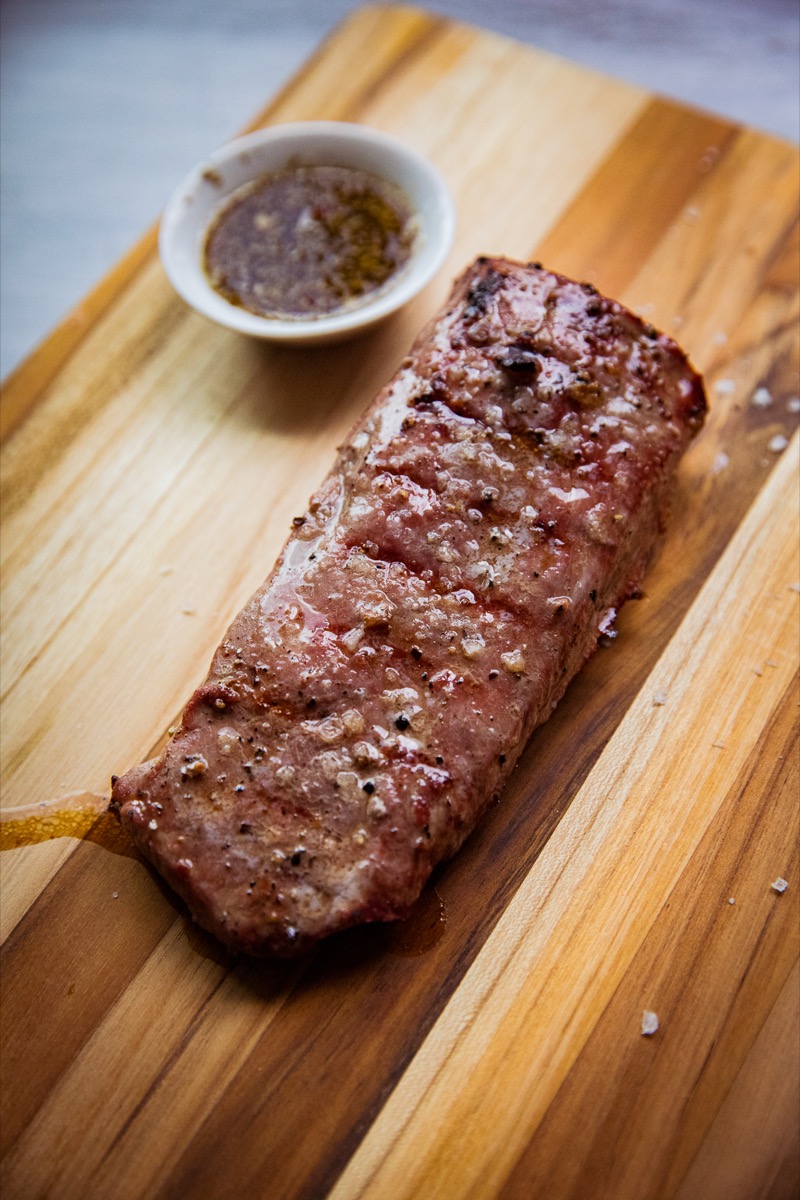 Grilld Venison Striploin shopping list
Wondering if you have to hit the store? Here's the list of items you'll need to make this recipe. For specific amounts, please refer to the printable recipe card at the bottom of the post.
venison striploin
salt & pepper
Wild Game Rub (optional)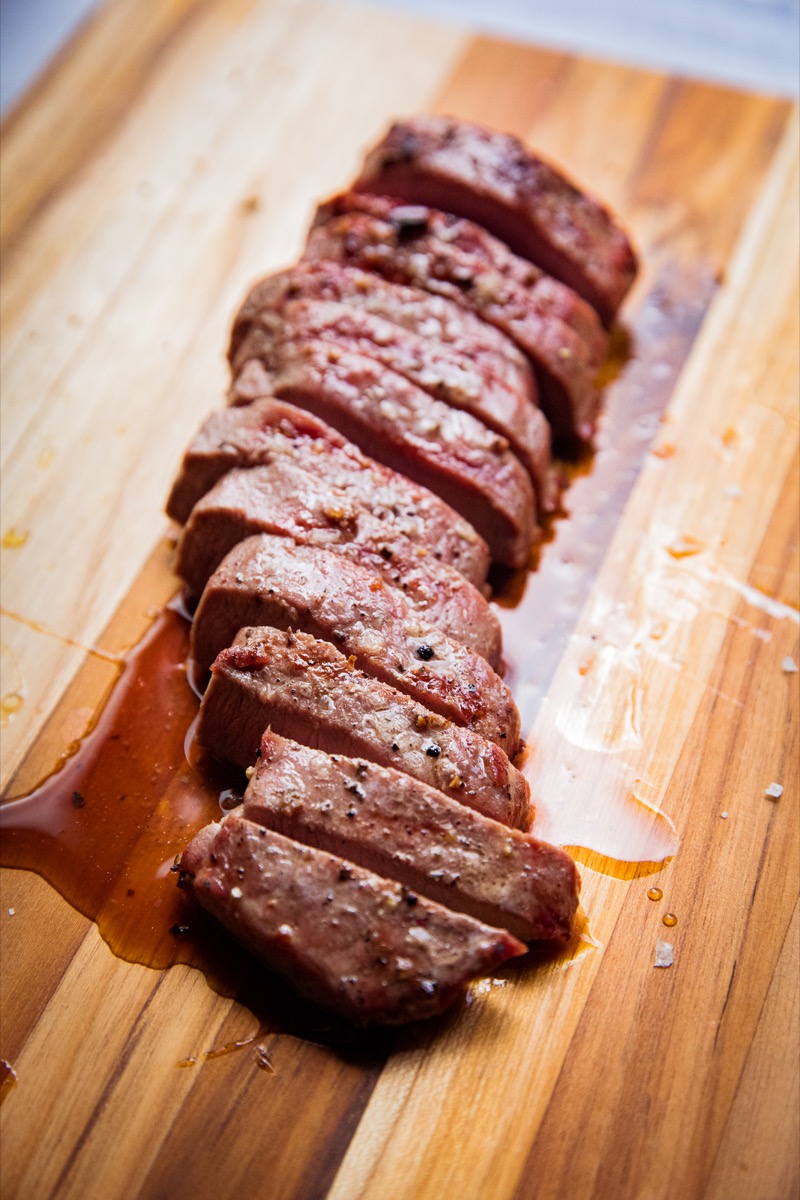 How to make Grilled Venison Striploin
This is just the overview so you can see what you're actually getting into here. When you are cooking, you'll want to use the full recipe at the bottom of the page.
Preheat
Fire up the grill and heat to 375°.
Season
While the grill is heating up, season your striploin on all sides. Let it sit out until the grill is heated.
Grill
Use a wireless thermometer for the most accurate temps and to make sure you aren't overcooking the meat. Grill until the internal temperature is 115°F.
Rest
Pull the roast off the grill and let rest, tented with foil, for at least 10 minutes.
Slice & Enjoy
Slice the meat across the grain and serve hot. We served this with a fresh chimichurri.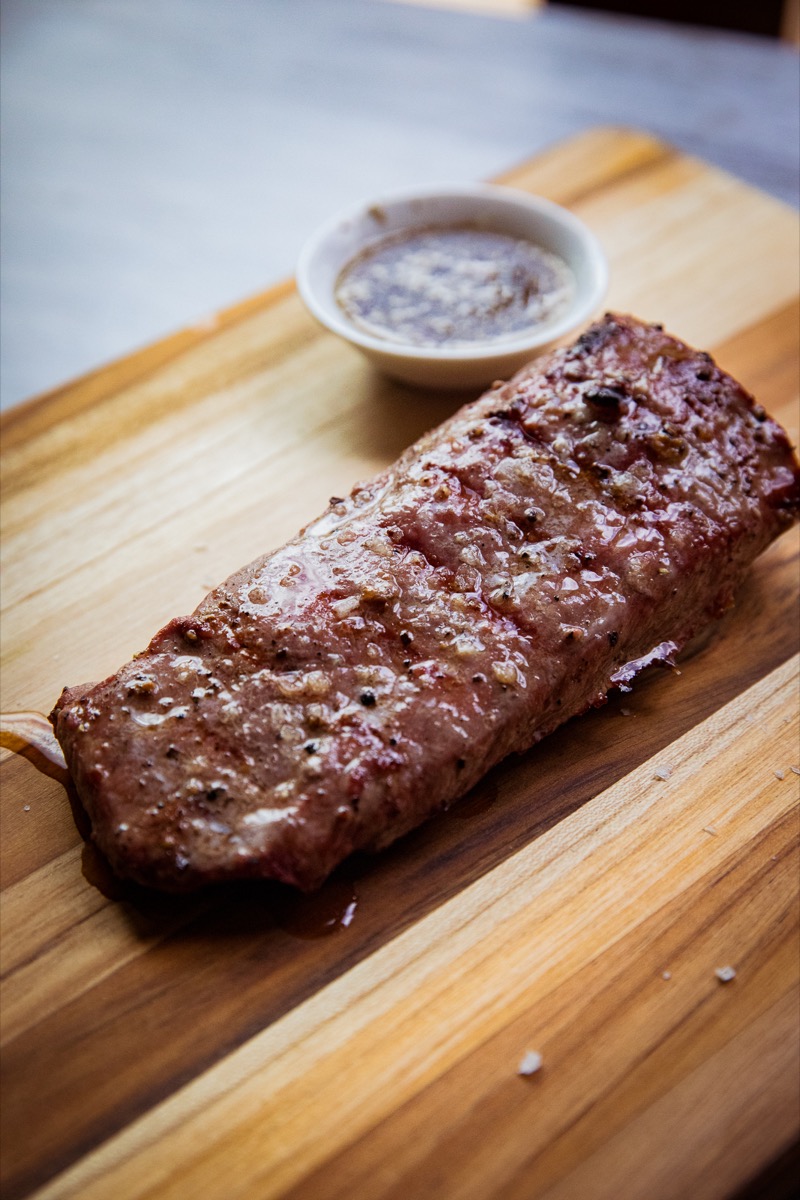 Grilled Venison Striploin FAQ
How do you store leftovers?
Store leftovers in the fridge in an airtight container for up to 3-4 days, max.
What's the best way to reheat leftovers?
These reheat really well in a pan with some butter over low to medium-low heat.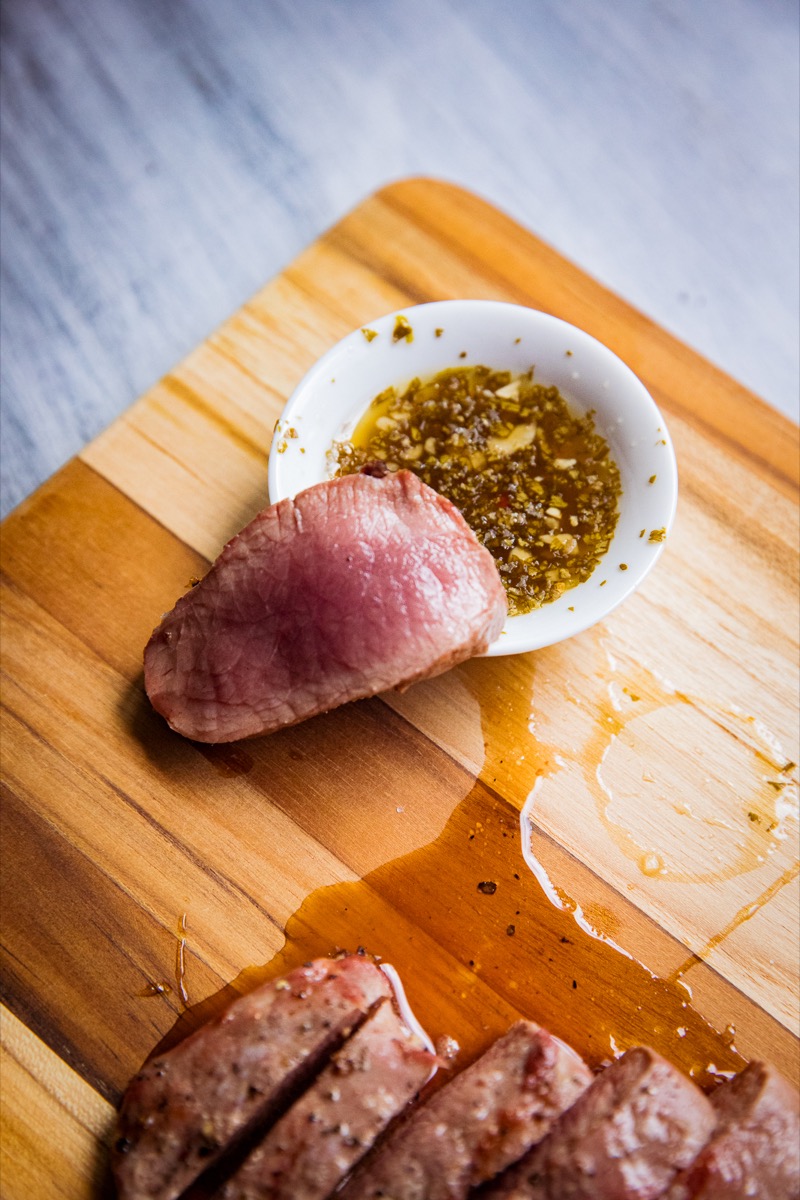 More great recipes to love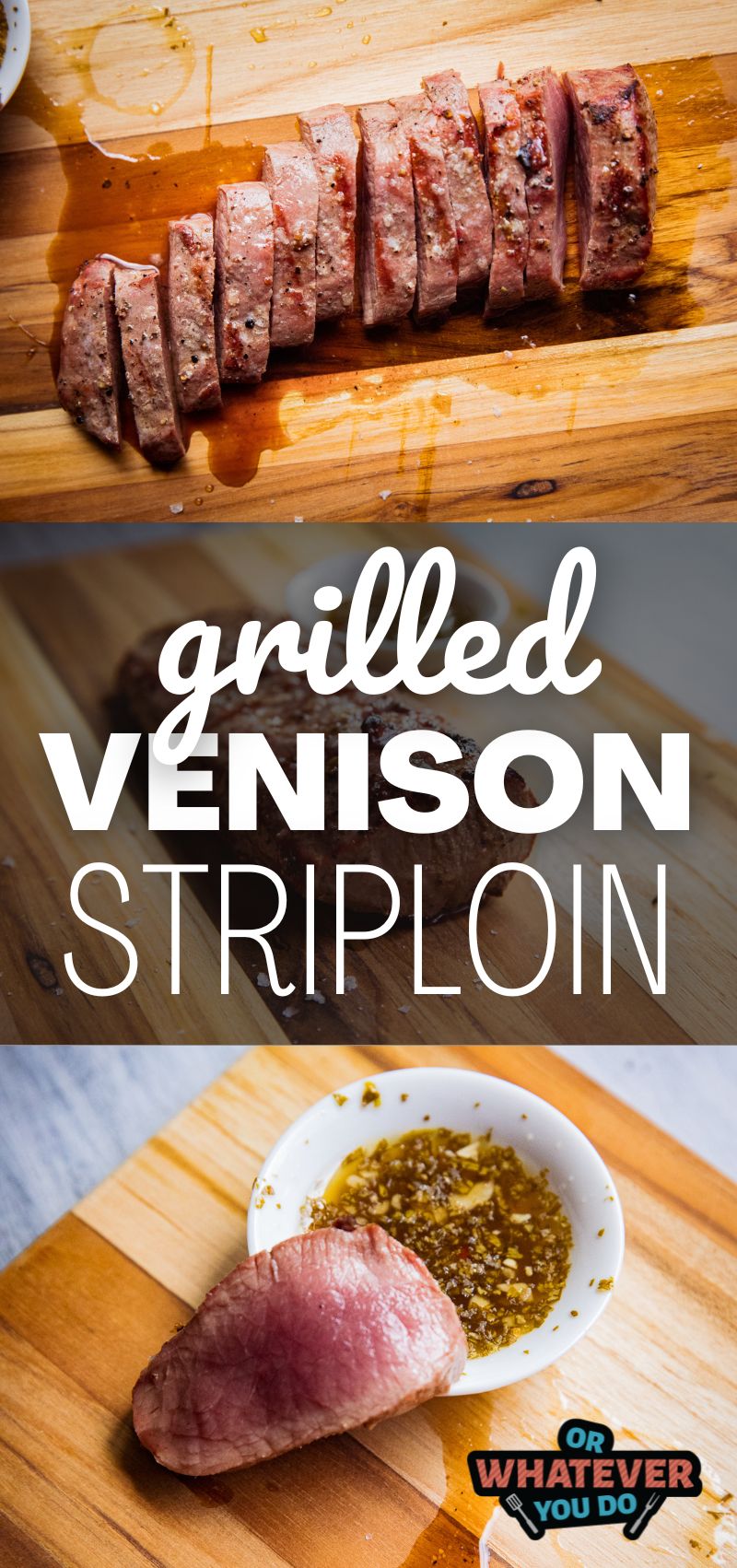 Prep Time
10 minutes
Cook Time
30 minutes
Total Time
40 minutes
Ingredients
1 venison striploin
1 teaspoon kosher salt
1/2 teaspoon pepper
1 teaspoon wild game rub (see note)
Instructions
Preheat your Traeger to 375°F.
While the Traeger is heating up, take out your striploin and season on all sides with the salt, pepper, and (if using) the wild game rub.
Place directly on the grill grates. Cook, flipping once, until the internal temperature reaches 115°F.
Remove from the grill and let rest for 10 minutes.
Slice and serve!
Notes
If you don't have the wild game rub, you can skip it! Venison works great with just salt and pepper too.
Recommended Products
As an Amazon Associate and member of other affiliate programs, I earn from qualifying purchases.
Nutrition Information:
Yield:
2
Serving Size:
1
Amount Per Serving:
Calories: 197Total Fat: 10gSaturated Fat: 4gTrans Fat: 0gUnsaturated Fat: 5gCholesterol: 67mgSodium: 681mgCarbohydrates: 0gFiber: 0gSugar: 0gProtein: 24g
Nutrition data provided here is only an estimate.