Dairy Free Chocolate Pumpkin Pie Recipe
5 min read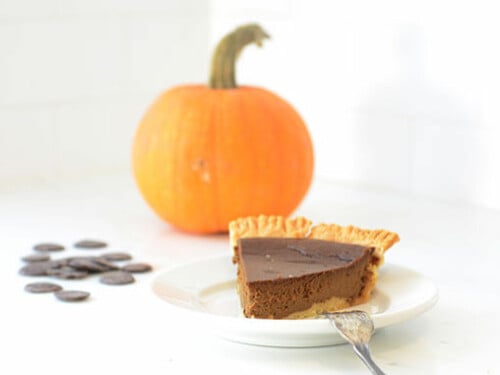 I've been making this Dairy Free Chocolate Pumpkin Pie recipe for years. The rich blend of dark chocolate and creamy coconut milk with silky smooth pumpkin hits the mark for everyone in the family!
Dairy Free Chocolate Pumpkin Pie
Better yet, this pumpkin pie recipe is the answer to your Thanksgiving dessert dilemmas. My younger son and I adore all things pumpkin, while my husband and our other kiddo are chocolate lovers.
Easy Recipes for Dessert!!!
All in all, the best part of creating easy recipes for healthy desserts is that I can satisfy the sweet tooth of every family member.
From Me to You! Best Gluten Free Recipes
This easy Thanksgiving dessert recipe with silky chocolate and velvety pumpkin allows everyone to gather around the table to celebrate my favorite part of any meal!
Dairy Free Chocolate Pumpkin Pie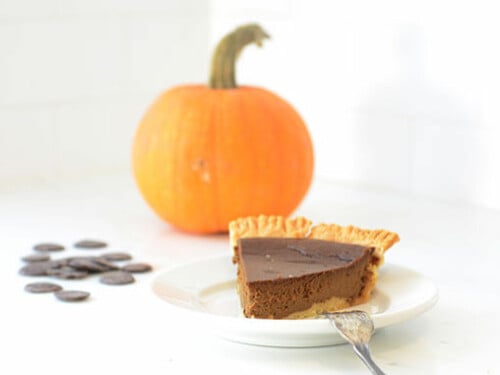 Print
Email
Pin Recipe
Instructions
Pulse in coconut sugar, cinnamon, and salt

In a

saucepan

over very low heat, melt chocolate

Pulse melted chocolate into pumpkin mixture

Transfer mixture into pie crust

Bake at 350°F for 35-45 minutes

Cool for 2 hours

Serve
Prep Time 15 mins
Cook Time 45 mins
Total Time 1 hr
Prevent your screen from going dark
Chocolate Pumpkin Pie: Easy Thanksgiving Dessert
If you're looking for recipes to make for the holidays, this one is fantastic because it's suitable for individuals with an intolerance to gluten and other diet restrictions.
Pumpkin Pie Recipe from Scratch
When you're diagnosed with celiac and food allergies, you can end up making all of your own food. That's not always easy, but the upside is that just about everything tastes better from scratch!
Creating desserts that are easy to make at home is also a win when it comes to controlling the ingredients I use and allows me to design nutrient dense versions of SAD foods.
Is Pumpkin Pie Healthy?
Among my many gluten free recipes, pumpkin pie is one of my all-time favorites!
The term "healthy pie" may sound like an oxymoron, however, this recipe is a trifecta of nutritious.
Pumpkin is a fiber rich food, organic dark chocolate is a powerful antioxidant, and almond flour is a health hero for a low carb high protein diet.
Dairy Free Pie Recipe with Chocolate Chips
The star of the show here is the dark dairy free chocolate chips that give this recipe an added layer of creamy richness and the perfect punch of rich cacao. I use organic 70% dark chocolate chips that are vegan.
A quick reminder to read ingredient labels to ensure you are using a product that is beneficial for a healthy diet and free from allergens.
How to Make Chocolate Dairy Free Pumpkin Pie
With 7 healthy ingredients, this chocolate dairy free pie is a simple recipe that you'll have in the oven in as little as 15 minutes.
Please note, when preparing this Chocolate Pumpkin Pie recipe, you'll find the batter is extremely fudgy. Don't be deterred, this is the correct consistency.
Simply spread the thick batter around the pie crust using a spatula or the back of a spoon.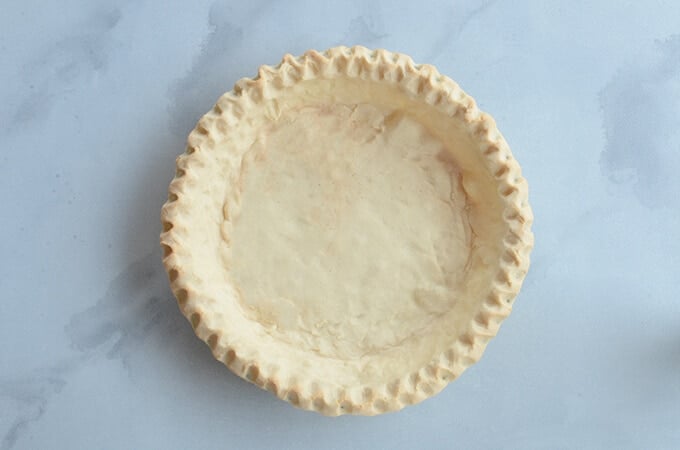 Dairy Free Gluten Free Pie Crust
This Dairy Free Chocolate Pumpkin Pie recipe is cradled in a scrumptiously buttery Gluten Free Pie Crust. Food for thought –I've been told this crust tastes like a cookie!
There is essentially one step in this crust recipe –combining coconut flour, butter, arrowroot powder, and maple syrup in a food processor. Then it's ready to pop in the oven.
I usually make the crust the day before I prepare the pie filling, which allows time to focus on the other healthy easy dishes I plan to serve during the holidays.
Can I Use Canned Pumpkin in This Recipe?
I use canned pumpkin in this pie recipe in order to cut down on the prep time.
Did you know that both canned and fresh pumpkin are packed with fiber along with vitamins A, C, and E, in addition to iron and potassium?
When is Pumpkin Pie Done?
How do you know when your pie is done? I do a quick knife test to determine this and simply insert a knife into the middle of the filling. If the knife comes out clean, the pie is done baking.
How to Store Pumpkin Pie
I'm frequently asked how to store pumpkin pie. I like to keep it in the refrigerator with a pre-made batch of my vegan whipped cream.
Best Pumpkin Pie Recipes to Make
If you want a classic pumpkin pie for your celebration, I have some delicious choices.
By the way, each and every one of my recipes for gluten free pumpkin pie also pair well with a huge dollop of my homemade whipped cream in a mason jar. Below are my favorite options!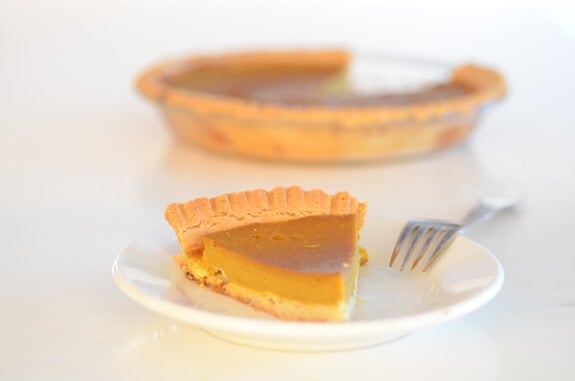 Dairy Free Gluten Free Pumpkin Pie
This Gluten Free Pumpkin Pie is a Thanksgiving classic and one that my younger son requests year after year.
Made with canned pumpkin, coconut milk, pumpkin pie spice, and 3 other ingredients, you'll complete my simple almond flour pie crust recipe with a wonderful filling that is memorable enough to make every year.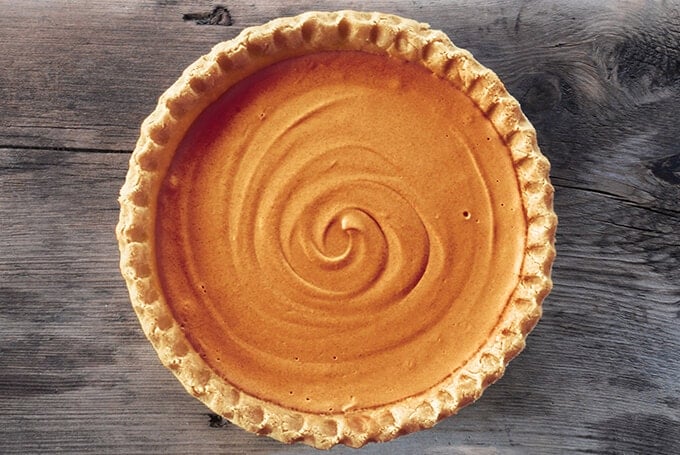 Dairy Free Keto Pumpkin Pie
My Keto Pumpkin Pie is the best no bake pumpkin pie, as well as another great recipe with few ingredients! It's also a fantastic low carb, high fat (LCHF) dessert.
To achieve the creamy sweetness of this no bake pie, I liquefy coconut oil and coconut milk and sweeten it with 1 tablespoon of maple syrup, yes that's keto.
But you can also make this pie without the sweetener, and it will still taste divine, I promise.
The coconut products provide healthy fats that are super creamy and give the pie a great mouthfeel. Of all my Vegan Thanksgiving recipes, this pie is one that never lasts as a holiday leftover.
Easy Dairy Free Gluten Free Desserts
I love being a part of your celebrations, and I'm so happy that my dairy free and gluten free desserts make your holidays easy and welcoming.
If you can surround your table in a delicious way with healthier food options and break bread with friends and family, that's a big win!
Low-Carb Thanksgiving Dessert Recipes
While my Dairy Free Chocolate Pumpkin Pie is the easy holiday recipe that allows everyone to meet in the middle and devour dessert, I still have some other options for you!
This post is an oldie but goodie from the archives. I first shared this Dairy Free Chocolate Pumpin Pie recipe in 2016.