Hot Chocolate Fudge – Cookies and Cups
3 min read
This easy Hot Chocolate Fudge recipe is combines two winter favorites into one dessert! Creamy fudge with mini marshmallows this recipe is perfect for holiday gifting!
This recipe is in partnership with Imperial Sugar. CLICK HERE for the full recipe!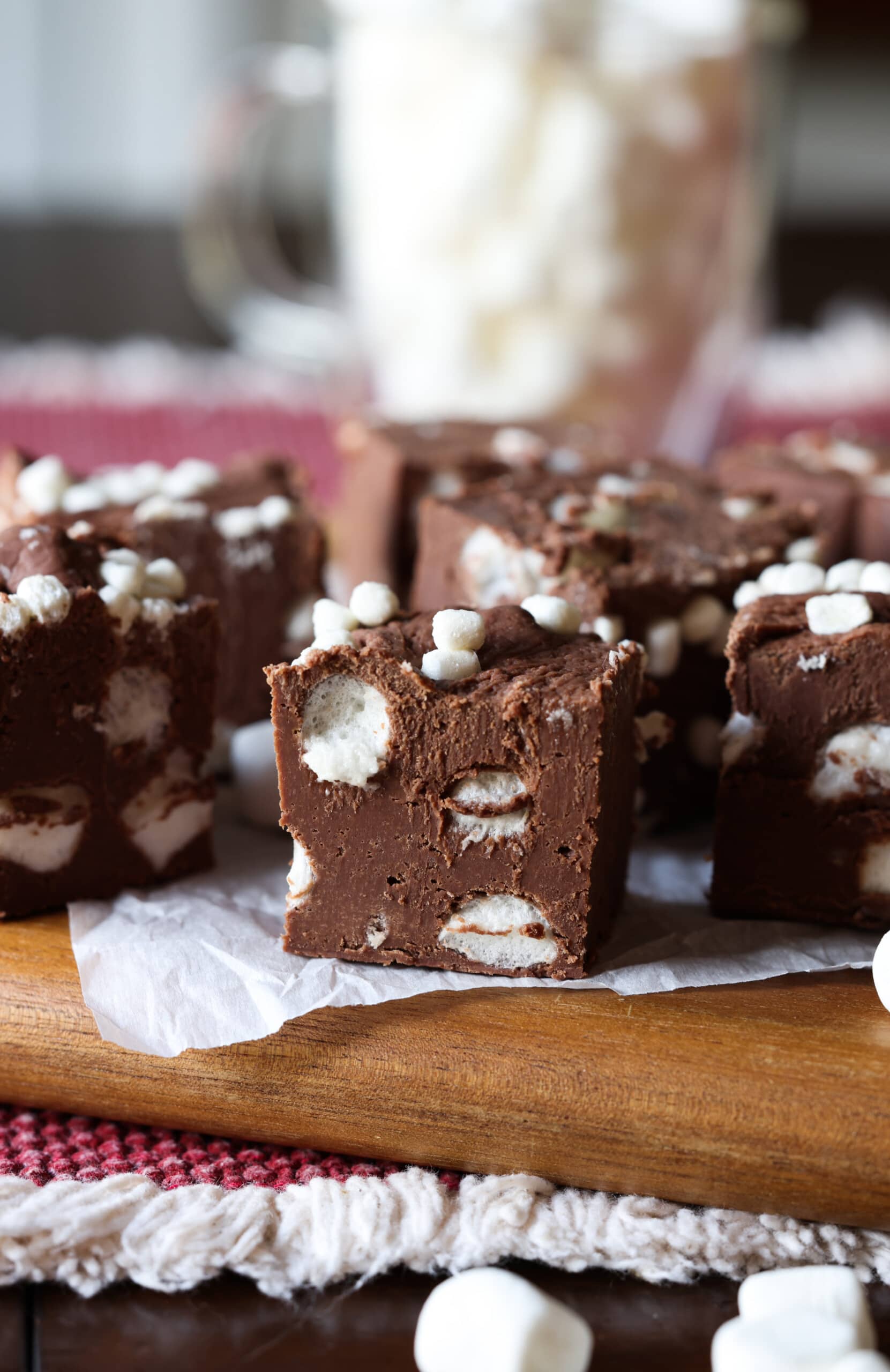 Hot Chocolate Fudge!
This recipe is a spin on my favorite easy fudge (aka fantasy fudge) recipe that I make every holiday season! It is a family recipe that my grandma used to make. So why not make it a little more fun and add in some mini marshmallows and even some dehydrated marshmallows on top and turn this into Hot Chocolate Fudge!! The chocolate is smooth and creamy, just like the perfect cup of hot chocolate with sweet marshmallow pockets!
Why This Recipe Works:
Creamy, smooth chocolate flavor that's not too overpowering with the combination of milk and semi-sweet chocolate. I tried adding in hot chocolate mix to this recipe and I didn't think the flavor was as great, and it threw off the consistency!
Boiling the sugar and evaporated milk makes melting the chocolate easy, while stabilizing the fudge giving it that perfect texture. 
Don't mistake using sweetened condensed milk for evaporated in this recipe, although I can see how it would be tempting! Your fudge would turn out way too sweet!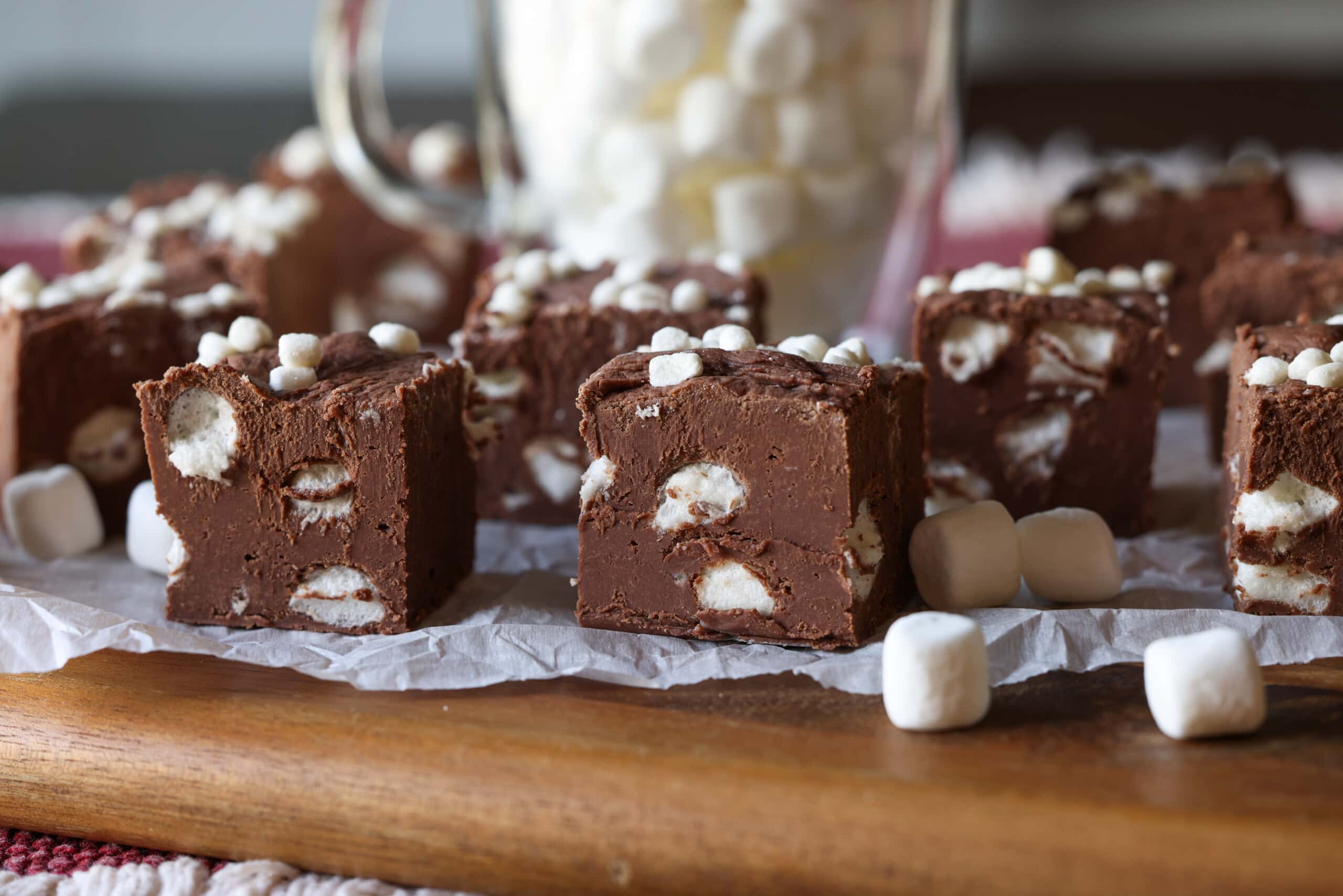 Hot Chocolate Fudge Ingredients
Click here for the full ingredient list.
Room temperature butter
Chopped milk chocolate or milk chocolate chips
Chopped Semi-sweet chocolate or semi-sweet chocolate chips 
Marshmallow Creme (or Fluff)
Granulated sugar
Evaporated milk
Mini marshmallows
Optional – dehydrated marshmallows to garnish (here's where I get mine)
How To Make Hot Chocolate Fudge/Instructions:
Line a 9×13 pan with parchment paper. Coat lightly with nonstick spray and set aside.
In a large bowl, combine the butter, milk chocolate, semi-sweet chocolate, and marshmallow cream mixing as well as you can with a wooden spoon. Set aside.
In a large saucepan over medium heat stir together the granulated sugar, evaporated milk, and pinch of salt. Bring the mixture to a rolling boil, and boil for 4 minutes, stirring very frequently.
Remove the mixture from the heat and slowly add to the chocolate mixture stirring until melted and smooth.
Once the mixture is combined, stir in the mini marshmallows until evenly distributed. *see note
Pour the fudge into the prepared pan and spread evenly. Cover the pan tightly and allow the fudge to set up completely before cutting into squares. At room temperature it will take several hours or overnight for the fudge to set up. Alternately, you can place the pan in the refrigerator to set up more quickly.
Variations:
Fudge is a fun recipe to really get creative with! Here are a few add-ins to play around with:
Crushed peppermints. You could fold these into the fudge, or sprinkle on top and press into the fudge before it sets to make a peppermint hot chocolate fudge!
White chocolate chips. Adding in some white chocolate chips along with the mini marshmallows (or pressing them on top) could be a nice sweet creamy bite to the fudge!
Stir in any other candies along with your mini marshmallows, like M&Ms, or sprinkles!
Chopped nuts are always great in fudge! I'd recommend walnuts.
How To Store Fudge:
Fudge is a great thing to make around the holidays because you can make it in advance and it will stay fresh for a long time (2 weeks!) if you store it in an airtight container. You can also freeze fudge for up to 30 days airtight in the freezer!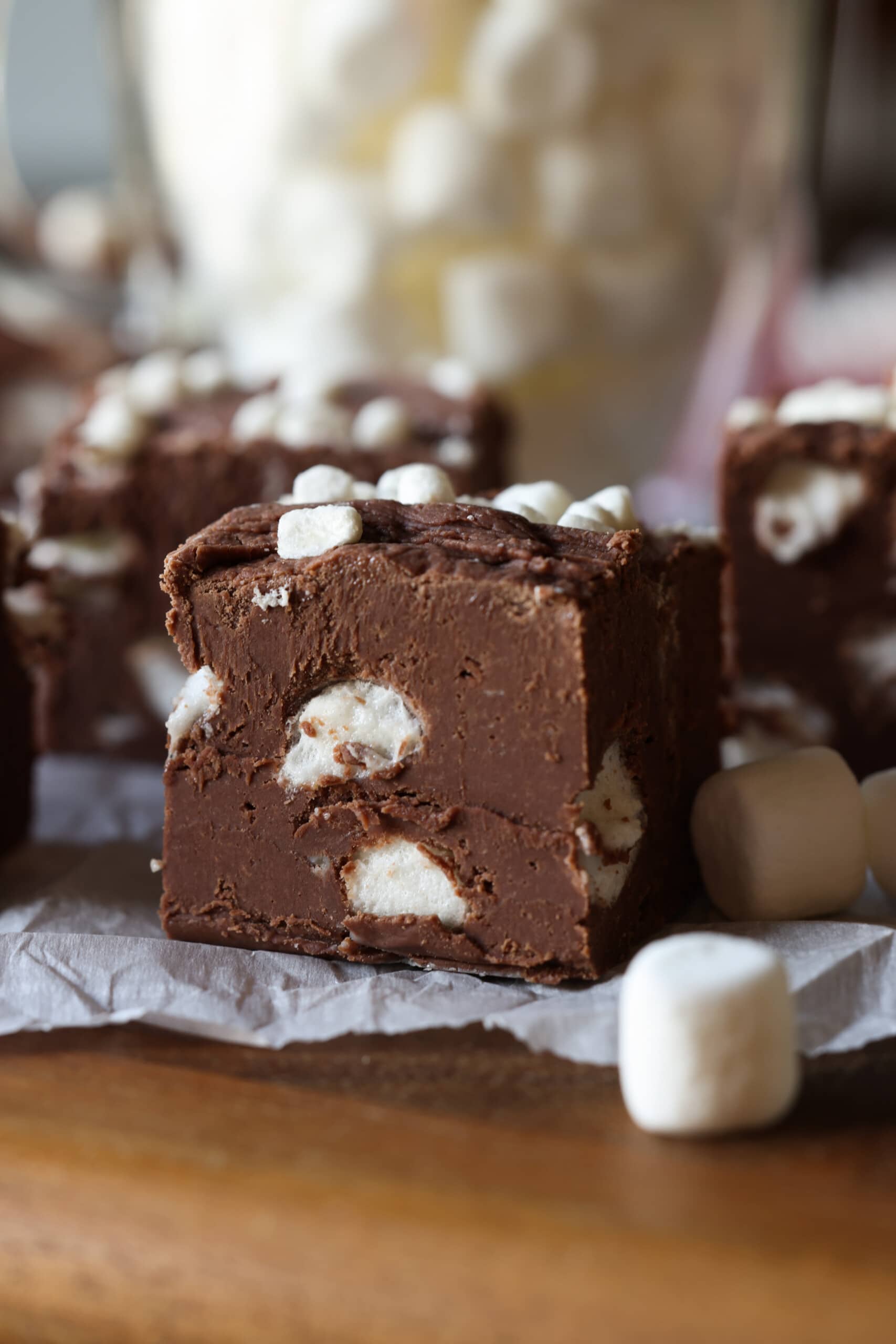 Click HERE FOR THE FULL RECIPE!
More Fudge Recipes You're Sure To Love:
PIN for later: