Blackstone Chicken and Pea Pods
4 min read
Next time you need an easy, delicious, and healthy meal for lunch or breakfast, make up a batch of this Blackstone Chicken and Pea Pods! We "velvet" the chicken to ensure it stays nice and tender too. You'll never have dry chicken again using this method!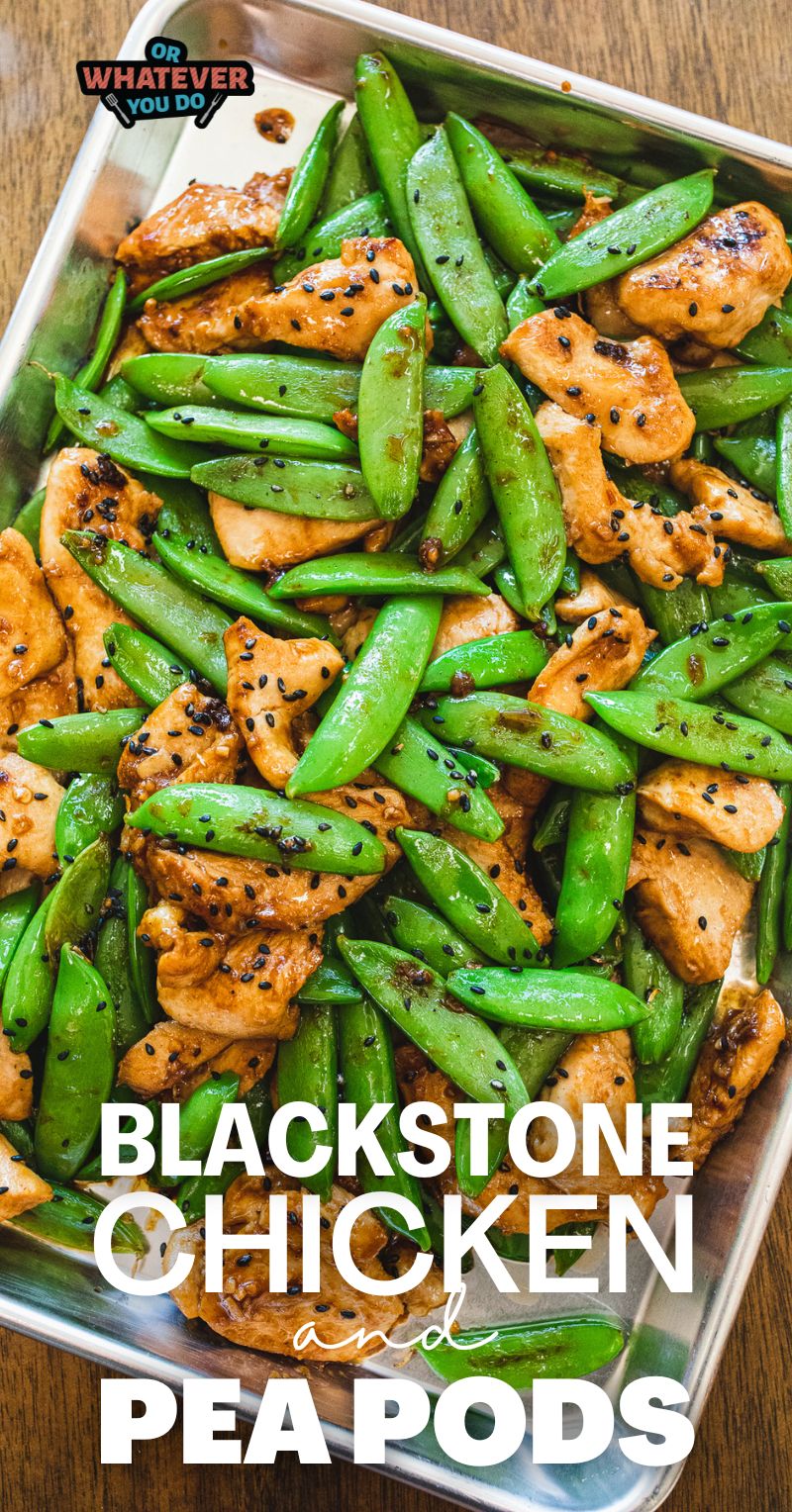 Blackstone Chicken and Pea Pods
We LOVE stir fry. It is such an easy dinner to make, and you can customize it to whatever you have on hand in the fridge. This recipe features chicken breasts and pea pods, but if you'd rather use chicken thighs or broccoli, bok choy, bell pepper, or whatever other vegetables sound good to you at the moment, you can get as creative as you'd like.
You can also hit the easy button on the sauce if you don't feel like mixing up your own. There are tons of great store-bought bottled stir fry sauces these days, so if you have one you like there's no judgement here. Just DON'T skip the velvet portion. That part isn't optional.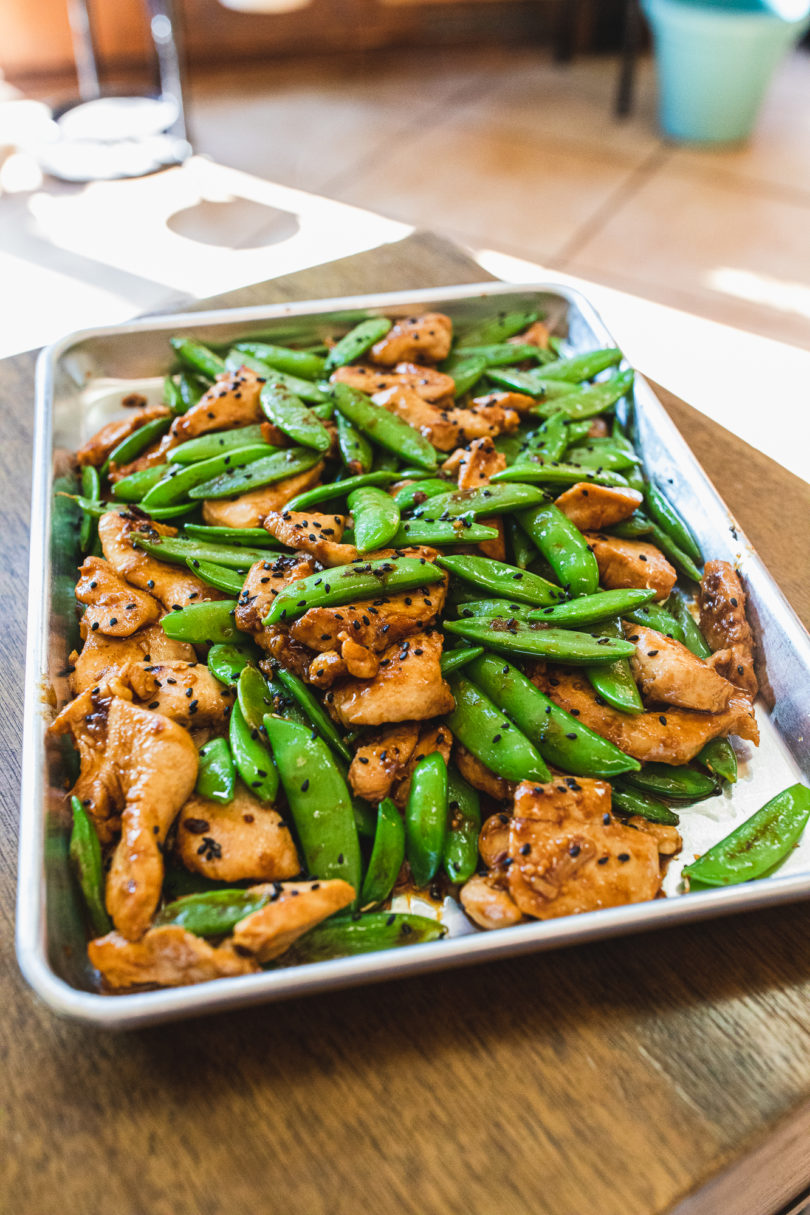 Chicken and Pea Pods Stir Fry shopping list
Wondering if you have to hit the store? Here's the list of items you'll need to make this recipe. For specific amounts, please refer to the printable recipe card at the bottom of the post.
chicken breasts
sugar snap pea pods
soy sauce
cornstarch
vegetable oil
sesame oil
black vinegar
ginger
chili garlic sauce
honey
gochujang
garlic
sesame seeds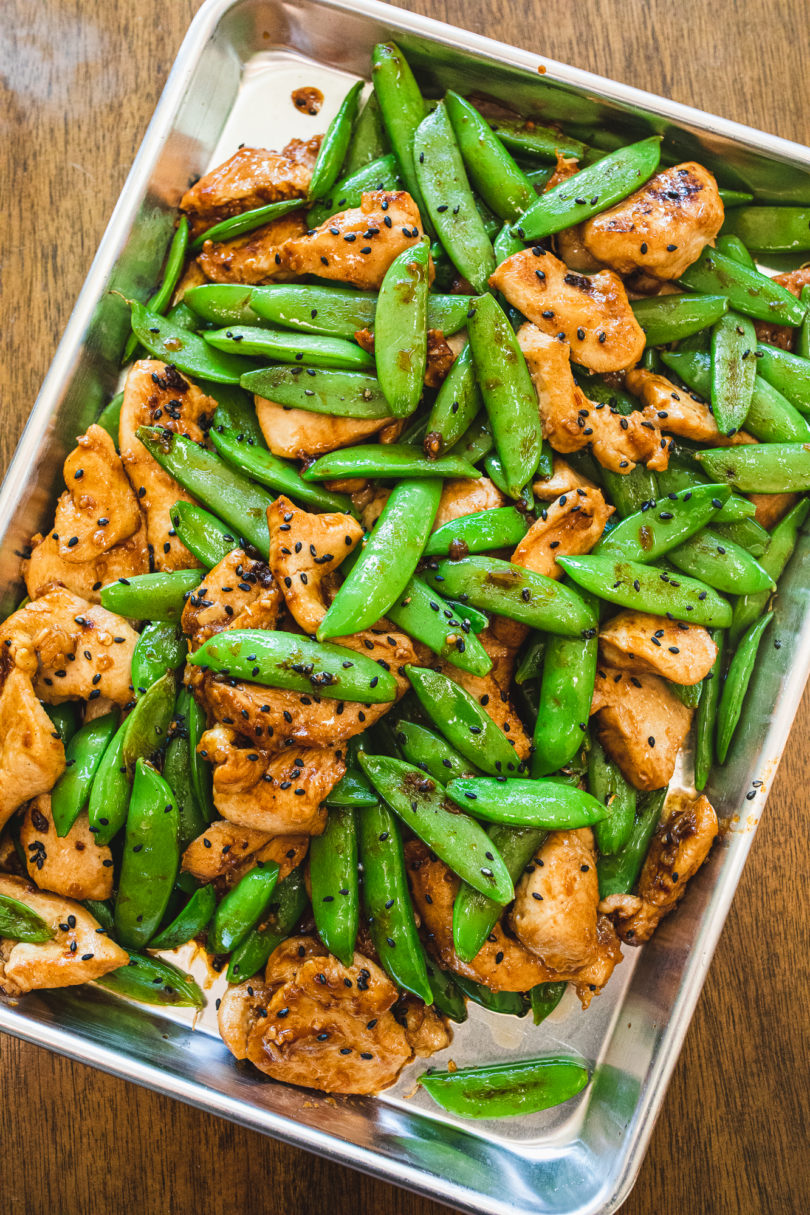 How to make Chicken and Pea Pods on the Blackstone
This is just the overview so you can see what you're actually getting into here. When you are cooking, you'll want to use the full recipe at the bottom of the page.
Velvet your chicken
This part is important don't skip it. It ensures that your chicken stays moist and tender and is the secret to why stir fry from your favorite restaurant usually tastes so much better than the stir fry you make at home. See the recipe card at the bottom of the post for the full instructions.
Click for a full tutorial on how to velvet meat from The Woks of Life!
Preheat
Preheat your griddle over high heat.
Cook
Pre-cook the chicken. Remove to a clean plate.
Scrape the griddle clean and re-oil.
Stir fry the pea pods and finish cooking the chicken. Pour the sauce mixture over and cook, stirring constantly, until it is thickened.
Serve
Serve over rice with a sprinkle of sesame seeds on top!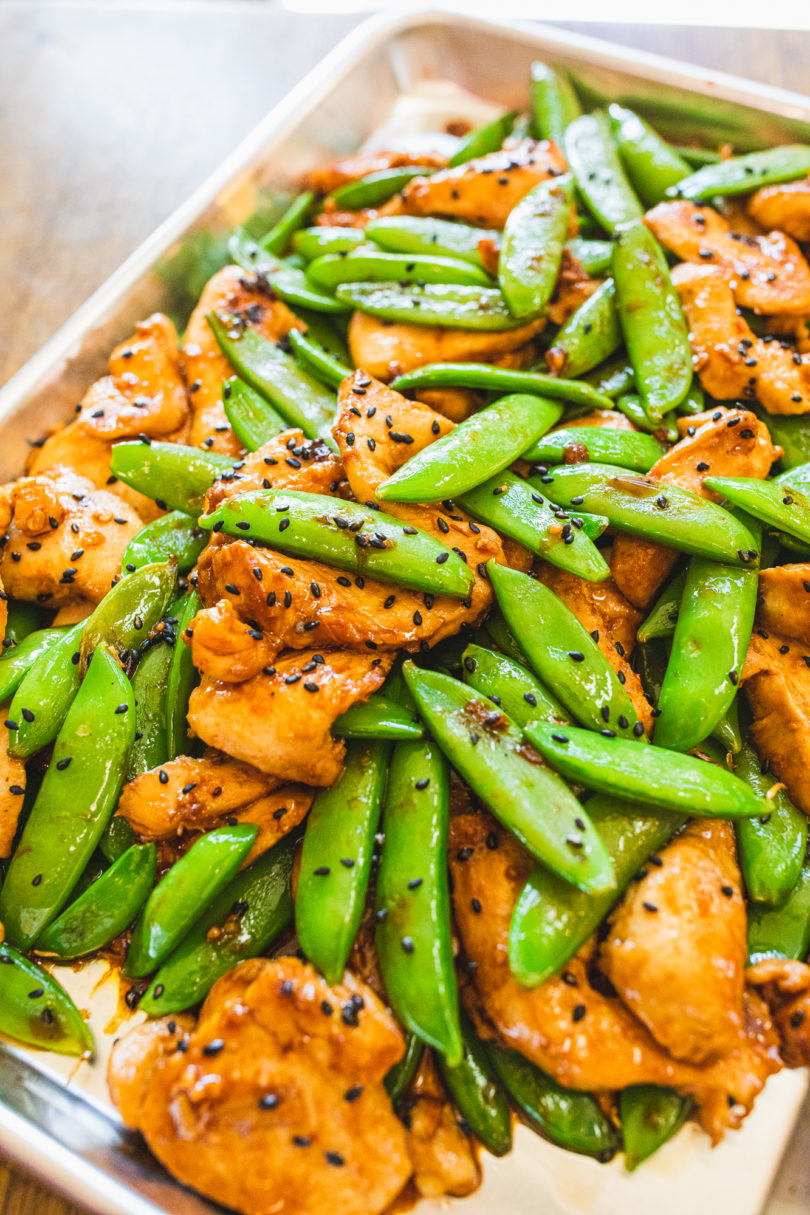 Chicken and Pea Pods FAQ
How do you store leftovers?
Store these in an airtight container in the fridge for 2-3 days. A baggie also works pretty well.
What's the best way to reheat stir fry?
The microwave works great for stir fry, just don't overdo it! Overcooking it will definitely dry it out.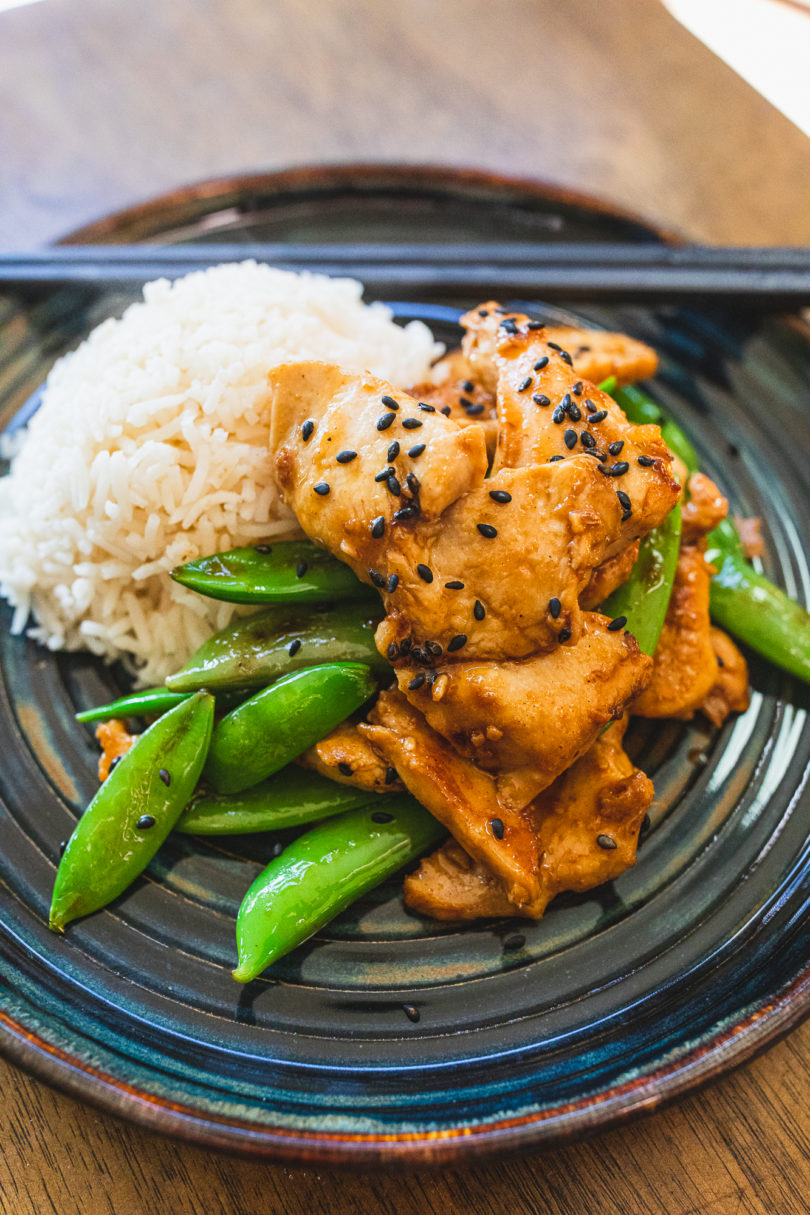 More great Asian-inspired recipes to love!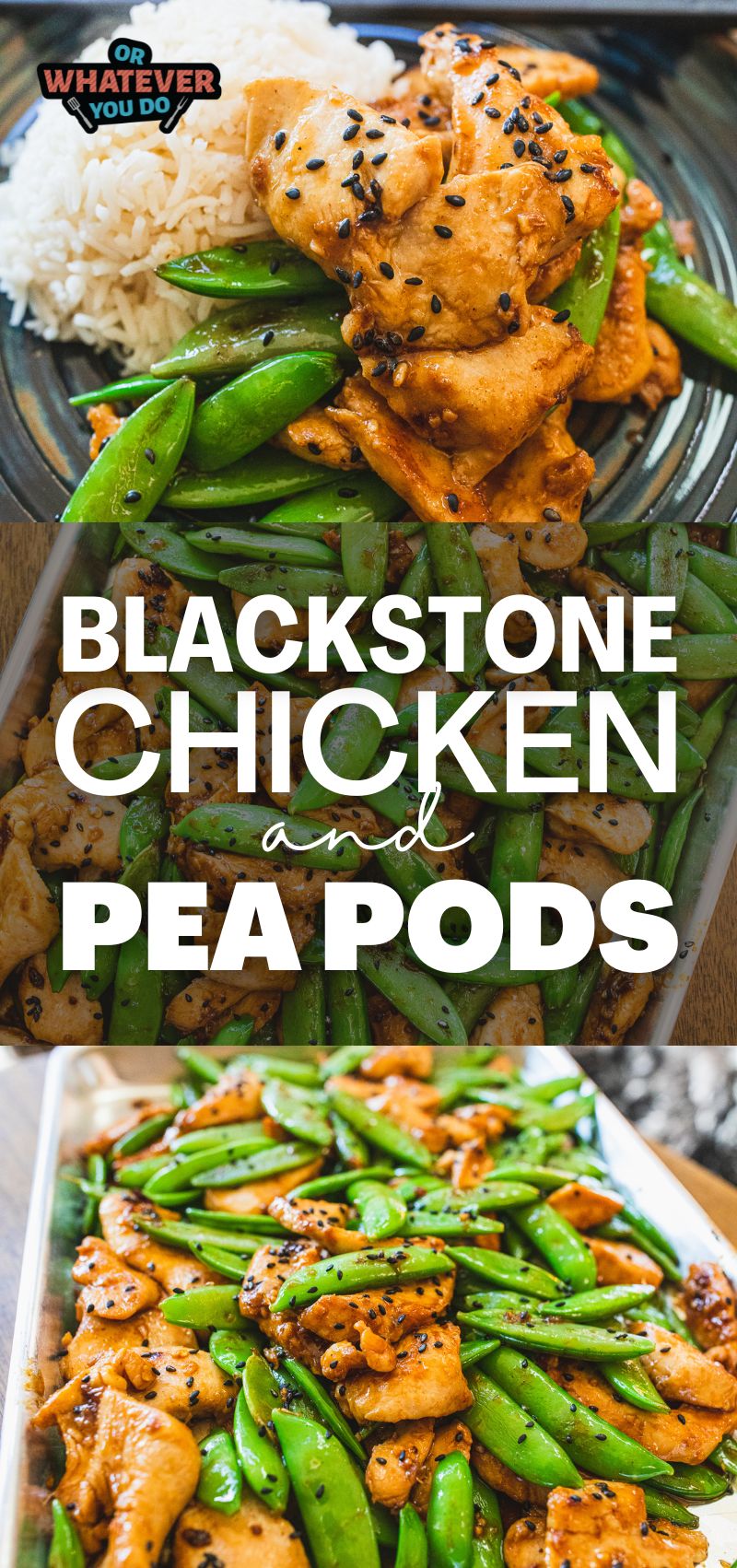 Prep Time
20 minutes
Cook Time
15 minutes
Total Time
35 minutes
Ingredients
2 pounds chicken breasts
1 pound stringless sugar snap pea pods
Velveting Mixture
6 tablespoons water
6 tablespoons soy sauce
4 teaspoons cornstarch
4 teaspoons vegetable oil
Stir Fry Sauce
2 teaspoons sesame oil
6 tablespoons soy sauce
2 tablespoons black vinegar
1 teaspoon ginger
2 teaspoons chili garlic sauce
2 teaspoons honey
1 teaspoon gochujang
2 teaspoons garlic
4 tablespoons water
2 teaspoons cornstarch
2 teaspoons sesame seeds
Instructions
Slice the chicken into 1/4 inch thick strips across the grain.
Combine the water and soy sauce. Pour over the chicken breast, cover, and refrigerate for 20 minutes, stirring occasionally. By the end of the marinating time you want most of the liquid to be absorbed into the chicken.
Add the oil and cornstarch to the chicken mixture and stir until everything is evenly combined. Let sit another 15-20 minutes, covered in the fridge.
Preheat your Blackstone on high heat. Put down a thin layer of oil. Pre-cook your chicken in a single layer for about 20 seconds. Flip and cook the other side for an additional 20 seconds. It is okay if it isn't fully cooked at this point. Remove from the griddle into a clean bowl.
Scrape any bits off of the griddle and lay down some fresh oil and let it preheat again.
While the griddle is heating again, combine all of your stir-fry sauce ingredients in a bowl and whisk together.
Place the pea pods and chicken back on the preheated griddle and stir fry, stirring constantly with a large spatula, for 2 minutes. Pour the sauce over the chicken and pea pods and stir, coating all of the food, until the sauce has thickened and the chicken is cooked through.
Remove from the griddle and serve with rice and a sprinkle of sesame seeds.
Recommended Products
As an Amazon Associate and member of other affiliate programs, I earn from qualifying purchases.
Nutrition Information:
Yield:
8
Serving Size:
1
Amount Per Serving:
Calories: 276Total Fat: 8gSaturated Fat: 2gTrans Fat: 0gUnsaturated Fat: 6gCholesterol: 96mgSodium: 1462mgCarbohydrates: 10gFiber: 2gSugar: 4gProtein: 39g
Nutrition data provided here is only an estimate.